Brock Netter, Staff Writer
GLENWOOD — For what it's worth, 2021 has been very kind towards Green.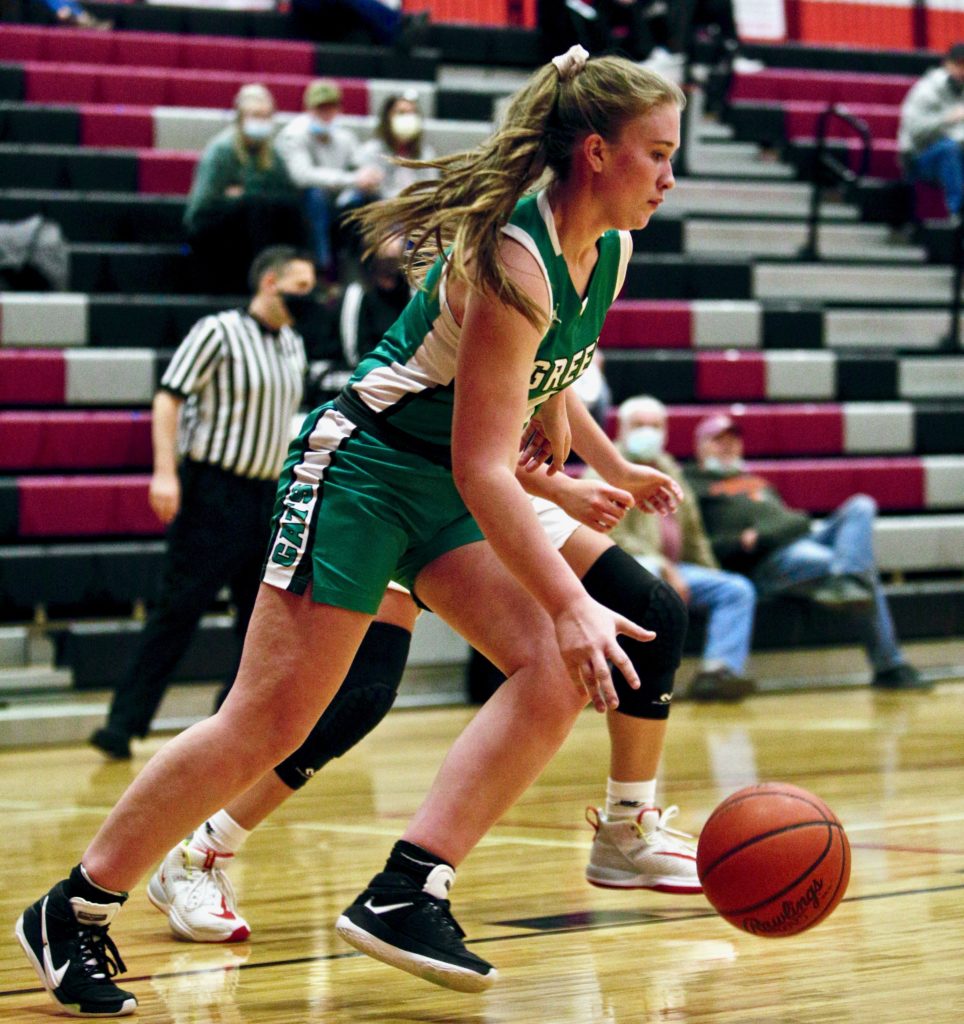 After dealing with quarantine issues and cancelations for much of the 2020 part of their slate, the Bobcats have been rolling. They've won four straight.
That streak was extended to five games on Thursday as they buried seven 3's and forced 17 turnovers to move past New Boston 60-31 in SOC I action.
"We won 17 games last season and returned all of our starters this year, so we're just trying to build upon that," Green senior Kasey Kimbler said. "There's much more that we want to accomplish. We've been playing with each other for years. We're trying to eclipse 17 wins, and this is a great start for us to do so."
Kimbler spent the first half doing what she does best … lighting it up from distance. Roaming the perimeter, the sharpshooter found open space and connected on four triples in the first half.
The threat of her on the floor with the ball in her hands opened things up for her teammates to have open looks as Kimbler finished with 17 points on the night.
"I was feeling it during warmups," Kimbler said. "I hit a few shots, then came out and hit the first shot I took. After that, I just continued to let it fly."
---
---
The outside shooting of Kimbler was the story in the first half. But the second half belonged to Kame Sweeney. With New Boston (7-4, 5-2 SOC I) reeling offensively, Sweeney put the final nail in the coffin and began attacking inside.
Whether it was rolling to the basket, or taking it herself from the top of the key, she was a force as she scored 14 of her game-high 18 points in the second half to go alongside seven rebounds and four assists.
"The coaches and my teammates push me to be the best post player that I can be," Sweeney said. "A lot of it is focusing on the backboard on my shots and reading which way the defense is playing me. From there, it's all about finishing."
New Boston's Shelby Easter gave Green fits early as she knocked down shots in the post, from midrange and stepped outside to convert from distance.
She scored nine of the Tigers' first 12 points, but Green (6-2, 5-2 SOC I) had too much balance between Kimbler, Sweeney and Anna Knapp as it led 17-12.
Green's Barden Baldridge came off the bench to provide that extra boost it needed to create some separation between the two teams.
As the Tigers went cold, Kimber buried a pair of 3's while Baldridge also added six points for a 14-3 run that put the Bobcats ahead 31-15 before closing out the half with a 34-18 lead.
Both teams struggled in the third with Green winning the frame 8-5, but that's when Sweeney took over with 10 fourth quarter points to essentially put the game on ice for the Bobcats.
"We haven't played as many games, so us getting back into a groove like this is just helping us build as a team," Sweeney said. "There's still some things we need to work out like boxing out, but we'll continue to work and get better as we play more games."
For New Boston, Easter finished with 16 points and seven rebounds, while Cadence Williams had nine points and 10 boards.
Green returns to action on Monday in non-conference action at Chesapeake, while New Boston travels to Valley on Saturday.
BOX SCORE
Green: 17-17-8-18 — 60
New Boston: 12-6-5-8 — 31
Green: 23-55 FG, 7-11 FT, 7-23 3pt., 28 rebounds (Sweeney 7), 6 turnovers, 10 assists (Sweeney, Blevins 3). Scoring: Sweeney 18, Kimbler 17, Brown 6, Baldridge 6, Knapp 5, Blevins 3, Brady 3. Satterfield 2.
New Boston: 13-49 FG, 6-11 FT, 1-5 3-pt., 33 rebounds (Cadence Williams 10), 17 turnovers, 6 assists. Scoring: Easter 16, Cadence Williams, 9, Cassidy Williams 4, Whitley 2.