Brock Netter, Staff Writer
CHILLICOTHE — After graduating its entire team starting five last year, Chillicothe knew that it would have to scrap for 32 minutes to get wins in 2020-21.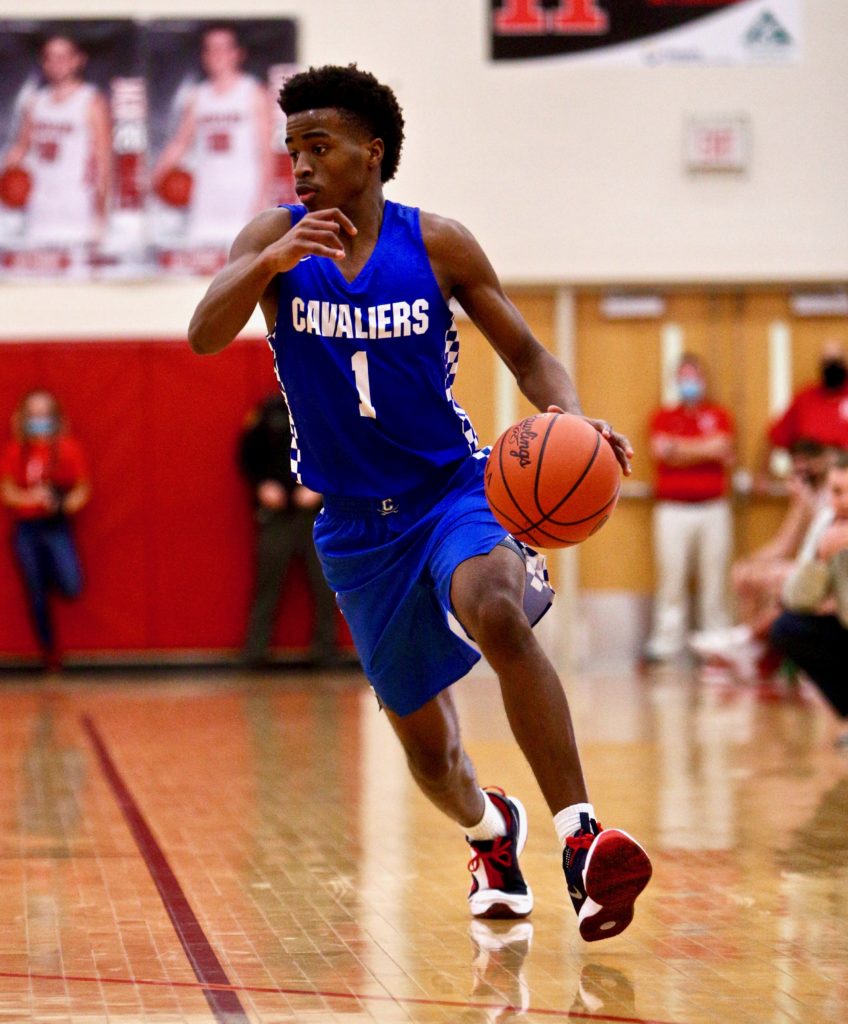 Tuesday was the first step in the right direction for the young Cavaliers.
Despite trailing for most of the evening, they applied pressure in the fourth quarter and held Vinton County to just five points, ultimately pulling out a 40-36 win — their first of the season.
"We handled the adversity. Lancaster and Hillsboro both popped us in the mouth in the third quarter, and we didn't strike back, but we did tonight," Chillicothe coach Eric Huffer said. "Our guys just really stuck together and started being physical with Vinton County after they pushed us around in the first half. Our guys saw the type of effort and what it takes to win."
Maxwell Lee spent much of the first half out of rhythm offensively and playing man-to-man against Vinton County's Zayne Karr, who had all eight of his points in the first two quarters.
But in the second half, Lee turned into a force and completely took over, mainly in the fourth quarter. While the Cavaliers' defense shut down the Vikings, Lee scored 10 of his game-high 14 points in the frame to help push the Cavaliers (1-2) to the finish line.
"Honestly, Vinton County started talking and I figured they knew better," Lee said. "We weren't doing the little things right and we weren't giving help defense very well either because we were very slow on our rotations. But we were never out of the game, so we just picked up the intensity."
The Cavs used their speed advantage with Joel Barnes and the inside presence of Donavin Baker to jump start the offense.
Baker used his lengthy 6-foot-8 frame to get easy buckets at the rim, while Barnes drove to the basket and converted. The pair scored 10 of the Cavs' 12 opening points as they led the Vikings 12-11.
However, the offense went ice cold in the second and the Vikings went on the attack. Braylon Damron buried a triple to give them an 18-17 lead, then he drilled another 3-pointer at the buzzer to cap an 8-0 run for a 23-17 advantage at halftime.
"I've learned with this group that the best course of action is just to remain as calm as I possibly can," Huffer said. "These guys work hard in practice, and for two months, that's all we could do was practice. But practice and games are two different things. Every game we play is going to be a dogfight, and we can't fall apart for even a minute."
Chillicothe managed to trim the advantage to 27-23, but VC's Eli Radabaugh dished back-to-back assists to Boomer Herrold and Lance Montgomery that gave the Vikings their largest lead of the game at 31-23.
Jaiden Cain connected from distance to end the third with the Cavs trailing 31-26, but that shot turned out to be much bigger than it seemed at the time.
After Michael Miller connected on a pair of free throws, the Cavs began to apply full court pressure and Lee came up with back-to-back steals and buckets to put his team ahead 32-31.
The Vikings had no answer offensively, nor defensively, as Lee scored the next six points to cap a 17-5 run to end the game and secure the victory for the blue and white.
"We're a team that's going to be doubted because we lost everyone from last season, and we want that," Huffer said. "The same thing happened in football season, and we saw how that turned out. No one cares about the excuses, they care about the results. We saw that Vinton County, who is an extremely well-coached team, had a 10-point lead against Athens with four minutes left and lost by three because of the defensive pressure. Once we put the pressure on them and used our surprise trap to take away the sideline, we just needed to keep the energy. I couldn't be more proud of our guys and how they stepped up in a situation like this."
After Lee, Barnes finished with 11 points. Baker ended the night with six points, seven rebounds and seven blocks.
Chillicothe returns to action on Friday at Miami Trace in FAC action.
BOX SCORE
Vinton County: 11-12-8-5 —36
Chillicothe: 12-5-9-14 — 40
Vinton County: 13-44 FG, 8-11 FT, 2-13 3pt., 24 rebounds (Davidson 5), 19 turnovers, 5 assists (Radabaugh 3). Scoring: Montgomery 12, Karr 8, Damron 6, Herrold 4, Hamon 4, Davidson 2.
Chillicothe: 16-39 FG, 6-15 FT., 2-14 3pt., 25 rebounds (Baker, Lee 7), 17 turnovers, 2 assists. Scoring: Lee 14, Barnes 11, Baker 6, Cain 5, Miller 4.