Derrick Webb, Staff Writer
FRANKFORT — Each day in practice, teammates Sydney Foglesong and Chey Ater battle each other on the practice floor … for rebounds, for points and, most importantly, to get better.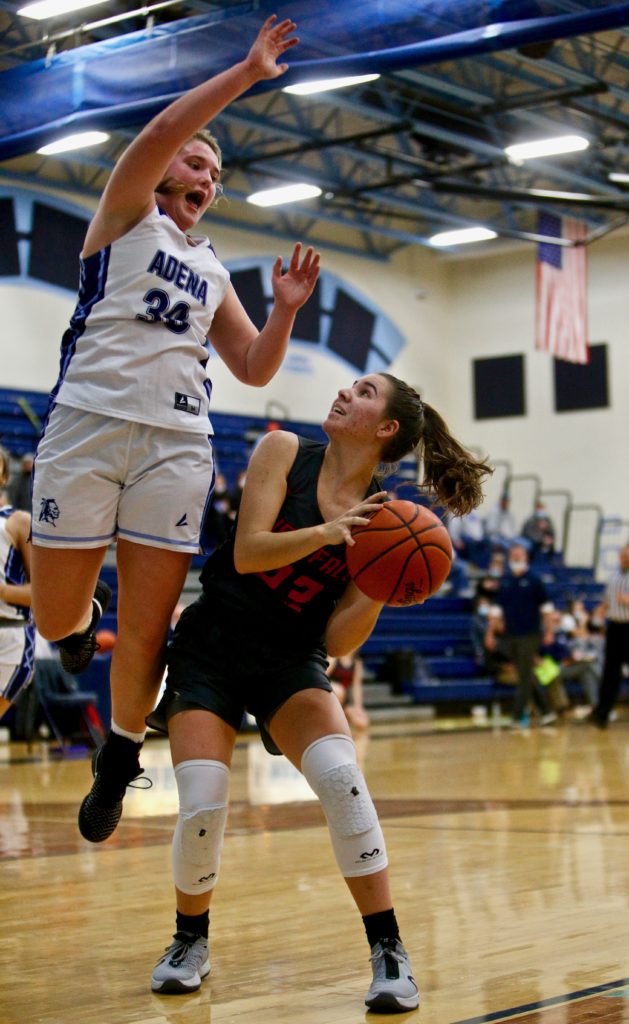 Iron sharpens iron.
"I always like to say that our best opponent is ourselves," Foglesong said. "When I get knocked on the floor, and I know [Ater] is going to knock me on the floor, I know she's also going to pick me up and make me better."
The pair's practice routine has allowed both Foglesong and Ater to develop into two of the area's most feared figures under the bucket. Adena's "twin towers" have consistently dominated opponents while giving their teammates extra looks at the basket.
That happened once again on Tuesday in a 57-46 win over Westfall in Scioto Valley Conference action — allowing the Warriors (11-2, 8-0 SVC) to stay undefeated in the league.
"We came in and beat a team that had won five in a row, or something like that," Adena coach Andrew Day said. "Westfall has improved tremendously and they've got some really good players. I thought just kind of hanging in there, figuring things out on the defensive end and, really, working hard was the key for us."
Adena earned a 34-28 rebound advantage, and used a 19-12 advantage in that category to seize a 10-point advantage at halftime. As mentioned, Foglesong and Ater led that charge.
"We want to put bodies on bodies every time a shot goes up. We don't want to allow teams to have more than one opportunity," Day said. "We feel like our initial half-court defense is good. So any time we can hold teams to one shot, we feel like we're going to have a pretty good night."
Westfall (9-4, 3-4 SVC) made an early charge, thanks to the play of guard Mahaley Farmer, and took an 8-4 lead with 4:01 left in the first quarter. But Adena put the finishing touches on a 9-0 run with 2:35 left, via Jadyn Smith from long range, before taking a 13-12 edge into the second.
---
---
Smith again dialed long distance to begin the second, pushing the advantage to 16-12, before Emma Garrison followed suit with 3:56 remaining, making it a 19-14 score. Later, still ahead by a five-point margin, Foglesong and Kiera Williams combined for a half-ending 5-0 run, allowing the advantage to swell to 28-18 by halftime.
"We find new things we can improve on each game," Foglesong said. "We have to improve on our communication, executing our offense and making our lay-ups. We're really good at boxing out and, if we can do that, it really helps our team."
Foglesong scored to make it a 31-20 game in the third before teaming up with Smith and Garrison to hit 3-of-6 free throw tries for a 34-20 score at the 1:18 mark. After Westfall got a bucket from Gabby Patete, Smith hit her third 3 of the evening, giving Adena its largest lead of the night at 37-22 going into the final eight minutes.
But the Mustangs weren't going away quietly.
Scores from Grace Wolfe, Kylee Henry and Patete trimmed Adena's lead to 37-28 with 4:22 remaining. But Ater scored to provide a calm before Smith nailed her final deep ball with 2:43 remaining, ultimately putting the game out of reach — despite late efforts from Henry and Patete, fueled by Westfall's defensive pressure.
"We've got to handle late-game situations better and learn how to run an offense in the fourth quarter," Day said. "We want to get the look that we want."
Smith led all scorers with 14 points alongside five rebounds while Foglesong added 11 points and nine boards. Garrison tallied nine points, four rebounds and three assists, and Ater finished with eight points and nine rebounds.
Westfall was led statistically by Henry with 12 points, four rebounds and two assists while Farmer added 10 points, seven rebounds and two dimes. Patete also had 12 points alongside seven boards and Marissa Mullins added seven rebounds.
The Mustangs will be back in action on Thursday, hosting Southeastern, while Adena welcomes East Clinton in non-league play on Saturday afternoon.
"They're a pretty good team. They're a little over .500 and they're still really young," Day said of East Clinton. "They played a lot of freshmen last year, so they have a lot of sophomores. But they're pretty talented. We'll have to play well to get a win."
BOX SCORE
Westfall: 12-6-4-14 — 36
Adena: 13-15-9-10 — 47
Westfall: 17-49 FG, 2-3 FT, 0-10 3pt., 28 rebounds (Farmer 7, Mullins 7), 17 turnovers, 5 assists (Farmer 2, Henry 2). Scoring: Henry 12, Farmer 10, Patete 10, Mullins 2, Wolfe 2.
Adena: 15-45 FG, 11-22 FT, 6-15 3pt., 34 rebounds (Ater 9, Foglesong 9), 14 turnovers, 12 assists (Garrison 3, Williams 3). Scoring: Smith 14, Foglesong 11, Garrison 9, Ater 8, Williams 5.