Derrick Webb, Staff Writer
KINNIKINNICK — All year long, Huntington's girls have battled. But heading into Thursday's league contest at Zane Trace, the basketball gods hadn't been on their side.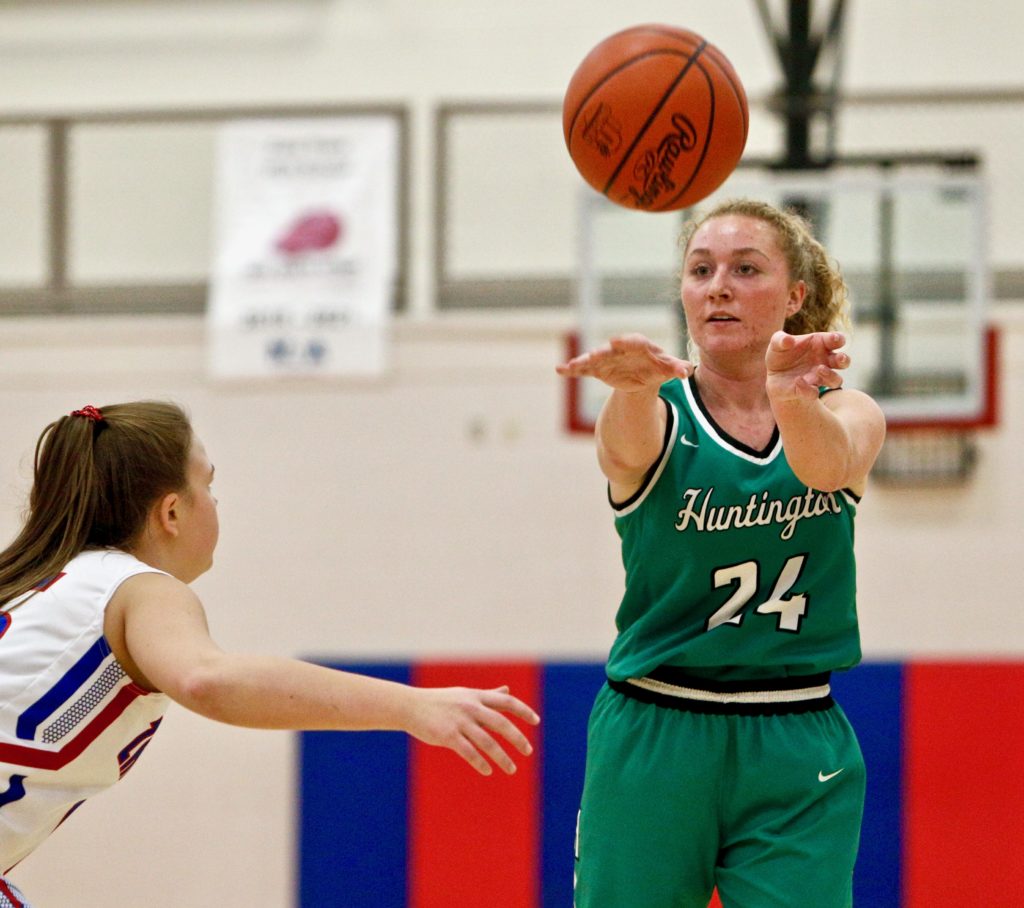 For example, out of five Scioto Valley Conference matchups, the Huntsmen had lost four by a combined 20 points … none being more than an eight-point loss.
So, needless to say, when coach Tiffany Carroll's group finally nailed down a W on Thursday — after being forced to scratch and claw for 32 straight minutes — a sigh of relief was exhaled.
"If you look at our record, it doesn't look great," Carroll said. "But each game, we've seen things we need to fix. Every SVC game that we've played, we've lost by less than 10 points. So we've been learning hard lessons. But we're starting to learn from our mistakes. Tonight, we were able to stay calm in an intense atmosphere. I couldn't be more proud of our girls."
Huntington (3-6, 2-4 SVC) put the finishing touches on a 55-52 win over the Pioneers during the final sixty seconds, courtesy of reigning conference Player of the Year Allison Basye.
The junior hit seven of eight free throw tries in the last minute to preserve a three-point victory.
But Basye got some help in the scoring column all night long … which is imperative to Huntington's success throughout the rest of the season.
"We had a tough season last year and Allison really carried the load for us," Carroll said. "So we really put a charge into our kids. We've said, 'Look, Allison can't do it all.' We've told them that when they attack the basket and when they take good looks, it forces other teams to play while not being able to double and triple team Allison all night. It's helping her game and it's giving the other girls some confidence."
Senior Katie Hirsch once again played a confidence-filled game, scoring 15 points and grabbing eight rebounds. At multiple crucial moments, Hirsch was there to lend a helping hand.
"I can't say enough about Katie Hirsch. She's been such a hard worker for four years and she's one of those kids you love to see succeed," Carroll said. "She has nights where she may score two or four points but she's giving you the same effort, the same intensity, the same everything."
---
---
Zane Trace (1-8, 0-6 SVC) opened the game on an 18-7 run, fueled by Lauren Lane, Alexis Guffey and Alara Crow. Lane and Guffey dialed long distance while Crow scored eight points in the first five minutes. At the 1:29 mark in the first quarter, Hirsch nailed a 3 before Basye followed suit, cutting the deficit to five at 18-13.
But with 9.7 seconds left, Lane buried her second triple of the quarter, putting ZT on top 21-13.
In the second, Lane scored with 4:53 left to push the lead to 23-16 before Gracey McCullough made it 26-20 with 3:26 remaining. But the Huntsmen, behind Basye and Carly Dyer, went on a half-ending 8-0 run to go ahead 28-26 at halftime.
Not much changed in the third. Huntington's lead swelled to 33-26 after Basye hit a pair of free throws and a triple with 5:53 to go. But the Pioneers trimmed that margin to one at 39-38 heading into the fourth.
The final eight minutes was a wild sequence filled with fouls, turnovers and lead changes.
After Emily Allen gave the Pioneers a 44-43 lead, Dyer answered with a bucket and a foul with 3:45 left, putting Huntington back on top, 46-44. ZT then took a 52-48 lead, thanks to two consecutive buckets from Allen, with less than two minutes to play.
Over the final 1:09, Basye stepped to the free throw line eight times. She hit seven of those eight tries while her defense forced stops on the opposite end. The result was a game-ending 7-0 run.
Basye ended the night with a game-high 24 points alongside 12 rebounds and three assists. Her totals were followed up by Hirsch's 15 points and eight boards, and eight points and three rebounds from Dyer.
For the Pioneers, Lane had a team-high 15 points alongside six rebounds and four assists. Crow finished with 14 points and three assists, Allen had 10 points and 11 rebounds, McCullough totaled eight points and Guffey finished with five points and five assists.
Both teams are back in non-league action on Saturday. Zane Trace travels to North Adams while Huntington makes a trip to New Boston.
Carroll is hoping Thursday's win sparks a wave of momentum moving forward.
"We know that there's really nobody in our league that you can take for granted," Carroll said. "But every game in our league, we feel like, is winnable. We're looking to get on a roll now, moving into the second part of the SVC schedule. We want to flip the script a little bit."
BOX SCORE
Huntington: 13-15-11-16 — 55
Zane Trace: 21-5-12-14 — 52
Huntington: 18-49 FG, 16-20 FT, 3-14 3pt., 27 rebounds (Basye 12), 19 turnovers, 11 assists (Thompson 5). Scoring: Basye 24, Hirsch 15, Dyer 8, Steele 4, Thompson 2, Hinshaw 2.
Zane Trace: 22-54 FG, 5-8 FT, 3-14 3pt., 28 rebounds (Allen 11), 18 turnovers, 16 assists (Guffey 5). Scoring: Lane 18, Crow 14, Allen 10, McCullough 8, Guffey 5.