Brock Netter, Staff Writer
WASHINGTON C. H. — Both North Adams and Miami Trace were in an offensive funk and struggled at times to maintain a rhythm on Tuesday.
But it's important to understand why.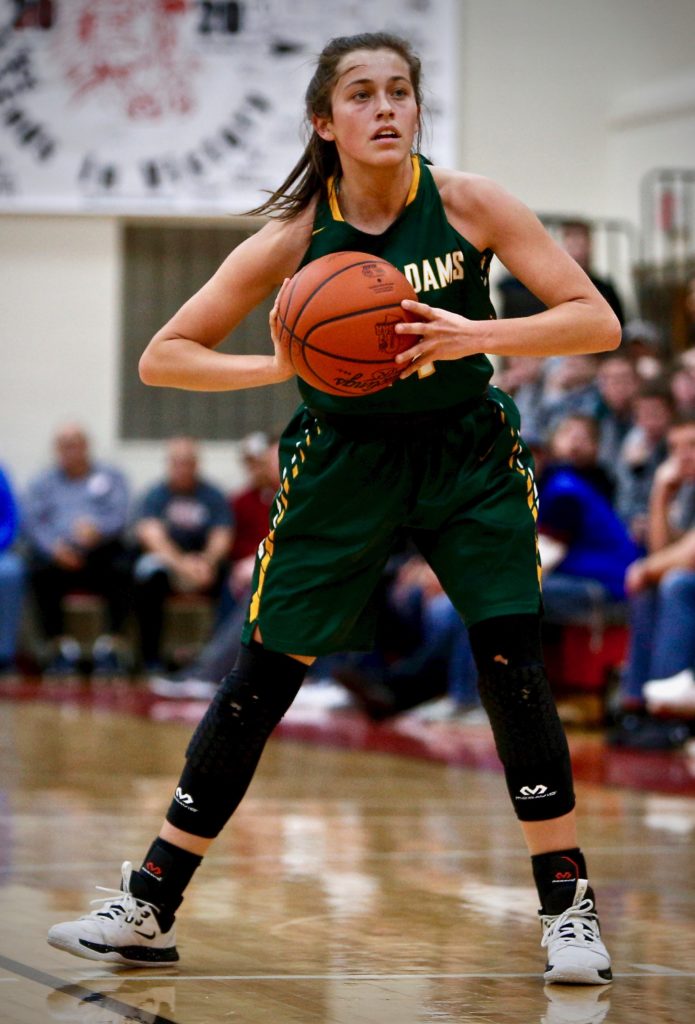 For the Green Devils, it was only their third game of the season after dealing with quarantine issues. For the Panthers, it was their first game since Dec. 18 after athletics were shut down by the Fayette County Health District over the holiday break.
Having said that, neither team was going to look as sharp as they'd hoped for.
But in the end, North Adams (2-1) had a bit more firepower in the final minutes as it pulled away for a 53-40 victory over the Panthers.
"There's a lot of things we have to work on, but overall, I thought we played OK," North Adams coach Rob Davis said. "We're figuring out a lot of things as far as rotations and when to play the right lineups as far as going smaller or going a little bigger. Those are things we'll figure out as we continue to finally play some games,. But to come up here on the road against a really physical and well-coached Miami Trace team is a solid win."
Baskets were tough to come by in the opening quarter, but in the final 1:45, North Adams' Karissa Buttelwerth jump-started the Green Devils.
She buried a triple, followed by a rebound and a put back bucket before dishing an assist to Keetyn Hupp for a corner 3. That helped the Green Devils end the frame on an 8-2 run to take a 13-6 lead.
"Last year, she gave us that spark off the bench and then she gave us a spark when we needed it early," Davis said. "She is capable of making plays on both sides of the ball, which she did. She just needs to get out of her head sometimes and she knows it. But I was happy with how she played and the effort she gave us."
That spark didn't last very long, though as the offense once again went south. The Green Devils couldn't buy a bucket in the second, scoring just six points.
Meanwhile, Miami Trace (4-4) began to chip away behind Hillery Jacobs. After Margarah Bloom converted a bucket, Jacobs buried back-to-back triples that sparked an 11-4 run for the Panthers to end the half.
But North Adams still held a 19-17 lead.
"We were leaving the corner open and we were just standing around at times not playing defense or covering a player in our area," Davis said. "Miami Trace hit three or four 3's in a row to keep them in the game. So we adjusted and went with a smaller lineup to have a little more speed defensively. Even though it limited our offense some, we were willing to live with the results."
Miami Trace continued to apply pressure and got some looks at the basket in the post to keep it a one-possession game. Then Jacobs hit a shot, got fouled and hit the freebie to give the Panthers their first lead of the game at 27-26 midway through the third.
But on the next possession, Braylie Jones swished a triple, followed by another 3 from Laney Ruckle, to put North Adams back in the lead at 32-26 as it finished the quarter on an 8-0 run.
"We gained momentum with that run to end the third, but we needed to keep it and I think we did," Jones said of the sequence. "We still got down on ourselves a little bit, but it just came down to us calming down offensively and defensively so we could execute."
Although it was still a close game down the stretch, North Adams decided to keep Ruckle in the game as well as freshman guard Kenlie Jones, a move that paid dividends.
Jones, in the fourth alone, had four points and dished out three assists, while DeLaney Harper and Wylie Shipley each hit shots that ultimately helped the Green Devils pull away for the win.
"I looked at my JV coach and told her, 'You probably just lost your starting point guard'," Davis said with a smile. "Kenlie is a fearless player and competitor. She just wants the ball and believes she will blow by any defender to make a play. She'll learn as she continues to play and gain some varsity experience. But it's always nice to have a player like that on your team, no matter what grade level."
Braylie Jones finished with 11 points and four rebounds to lead North Adams, followed by nine points each from Shipley and Buttelwerth. Harper added eight points and nine rebounds.
Jacobs finished with a game-high 16 points and seven rebounds, followed by seven points each from Bloom and Gracey Ferguson.
North Adams returns to the court on Thursday at Whiteoak in SHAC action, while Miami Trace hosts Jackson in FAC action on Saturday.
Box Score
North Adams: 13-6-13-21 — 53
Miami Trace: 6-11-9-14 — 40
North Adams: 20-47 FG, 7-13 FT, 6-20 3pt., 31 rebounds (Harper 9), 17 turnovers, 9 assists (Kenlie Jones 3). Scoring: Braylie Jones 11, Shipley 9, Buttelwerth 9, Harper 8, Ruckle 5, Kendall 4, Kenlie Jones 4, Hupp 3.
Miami Trace: 15-38 FG, 4-13 FT, 6-14 3pt., 18 rebounds (Jacobs 7), 19 turnovers, 11 assists (Stewart 4). Scoring: Jacobs 16, Bloom 7, Stewart 7, Ferguson 4, Eakins 4, Pfeifer 3.