Derrick Webb, Staff Writer
McDERMOTT — When Ava Jenkins stepped foot on the free throw line with 13.9 seconds left in the fourth quarter on Monday, she knew what was on the line … a win.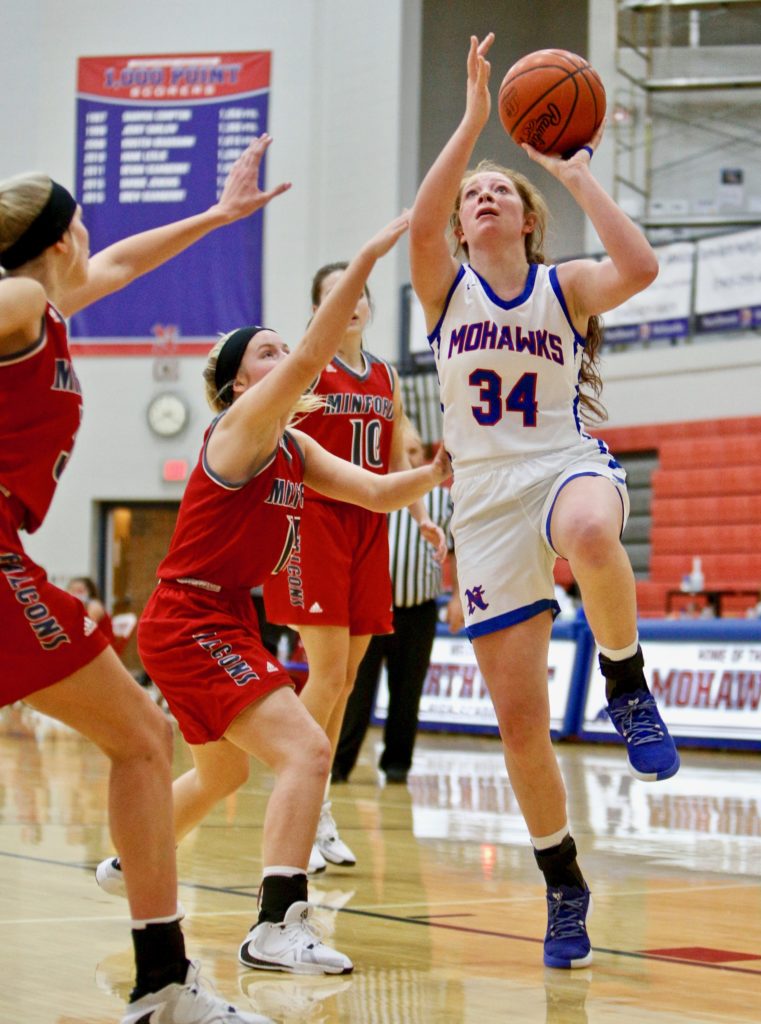 But the junior took a deep breath and, although admittedly nervous, didn't hit anything but the net on both attempts.
Those two shots proved to be the difference in a gritty 32-30 win over Minford in Southern Ohio Conference action.
"I knew they were critical free throws and I was kind of nervous," Jenkins said. "But I know my team had confidence in me, so I knew I could put them in. It was a good win because [Minford] is a quick, small team. And they're physical. So it showed us that we could get up and down the court with them and that we're able to be physical as well."
Jenkins logged a team-high 11 points on the evening while teammate Kloe Montgomery absolutely dominated in the paint. The 5-foot-10 junior brought down 22 rebounds, all while matching up against Minford's Ally Coriell, who stands at 6-foot-4.
Despite the size difference, time and time again, Montgomery snagged the basketball.
"I feel like we really needed this," Montgomery said. "We've got a tough game coming up against Oak Hill on Thursday. This will make us push harder [in preparation] for that game."
Montgomery's play on the interior gave Northwest (6-2, 4-1 SOC II) multiple second chances offensively. But the Mohawks' defense was just as dominant, forcing 16 turnovers and holding the Falcons (1-7, 1-5 SOC II) to 14-of-44 shooting.
That made up for a poor shooting performance of their own, ending at 11-of-57 on the night.
"Personally, I like to get up in them. It's easier to play defense like that," Jenkins said. "We play a lot of helpside defense. Our posts with the screens … it really helps out to know that if I'm getting burnt, I've got someone who can step up and help."
---
---
Jenkins started the night's scoring with a lay-in, off an assist from Haidyn Wamsley, at the 7:03 mark in the first quarter. After Kynedi Davis gave Minford a 3-2 lead with 3:22 left, Valerie Copas and Jenkins knocked down back-to-back shots to put the Mohawks up 6-3 at the end of the first.
But the Falcons threw a counter punch in the second, ending the half on a 7-0 run — courtesy of Coriell, Livi Shonkwiler and Bella Reffit — to take a 12-11 lead into halftime.
With Minford leading 18-15 in the third, Mongtomery got a putback to go before Jenkins hit the only 3 of the evening to put Northwest back in front at 20-18 with 1:27 left. Terah Webb ended the quarter with a runner, giving the Mohawks a 22-18 edge heading into the final eight minutes.
With 2:11 left in the game, Shonkwiler stepped into a passing lane and went coast-to-coast after a steal, giving Minford a 28-27 lead. She then scored again at the 1:07 mark to make it 30-28.
But the final four points belonged to Northwest. Copas scored with 41.2 seconds left on the game clock before Jenkins, after a turnover, nailed two huge foul shots to put the win on ice.
Following Jenkins' 11 points was Copas with nine points, 12 rebounds and two assists. Montgomery added five points to her career high 22 rebounds while Wamsley had three points and five rebounds.
Shonkwiler led Minford statistically with 12 points, four boards and two assists while Coriell added eight points, nine rebounds and two assists. Davis also helped out with four points and seven rebounds.
Both teams are back in action on Thursday in SOC play. Minford hosts Eastern while Northwest, as Montgomery mentioned, travels to Oak Hill.
"I feel like we could be almost unstoppable," Montgomery said. "We just haven't clicked yet to get to that point. We need to work on our offense a little bit because none of our shots were falling. But if they fall, we'll be pretty good."
BOX SCORE
Minford: 3-9-6-12 — 30
Northwest: 6-5-11-10 — 32
Minford: 14-44 FG, 2-9 FT, 0-9 3pt., 26 rebounds (Coriell 9), 16 turnovers, 8 assists (Shonkwiler 2, Coriell 2, Akers 2). Scoring: Shonkwiler 12, Coriell 8, Davis 4, Thacker 2, Akers 2, Reffit 2.
Northwest: 11-57 FG, 9-17 FT, 1-13 3pt., 45 rebounds (Montgomery 22), 18 turnovers, 6 assists (Copas 2, Wamsley 2). Scoring: Jenkins 11, Copas 9, Montgomery 5, Wamsley 3, Webb 2, Lewis 2.