Derrick Webb, Staff Writer
CHILLICOTHE — The SVC's driver's seat belongs to the Unioto Shermans.
With sole possession of first place in the Scioto Valley Conference on the line Saturday evening, Unioto took care of business.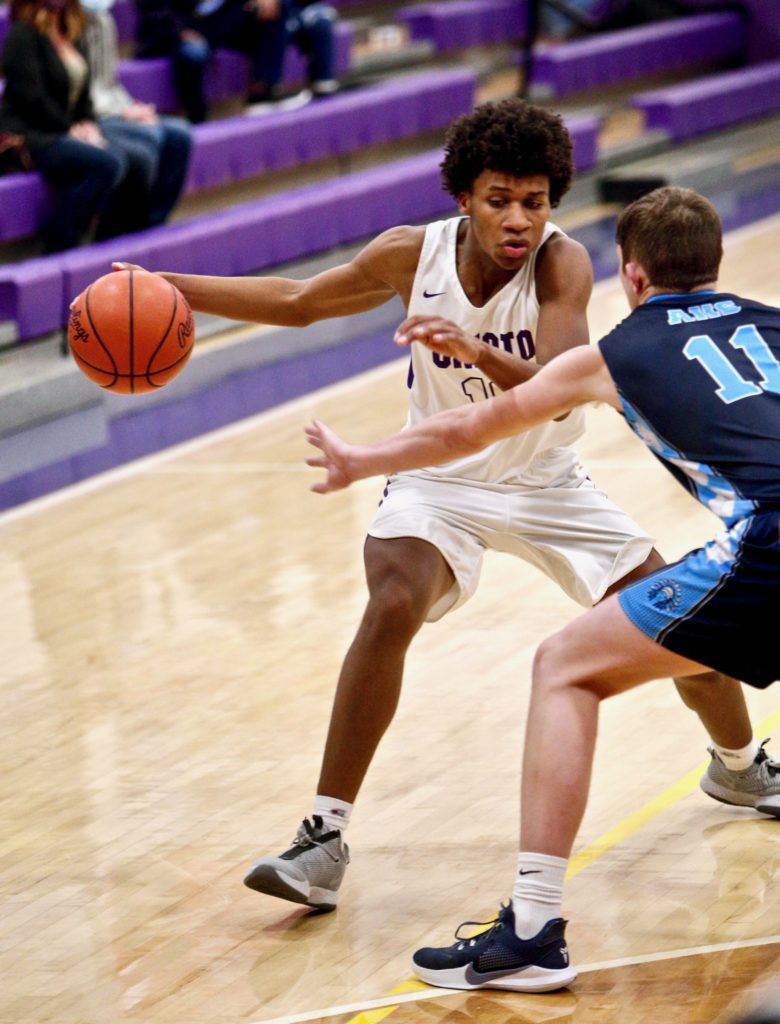 Behind a strong team defensive effort and double-digit scoring performances from Isaac Little, Tayvion Galloway and Cameron DeBord, the Shermans (7-2, 5-0 SVC) handed Adena a 55-45 loss — the Warriors' first league loss this season.
"I think the key was different guys stepping up at different times throughout the game," Unioto coach Matt Hoops said. "We talked about our mental toughness, as well as being physically tough. I think that tonight showed that we have a lot of guys who can step up in different types of situations."
Minutes into the action, Galloway started to leave his fingerprints on the game. With teammate Isaac Little being hounded by Adena's defensive game plan, Galloway knocked down shots and played with passion in the post.
He showed exactly why he's going to be an absolute problem for opposing teams throughout the next three seasons.
"Early on, [Adena] was doing a really good job of trying to take Isaac away," Hoops said. "Tayvion took it upon himself to make some aggressive moves to the basket and played with a lot of confidence. That's big-time for a freshman to be able to step up in a situation in this type of game. He didn't back down or shy away from it."
---
---
After Adena's Jarrett Garrison gave the Warriors (9-2, 4-1 SVC) a 7-5 lead, Galloway dialed long distance with 2:59 left in the first quarter to put Unioto ahead. But Adena ripped off an 8-0 run, courtesy of Preston Sykes and Logan Bennett, to open a 15-8 lead.
Little then hit back-to-back shots before the end of the quarter, cutting the deficit to 15-12.
DeBord scored at the 4:14 and 3:19 marks in the second to give the Shermans a 23-19 lead. Garrison answered with 2:22 left, making it 23-21, but it was the last basket Adena found in the half.
Meanwhile, the Shermans ripped off a quarter-ending 7-0 run — one that ended with a buzzer-beating turnaround 3 from Desean Branson — to take a 30-21 edge into the break.
"Our overall team defense was as good as it could possibly be against a team of that caliber," Hoops said. "Cater Markko's defense was just amazing tonight. Then you have to give Cameron and Carson DeBord credit, too. They were on Sykes, and I know he got going late, but they did a great job on him."
That 7-0 run turned into a 13-0 count when Galloway and Little scored six straight points to begin the third, putting Unioto ahead 36-21. With 2:54 left, Little nailed a 3 to give the Shermans their largest lead of the night at 42-26.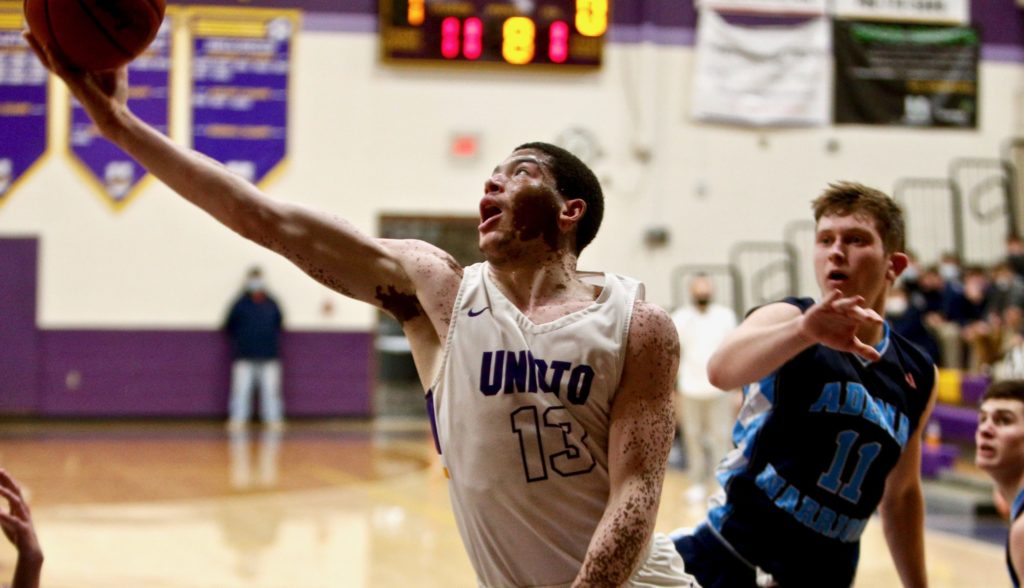 But the Warriors weren't going down without a fight.
Garrison, Bennett, Sykes and Nate Throckmorton all scored within the next six minutes of game time, producing a 13-0 run of their own, to cut the lead to 42-39 with 5:40 left in the fourth.
"That's a good team full of seniors," Little said of Adena. "They've got experience. Logan Bennett is a heck of a player and so is Preston Sykes. As of now, that's the toughest team we've had on our schedule. It was a big league game for us and big for our confidence."
With momentum on Adena's bench, Unioto weathered the storm.
Galloway scored to push the lead to 44-39 before Little made it 46-41 with a pair of free throws. After Bennett answered on the other end, Unioto's Evan Park hit the biggest shot of the night — a 3 from the top of the perimeter with 2:16 remaining, pushing the Tanks' edge to 49-45.
From there, Unioto held down the clamps defensively and hit free throws down the stretch to put the win on ice.
Little finished with a game-high 19 points while Galloway added 15 points of his own. Cameron DeBord ended with 10 points and 10 rebounds, and Park had five points and four boards.
For Adena, Sykes led the way with 14 points and six rebounds while Bennett finished with 13 points and four assists. Garrison followed with nine points while Throckmorton had five.
Both teams are back in conference action this Friday. Adena will host Zane Trace while the Shermans travel to Southeastern.
"It's nice to win this one," Hoops said. "It's sometimes tough over the holidays. But I'll tell you this, the last three days of practice for us were probably the best three we've had. It shows maturity. When you practice well, you play well. For the most part tonight, we played pretty well."
BOX SCORE
Adena: 15-6-14-10 — 45
Unioto: 12-18-12-13 — 55
Adena: 16-40 FG, 9-14 FT, 4-15 3pt., 17 rebounds (Sykes 6), 6 turnovers, 9 assists (Bennett 4). Scoring: Sykes 14, Bennett 13, Garrison 9, Throckmorton 5, McDonald 4.
Unioto: 20-36 FG, 10-15 FT, 5-14 3pt., 27 rebounds (DeBord 10), 12 turnovers, 4 assists (Branson 2). Scoring: Little 19, Galloway 15, DeBord 10, Branson 6, Park 5.