Derrick Webb, Staff Writer
CHILLICOTHE — Paint Valley coach Tristan Norman received a gift for Christmas this year that stood out from the rest.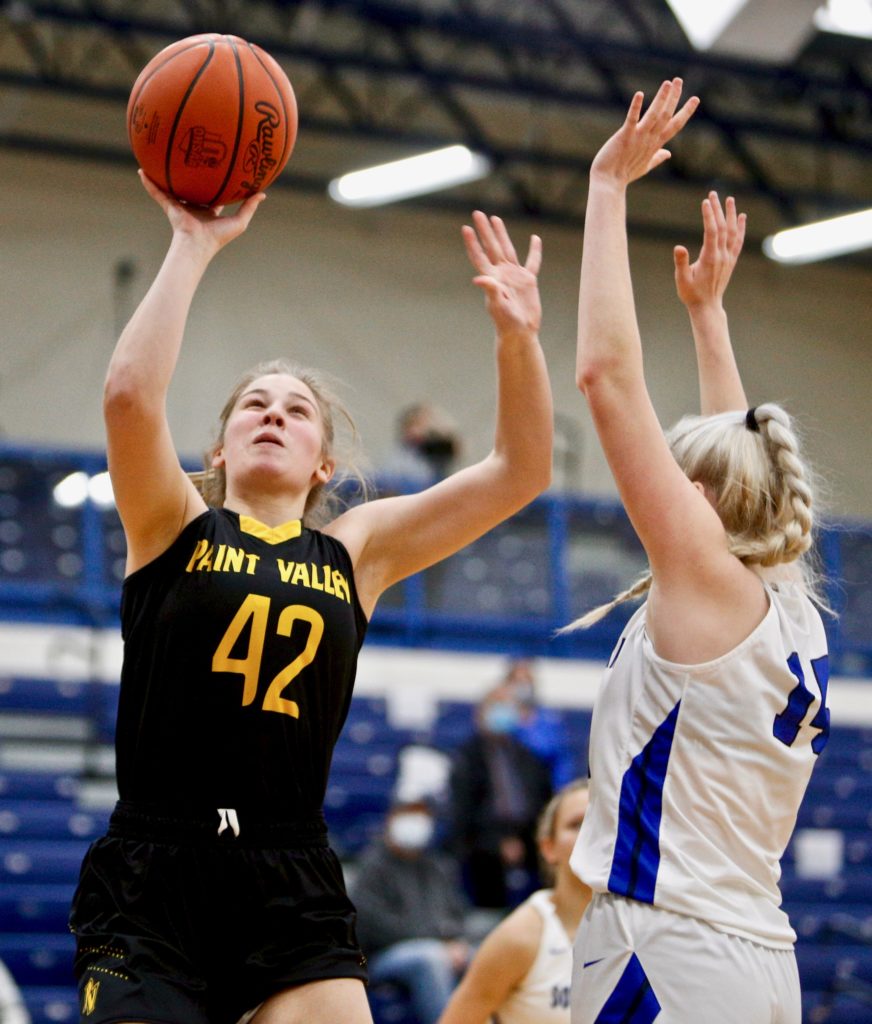 It was a sign that read, "You win some, you learn some."
Norman's Bearcats have won their fair share this season. But they entered Saturday's matchup at Southeastern on a three-game losing skid after falling to Huntington, Hillsboro and Lynchburg-Clay.
That's where the lessons came in.
They applied what they'd been taught against the Panthers, earning a key 56-45 conference win and making a resounding statement in the process.
"I think after we lost to Huntington, we were a little disappointed," Paint Valley coach Tristan Norman said. "Then, we knew we should've beaten Hillsboro. And against Lynchburg-Clay, they smacked us in the mouth. But the girls haven't quit and they haven't lost sight of what they're trying to do. When shots started falling today, you could feel that something good was happening."
While the Bearcats (5-4, 3-2 SVC), as a team, played well, nobody was better than Abbi Stanforth.
Paint Valley's junior forward poured in a career high 20 points and seemed to hit shots when her team needed them the most.
"I'm ecstatic for Abbi. We've spent the past two weeks just pounding into her head how good we know she is and how good we know she can be," Norman said. "She's one of the best shooters on our team and has the ability to a lot of different things. We want her to go to that next level and she did today. She deserves it. She works hard."
Southeastern (4-4, 3-1 SVC) took an early 7-4 lead thanks to Sierra Mitten and Macie Graves. Mitten drilled a 3 before Graves hit two free throws with 4:37 left in the first quarter. That edge swelled to 15-8 heading into the second, following a buzzer-beating triple from Graves.
---
---
But the next eight minutes belonged to Paint Valley.
After Graves gave SE a 17-12 lead with 4:35 remaining, Stanforth dialed long distance before scoring again at the 2:36 mark to force a 17-17 tie.
Olivia Smith then hit two free throws before Kendall Dye scored and hit an ensuing foul shot to make it 22-17. Smith rounded out a 12-0 run before Graves halted the run, once again beating the buzzer with a 3. But the Bearcats absorbed that blow, taking a 24-20 lead into halftime.
"Southeastern is a good team," Norman said. "We prepared for them. We begged the girls to not put them at the free throw line and not five them uncontested 3's. I thought we did a pretty good job of that. We did a good job of rushing their shots and not giving them easy looks."
Dye started the third with a bucket before Stanforth hit back-to-back triples at the 7:14 and 5:58 marks, putting the Bearcats ahead 32-23. Graves and Alexis Bailes brought Southeastern back to within six, at 37-31, before Paint Valley took a 40-34 lead into the final frame.
SE's Sierra Mitten cut the lead to four, at 42-38, with 6:04 left in the fourth. But Smith and Hanna Uhrig pushed the advantage to 47-38 with 3:58 to go. Down the stretch, Dye nailed four straight free throws to make it a 51-38 lead, ultimately putting the game out of reach.
Statistically, Stanforth added seven rebounds to her 20 points while Smith posted yet another double-double by talling 13 points and 17 rebounds. Dye finished with 13 points and Uhrig added eight points and four boards.
For Southeastern, Graves led the way with 20 points and six rebounds while Mitten had 11 points. Bailes added six points and Cidney Huff finished with four points and six rebounds.
Both teams are back in action on Tuesday. Southeastern travels to Unioto while Paint Valley pays a visit to Piketon.
"We have told the girls that we're in a position that this program hasn't been in for awhile," Norman said. "We don't see anyone on our schedule that we don't think we can compete with. We're finally starting to believe that. The girls keep working. They're starting to know what it feels like to be successful and they're doing things the right way."
BOX SCORE
Paint Valley: 8-16-16-16 — 56
Southeastern: 15-5-14-11 — 45
Paint Valley: 17-43 FG, 18-29 FT, 4-17 3pt., 36 rebounds (Smith 17), 17 turnovers, 9 assists (McFadden 4). Scoring: Stanforth 20, Smith 13, Dye 13, Uhrig 8, McFadden 2.
Southeastern: 16-48 FG, 8-17 FT, 4-23 3pt., 23 rebounds (Huff 6, Graves 6), 14 turnovers, 7 assists (Mitten 2). Scoring: Graves 20, Mitten 11, Bailes 6, Huff 4, Scott 3, Ware 1.