Brock Netter, Staff Writer
BEAVER — For the last three years, Waverly's Zoiee Smith has walked away from the Pike County Holiday Classic with a smile on her face and a trophy in her hand.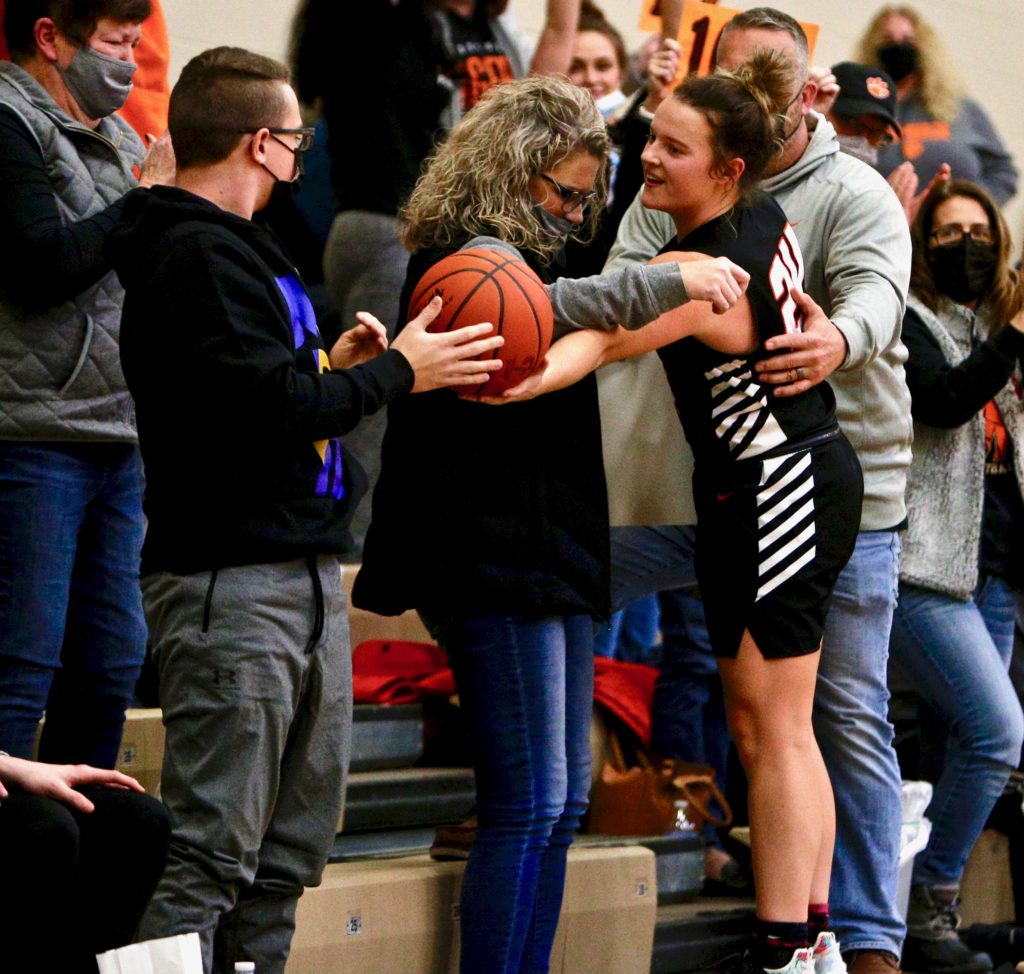 This time, in her final year in the tournament, she walked out with much more than just those two things.
The senior guard scored her 1,000th career point as she helped lead the Tigers to a 53-37 championship victory over Piketon on Monday, the program's fourth straight tournament championship.
"I made a layup to get me to 15 points, and I thought to myself, 'OK, just one more is all you need,'" Smith said of the milestone. "I took three or four more shots and left them short because I could feel it in my legs and I was so nervous to finally get it. But all these years of hard work and preparation have built up to this point and finally getting it was a huge relief. Now I'm just going to play and have fun again."
After years of countless heartbreaks in the tournament, this senior group of Smith, Carli Knight, Paige Carter and Michaela Rhoads have set a new standard for Waverly basketball.
"We're finally getting to the levels we wanted in order to be a great team," Waverly coach John Bonifield said. "This group of seniors came in from day one and really changed our mindset as an entire program. They were more relaxed and carefree as freshman, but there was no challenge that was too great for them. They're all high energy girls who rise to challenges, and to win this classic four years in a row is quite the accomplishment."
Waverly had no answer for Piketon's Bailey Vulgamore in the first. But on the flip side, the Redstreaks couldn't keep Paige Carter off the glass.
---
---
Vulgamore finished with seven of Piketon's nine first quarter points, and Carter pulled down four rebounds in addition to six points as the Tigers led 10-9.
The lead was extended to 16-11, thanks to a pair of assists from Knight that turned into a 6-2 run for Waverly. Piketon fought back, cutting the lead to 23-22 at halftime, following a bucket before the buzzer from Jazz Lamerson.
"I was a little upset at halftime, but it was all issues that we were able to fix with our trap defense, 3-2 zone and 1-2-2 trap defense," Bonifield said. "It wasn't about coming up with a new game plan. We just needed to do the little things better and more effectively. We gave up the baseline on dribble drive, gave up the sideline on our press and some other things that we needed to correct and address."
Waverly's defense, which forced 13 first half turnovers, continued the pressure and dashed any hopes Piketon had about getting into an offensive rhythm.
The Tigers held Piketon to just six points in the third while Smith, Carter and Kelli Stewart helped push the lead to 34-28 heading to the fourth.
Out of the gates, Ava Little buried a huge triple followed by a transition bucket from Smith that capped an 8-0 run, which gave Waverly its first double-digit lead of the game at 39-28.
Three minutes later, Smith crossed right and straight to the hoop, converting what would be points No. 1,000 and 1,001 to ultimately seal the deal for a Waverly victory.
"That was a huge dagger that Ava hit to open the fourth," Smith said. "The energy we got from that shot was unreal and we never looked back from that point."
Smith finished the game with a game-high 19 points and five assists for Waverly. Carter added nine points and nine rebounds, while Knight and Sarah Thompson had six points each.
Vulgamore finished with 15 points, while Lamerson and Kennedy Jenkins added 10 points a piece.
Waverly returns to action on Wednesday at home against Zane Trace, while Piketon returns to action next Tuesday at home against Paint Valley in conference action.
BOX SCORE
Waverly: 10-13-11-19 — 53
Piketon: 9-13-6-9 — 37
Waverly: 21-43 FG, 9-15 FT, 2-3 3 pt., 28 rebounds (Carter 9), 20 turnovers, 10 assists (Smith 5). Scoring: Smith 19, Carter 9, Knight 6, Thompson 6, Rhoads 5, Stewart 5, Little 3.
Piketon: 16-49 FG, 3-9 FT, 2-8 3pt., 26 rebounds (Risner 9), 22 turnovers, 8 assists (Johnson 3). Scoring: Vulgamore 15, Jenkins 10, Lamerson 10, Risner 2.