Brock Netter, Staff Writer
SOUTH WEBSTER — If Oak Hill begins to go on a hot streak in the second half of the season, Saturday was its jumpstart.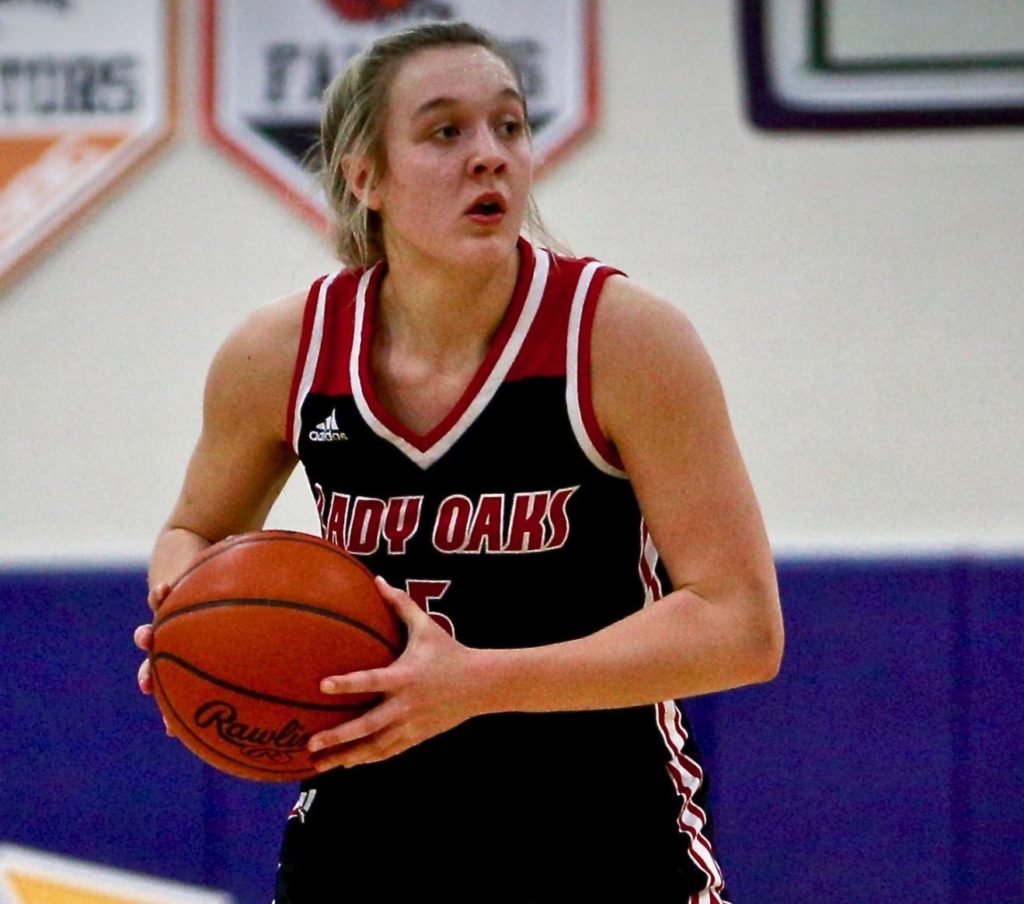 The Oaks extended their Christmas season an extra day, and gave themselves an extra present in the form of a 67-63 win over South Webster in double overtime.
"It was great just to get a game in, let alone against a great South Webster team," Oak Hill coach Doug Hale said. "I'm proud of all our girls stepping up in big moments early and late in the game. Brooke Howard hit some clutch shots, Chloe [Chambers] came alive late, Olivia [Clarkson] and Baylee [Howell] hit some shots as well. Great team win for us."
It took a complete team effort for Oak Hill (3-3, 3-2 SOC II) to pull out the win since it had no answer for South Webster's Bri Claxon.
Then again, very few teams do.
The junior guard sliced and diced her way through the Oaks' defense, hitting jump shots, getting to the rim, sinking free throws and converting fast break buckets. All of that rounded up to her finishing with 36 points for the second straight game.
"What a player she is," Hale said. "We tried to take the lane away from her, but she has such a beautiful pull-up jumper that she was knocking down. We brought our post players over for help defense, but she was on such a roll that it almost didn't even matter."
Oak Hill held a 30-24 lead at halftime, but South Webster (3-4, 2-2 SOC II) began piecing together a dominant third quarter. It overwhelmed Oak Hill on the boards, which helped cut a 37-29 lead to 37-36 with a 7-0 run behind Bella & Bri Claxon.
Back-to-back buckets from Bri Claxon capped an 11-0 run to end the third as the Jeeps held a 40-37 advantage.
"South Webster came out and changed their defense in the second half, and it took a little time to adjust," Hale said. "They were beating us on the glass in the third, so we switched a couple things and changed our focus more towards getting basket cuts instead of outside shots."
With South Webster ahead 44-42, Chambers got a bucket, plus a foul on top of a technical foul called on the Jeeps. Clarkson buried both free throws for a 46-44 lead.
Later tied 48-48 in the final seconds, Howard drove to the bucket and scored a lay-in that seemed to be the game-winner with six seconds left.
However, Bri Claxon went coast-to-coast in 5.9 seconds and scored a layup to beat the buzzer to push the game to overtime, tied 50-50.
Chambers began to assert herself down the stretch in the post, grabbing rebounds and getting put back baskets. She helped Oak Hill go ahead 57-55, but Bri Claxon converted a bucket to tie the game.
Howard answered by driving to the rim and banking in another bucket with six seconds left in overtime.
"I just saw an opening and had to take the risk," Howard said. "We didn't have much time to kick the ball out or anything, so I just kept it and took the shot."
Yet, once again, Bri Claxon received the in-bounds pass and drove the length of the floor before caressing nylon at the buzzer to send the game into double overtime, tied 59-59.
Chambers continued to battle inside against South Webster's Faith Maloney for rebounds, winning the battles when it counted the most. Both players finished with 19 rebounds, but Chambers converted free throws in double overtime and ended with 20 points to help the Oaks pull out the win.
"I love playing against Faith, she's such a great competitor," Chambers said. "It took me a while to finally just settle down. My job is to rebound and get putbacks. This is a huge win for us. It's tough for us playing on Saturdays for some reason, but we needed a game like this and it's a huge boost for our confidence to know that we got another league win. We're one win closer to winning the conference."
After Chambers, Olivia Clarkson finished with 17 points, followed by Howell with 13 points and five assists. Howard ended the night with 12 points, 10 of which came in the fourth quarter and both overtimes, alongside seven rebounds.
Following Bri Claxon was Bella Claxon with a double-double of 11 points and 10 rebounds, while Skylar Zimmerman added 11 points.
Oak Hill returns to action on Monday at home against River Valley in non-conference action, while South Webster hosts Belpre on Tuesday.
BOX SCORE
Oak Hill: 18-12-7-13-9-8 — 67
South Webster: 15-9-16-10-9-4 — 63
Oak Hill: 23-62 FG, 14-28 FT, 7-26 3 pt., 40 rebounds (Chambers 19), 15 turnovers, 11 assists (Howell 5). Scoring: Chambers 20, Clarkson 17, Howell 13, Howard 12, McCain 4, Doss 1.
South Webster: 23-58 FG, 15-21 FT, 2-9 3pt., 37 rebounds (Maloney 19), 14 turnovers, 8 assists (Shupert 3). Scoring: Bri Claxon 36, Bella Claxon 11, Zimmerman 11, Maloney 3, Shupert 2.