Derrick Webb, Staff Writer
CHILLICOTHE — While most Southern Ohio teams have had the opportunity to figure out an identity this season, Peebles is just three games into its schedule.
But the Indians still look as if they're in midseason form.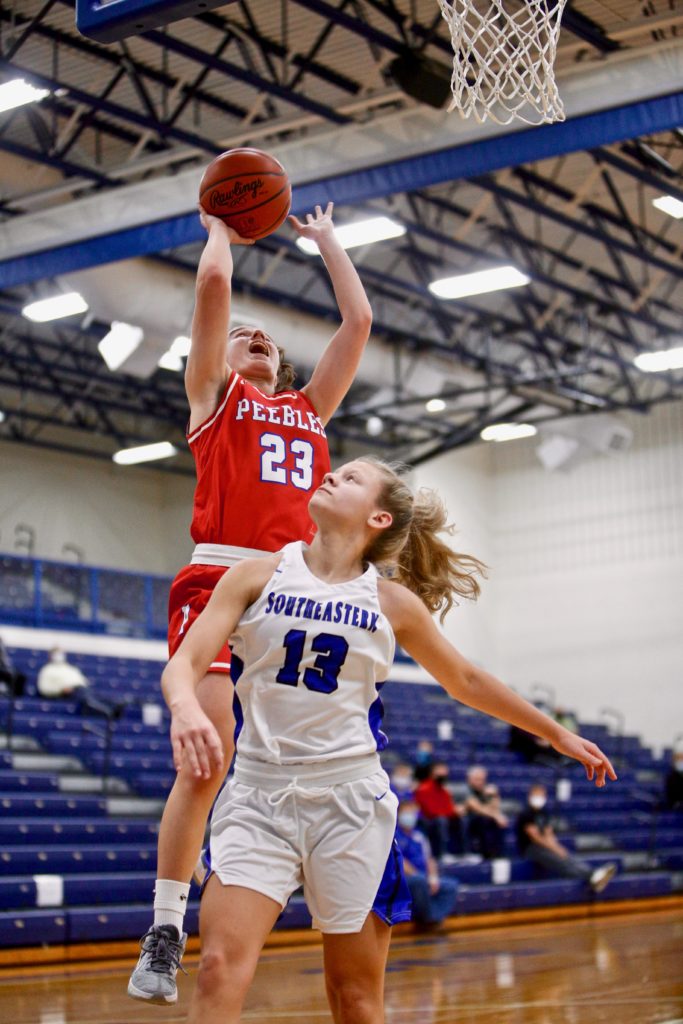 On Tuesday, behind the usual suspects in Jacey Justice and Lilly Gray, Peebles traveled to Southeastern and handed the Panthers a 67-47 loss.
It was the third win in three tries this winter — and the third win of 20 points or more.
"We were lucky enough to get three scrimmages in and that did help us a little bit," Peebles coach Billie Jo Justice said. "But as soon as you think you know the direction in which you're going, we had a big layoff. So it was kind of hard to judge where we were compared to other teams. But right now, we're starting to hit our stride. We started off slow tonight. We were a little bit winded from playing Monday night. So we'll have to make the necessary adjustments."
While Justice and Gray were magnificent, combining for 48 points, 15 rebounds and five assists, freshman Peyton Johnson provided a needed helping hand.
If you're looking for the area's next star in the making, Johnson tops that watch list.
"We haven't had that extra element," Justice said. "We haven't had a player at that caliber as a true point guard. Peyton is a true point guard that sees the floor well. She's physically strong for a freshman and she's athletic. That's a piece we've always been missing. So it's massive."
---
---
In the early going, the team's traded baskets, playing to an 8-8 tie with 3:17 left in the first quarter. That trend continued throughout the rest of the eight-minute period before Southeastern (3-3) took a 16-14 lead into the second, thanks to two free throws from Macie Graves.
Graves scored twice more to begin the second, making it a 20-14 ballgame with 6:34 to go. But that's when Peebles (3-0) started to awaken.
Justice tied the game at 20-20 before Johnson gave the Indians a 22-20 lead with 3:38 left. That 8-0 burst turned into a 17-0 run, giving Peebles a 33-20 lead late in the first half. By halftime, the Indians were the owners of a 33-23 advantage.
That 10-point lead quickly stretched to 15 in the third, thanks to a 3 from Johnson. From there, the Indians went into cruise control, owning a 53-31 lead after three before, eventually, sealing a 20-point victory.
Justice posted a team-high 28 points alongside seven rebounds and three assists. Gray had 20 points, eight boards and a pair of assists, and Johnson finished with 17 points and six rebounds.
Graves led all scorers with 30 points and added five rebounds. Cidney Huff followed with nine points and Gabby Pernell added a team-high nine rebounds to the mix.
Southeastern will attempt to bounce back on Monday, hosting Minford, while Peebles is back in action on Dec. 30, hosting Manchester in SHAC action.
"We've got some things we can work on," Justice said. "We just haven't had time to sure some things up. Usually, by the time in the season, you've already corrected this and corrected that. We haven't had time to correct anything. So we'll correct as we go. It's just about sharpening things up."
BOX SCORE
Peebles: 14-19-20-14 — 67
Southeastern: 16-7-8-16 — 47
Peebles: 28-62 FG, 10-13 FT, 1-10 3pt., 29 rebounds (Gray 8), 10 turnovers, 11 assists (Justice 3). Scoring: Justice 28, Gray 20, Johnson 17, Moore 2.
Southeastern: 16-40 FG, 11-13 FT, 4-16 3pt., 27 rebounds (Pernell 9), 20 turnovers, 7 assists (Mitten 3). Scoring: Graves 30, Huff 9, Pernell 3, Mitten 2, Ware 2, Wireman 1.