Brock Netter, Staff Writer
JACKSON — Last season, Jackson had to wait until Feb. 5 to earn its third victory of the year.
This year, it took just seven games.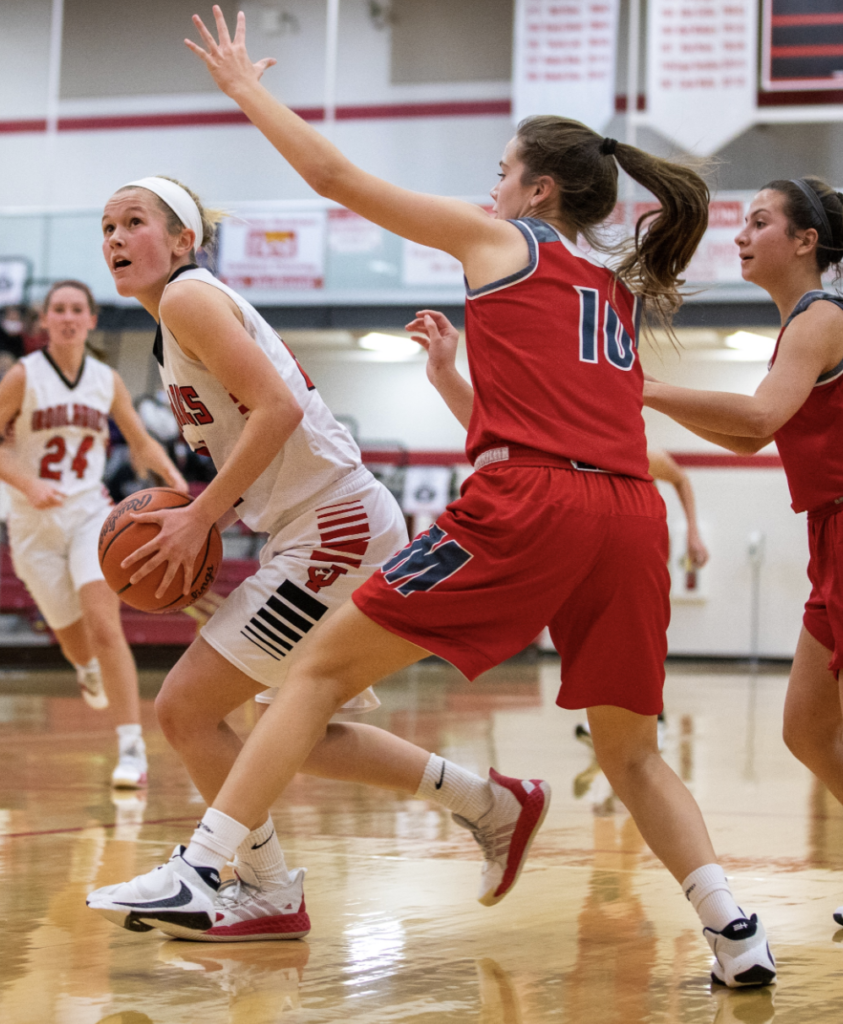 Despite not hitting a single 3-pointer throughout the evening, the Ironladies showed toughness and knocked down free throws to earn a 42-34 victory over Minford in non-conference action on Monday.
"Defensively, aside from a little three-minute stretch, I was really pleased with our effort," Jackson coach Matt Walburn said. "Our goal was to hold Minford to 30 points or under, and we were pretty close to doing so. Matching last season's win total and putting together back-to-back wins before Christmas is a pretty big thing for us."
While shots at the rim were hard to come by against Minford center Ally Coriell, who stands 6-foot-4, the Ironladies rose to the challenge.
The team's freshman core of Mattie Walburn, T.J. Carpenter, Kenzie Davis and Sydney Hughes all contributed in different ways to ensure the win.
Carpenter finished with a team-high 12 points and nine rebounds, followed by Walburn with 10 points and five boards. Davis brought down 10 rebounds, and Hughes sealed the game at the free throw line, going 4-for-4 at the stripe.
"When you start four freshmen, you never really know what you're going to get night after night," Walburn said. "They all did some great things and played fairly well defensively on their assignments."
Walburn buried a baseline jumper to give Jackson (3-2) a 6-4 lead before closing out a 9-8 advantage after eight minutes.
Out of the gates in the second, Hughes and Katelyn Webb each connected on buckets that generated a 9-0 run to push the lead to 18-8.
However, Minford's Livi Shonkwiler got loose in the final two minutes and scored seven straight points to help close the half on a 9-2 run, cutting the deficit to 20-17 at the break.
"We panicked a little bit with some pressure Minford threw at us to end the half," Walburn said. "It forced us to take some early shots instead of maybe making an extra pass or two to get a better shot."
That momentum swing carried over early into the third as Jackson had problems taking care of the ball.
While Jackson committed five turnovers in the early going, Minford capitalized with back-to-back buckets from Shonkwiler and Micah Thacker, giving the Falcons a 22-20 lead.
But it was a short-lived advantage as Jackson began to get out in transition, using its speed and the extra pass to regain an edge. A bucket from Carpenter to beat the buzzer capped an 11-4 run to put the Ironladies back ahead 31-26.
"We're not a team that's going to blow teams off the court, we're still growing into varsity basketball and learning things as we go," Walburn said. "But we did a good job of handling their energy when they made their run at the end of the second and beginning of the third. We didn't get rattled, we just kept going and held it together."
Jackson continued to maintain a two-possession distance as a rebound and putback from Carpenter put the team ahead 36-30.
Minford (1-3) did what it could to cut into the lead, but it wasn't enough as free throws from Hughes down the stretch sealed the win for Jackson.
"I think a game like this shows that maybe the jitters are starting to get out of our system a little bit," Walburn said. "There's still things that we have to improve on, myself included. But we're making progress."
Jackson returns to action on Wednesday at home in non-conference action against South Webster.
"We have to pass the ball better and handle defensive pressure better," Walburn said. "There's too many times where we like to throw the ball over the top instead of using a pass fake, or even a bounce pass. And we have to be more physical. But that's something that will also come with time dealing with young kids. We'll get there."
BOX SCORE
Minford: 8-9-9-8 — 34
Jackson: 9-11-11-11 — 42
Minford: 12-53 FG, 7-15 FT, 3-7 3pt., 34 rebounds (Coriell 8), 16 turnovers, 5 assists. Scoring: Shonkwiler 14, Thacker 6, Coriell 4, Reffit 4, Davis 4, Knore 2.
Jackson: 13-41 FG, 16-25 FT, 0-7 3pt., 38 rebounds (Davis 10), 16 turnovers, 6 assists (Webb 5). Scoring: Carpenter 12, Walburn 10, Hughes 8, Webb 7, Davis 5.