Brock Netter, Staff Writer
LUCASVILLE — Adena came in with the clear strategy to pound the ball inside and take high percentage shots at the rim on Tuesday.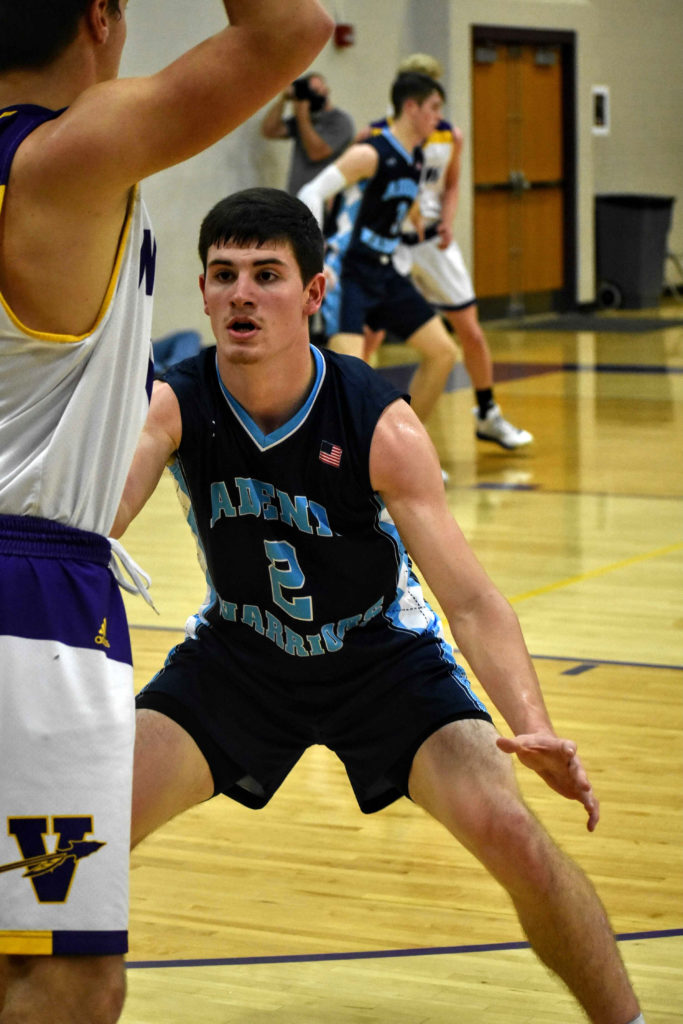 That plan paid dividends as the Warriors (5-1) shot over 55 percent from the floor and out-raced Valley throughout the night on their way to a 63-44 victory.
"We didn't have the greatest start on the defensive end, but Valley is also a really fundamental team on the offensive side in the way they cut to the basketball and run their offense," Adena coach Kyle Bradley said. "But once we got adjusted to the flow and pace of the game, we got much more disciplined defensively and made things really tough for Valley."
No matter the adjustments Valley (2-3) tried to make, it simply couldn't stop the duo of Logan Bennett and Preston Sykes.
The two seniors continuously used their size and strength to penetrate through the Valley defense, getting easy buckets and second-chance points at the rim.
"My teammates did a great job of getting me the ball in the right spot and I just made shots," Bennett said. "We came into the game wanting to work the ball around and being smart with our passes."
Bennett finished the night with a double-double of 25 points and 10 rebounds, while Sykes had 18 points and eight rebounds to follow.
"LB got us going early and that just opened up the whole offense for the rest of us," Sykes said. "Once Valley started to double him in the second half, he started to dish the ball and found guys for the shot. We've had really good practices over the past couple of weeks, and it makes the game feel a lot smoother."
Bennett started the game by scoring Adena's opening nine points. But Valley's Bryce Stuart, Ty Perkins and Jace Copley kept pace throughout the first.
With the game tied 16-16, Bennett converted a bucket, giving him 13 points in the first as the Warriors led 18-16.
Sykes began to get into the mix in the second quarter, and Dillon McDonald got a steal and bucket on the other end to cap a 10-3 run, pushing the lead to 28-19.
Shots weren't falling for Valley as the lead continued to grow. Then Jarrett Garrison buried a triple before the buzzer to give Adena its biggest lead at 36-22.
"With Valley being such a young team and smaller than we are in the post, that was our point of attack," Bradley said. "We felt that was our advantage. Everyone knows what Logan and Preston bring to the table every game, and I thought they did a great job getting out in transition and getting our offense rolling."
Although Valley was able to cut the lead to single digits a couple of times, it couldn't get past an eight-point deficit. Any bucket the Indians scored, Adena had an immediate answer on the other end.
Whether it was Bennett, Sykes, McDonald or Nate Throckmorton, who found easy shots at the rim on baseline drives, the Warriors showed to be too much for the Indians to handle.
"The guys have bought into the defensive identity of this team, and that's all credit to them," Bradley said. "They way we are guarding and approaching things is forcing teams to run an offense from the perimeter. Valley is a guard-heavy offense who lived and died by the 3 tonight, and I thought our guys did a great job contesting shots and boxing out."
After Bennett and Sykes' totals, McDonald added nine points while Throckmorton had six points, three rebounds and three assists.
For Valley, Ty Perkins led the way with 16 points and four rebounds. Bryce Stuart and George Arnett added nine points each, and Stuart dished out four assists.
Adena returns to action on Friday at Huntington in SVC action, while Valley hosts Eastern that same evening in SOC II play.
BOX SCORE
Adena: 18-18-10-17 — 63
Valley: 16-6-14-8 — 44
Adena: 29-52 FG, 1-4 FT, 4-11 3pt., 32 rebounds (Bennett 10), 11 turnovers, 10 assists (Sykes, Throckmorton 3). Scoring: Bennett 25, Sykes 18, McDonald 9, Throckmorton 6, Garrison 5.
Valley: 18-43 FG, 4-7 FT, 4-17 3pt., 17 rebounds (Perkins, Greathouse 4), 12 turnovers, 10 assists (Stuart 4). Scoring: Perkins 16, Stuart 9, Arnett 9, Copley 4, Greathouse 4, Buckle 2.