Derrick Webb, Staff Writer
KINNIKINNICK — Throughout Tuesday's first half, Piketon's young group was tested.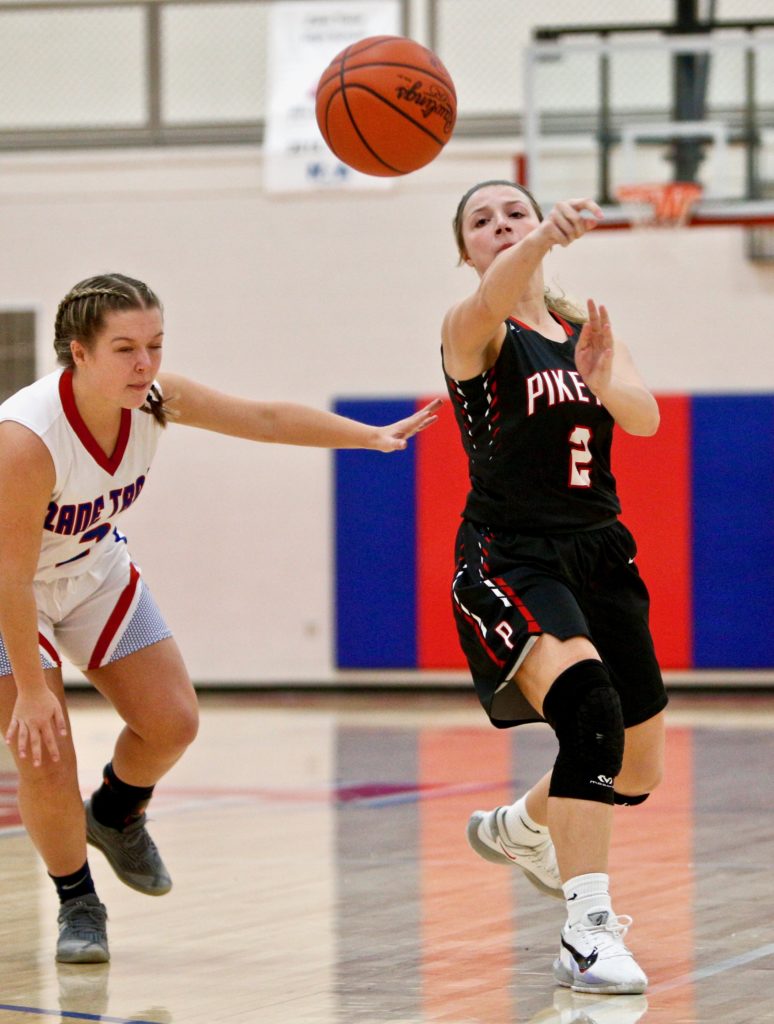 The Redstreaks, who start five sophomores, found themselves trailing early and in a defensive battle with Zane Trace.
But then they caught a second wind — and used it to breeze past the Pioneers in SVC action.
"I thought we caught our second wind," Piketon coach Brett Coreno said. "We've been quarantined twice, we've only had a couple of practices in the last two or three weeks and we start five sophomores. But at the end of the day, they get after it. They're getting the most out of what they have. We just have to continue doing that."
The Redstreaks (3-1, 1-1 SVC) managed to put away a 50-32 win, one that doesn't come close to describing the true nature of the contest.
"Last year, these girls were kind of thrown to the wolves. And that's OK. No one is going to feel sorry for you. I get it," Coreno said. "But I think they're starting to mature. They're playing in bigger games, which gives them experience. Every game in the SVC is going to be tight. They're still trying to find an identity but they're grinding things out and getting it done."
Overall, seven different players scored for Piketon and three hit double-digit figures — Hayleigh Risner, Kennedy Jenkins and Bailey Vulgamore.
The Redstreaks have been able to find balance on a nightly basis this season, something Coreno expects and is happy with.
---
---
"It's not only the fact that we're balanced, but even better, the kids don't care who scores. Not one kid is going out there and trying to score 25 points," Coreno said. "They're just going out there and looking for the best opportunity in a possession. They're happy when one of their teammates scores and they're happy to see them getting interviewed after."
In Tuesday's first quarter, behind Lauren Lane, Emily Allen and Gracey McCullough, Zane Trace (1-4, 0-3 SVC) went on an early 12-2 run to take a 12-7 lead with 3:24 left. But Jenkins hit back-to-back jumpers before Vulgamore buried her first 3 of the night, putting Piketon up 14-13.
That lead would grow to 19-13, finishing off a 12-1 run, thanks to Addison Johnson and Savannah McNelly. The Pioneers cut the deficit to two at 19-17 but the Redstreaks rode a late surge to a 27-20 lead at halftime.
And you could tell something had clicked.
After Allen pulled ZT to within four at 29-25 in the third, Risner and Jenkins went to work. The duo gave the Redstreaks a 35-27 after three quarters and set the tone for the fourth.
Vulgamore, Risner and Lamerson started the final eight minutes with consecutive buckets, two of which came in transition following turnovers, and before ZT could blink, Piketon led 41-27.
With 3:17 remaining, Vulgamore dialed long distance, providing the dagger and ending a 9-0 run en route to an 18-point victory.
Risner and Jenkins led all scorers with 12 points each while Risner added nine rebounds. Vulgamore finished with 11 points, five boards and two assists, and Lamerson had six points and five rebounds.
Lane led the Pioneers with 11 points while Allen had nine points and nine rebounds. Laynee Hill also helped out, totaling seven points, while McCullough finished with four points and five boards.
Both teams will be back in action on Thursday. Zane Trace will host Unioto while Piketon travels to Adena to face the undefeated Warriors.
And make no mistake, for Piketon's young core thus far, it may be the biggest game of their careers.
"We're just going to keep doing what we're doing," Coreno said. "I told the girls in the locker room that last year, they were never in big games. Now, they're starting to slowly but surely get into bigger games. You have to know how to handle those. We know how good Adena is. They're ridiculously good … and young, which is scary. But we're going to give it all we've got."
BOX SCORE
Piketon: 14-13-8-15 — 50
Zane Trace: 13-7-7-5 — 32
Piketon: 20-45 FG, 7-13 FT, 3-7 3pt., 27 rebounds (Risner 9), 15 turnovers, 9 assists (Johnson 4). Scoring: Risner 12, Jenkins 12, Vulgamore 11, Lamerson 6, Johnson 4, McNelly 3, Cooper 2.
Zane Trace: 13-50 FG, 5-8 FT, 1-12 3pt., 29 rebounds (Allen 9), 25 turnovers, 6 assists (Guffey 2). Scoring: Lane 11, Allen 9, Hill 7, McCullough 4, May 1.