Dewey Dailey, Contributor
CHILLICOTHE — Despite Unioto's starting five consisting of three juniors and two freshmen, the Shermans know how to scrap and make teams truly earn a win.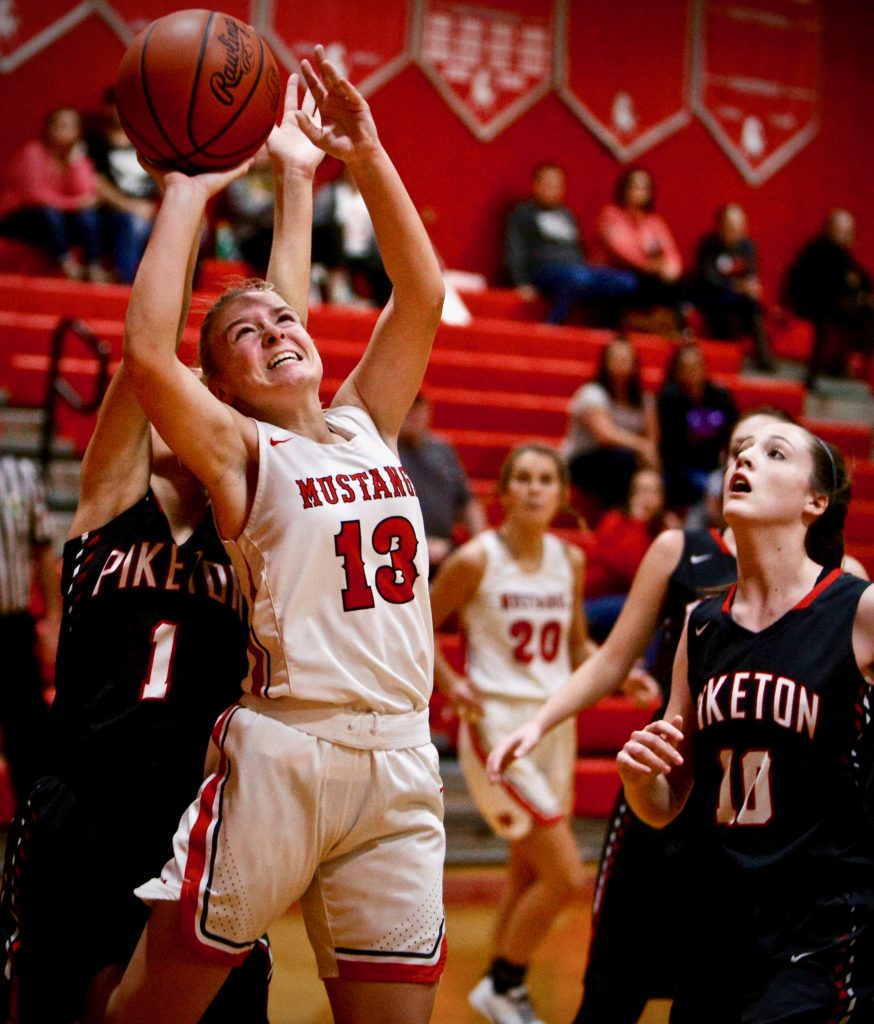 Unioto aimed to remain perfect in Scioto Valley Conference play on Thursday, but Westfall had other plans.
In the early season conference matchup, Westfall's Marissa Mullins found Gabby Patete on an outlet pass for a game-winning lay-in with just four seconds left, sealing a 47-45 victory over Unioto.
"I thought Marissa was going to take it," Patete stated about the final play. "But a Unioto player started closing in on her, and I was there for an outlet and it just happened to go in."
Early on, Unioto (2-2, 1-1 SVC) was in full control. It got a spark off the bench with five points from Kylie Paul, who nearly outscored Westfall (5-1, 2-1 SVC) by herself in the first quarter as the Shermans led 13-7.
Throughout the second, the Mustangs focused on getting the ball inside while Unioto continued to find its offensive balance.
In total, eight different players scored in the first half for Unioto, led by six points from Carissa Wheeler. Patete and Mullins led the charge in the second for the Mustangs, who won the quarter 15-14, but trailed 27-22 at the break.
"We sort of came to a realization that we can beat Unioto," Patete said. "We didn't play our best in the first half, yet didn't trail by more than eight points. So we just needed to pick it up, show some fight and trust each other."
Westfall came out of the gates with a 5-0 run to tie the game in the third, but Paul buried a triple with 4:26 left to keep the Shermans ahead 30-27. Westfall rallied behind Patete, Kylee Henry and Natalie Holland for a 7-4 run to tie the game at 34-34 heading into the fourth.
The count stayed neck-and-neck down the stretch, but Unioto proved to be its own worst enemy at times. Despite getting defensive stops, the Shermans turned the ball over and were whistled for multiple fouls, sending Westfall to the charity stripe, where they finished 14-of-23 on the evening.
Still yet, tied 45-45, Unioto had a chance to go for the win but missed a 3-pointer, which was followed by a rebound from Mahaley Farmer … who found Mullins, who found Patete, for the final bucket to seal the win.
Patete finished the night with a game-high 19 points and nine rebounds. Henry followed with 11 points and Farmer added eight points, five rebounds and four steals.
Avery Miller finished with 12 points and nine rebounds for Unioto, followed by eight points from Paul and six points and eight rebounds from Wheeler.
Westfall returns to action on Saturday at home against New Hope while Unioto rebounds at home against Adena on Tuesday in SVC action.
"We definitely need to tighten up our defense and learn to be patient offensively," Patete said. "We came through in this one, but there are times we rush too much so we have to slow down."