Brock Netter, Staff Writer
WHEELERSBURG — It's never easy playing a conference opponent as a season opener, but Wheelersburg enjoys a challenge.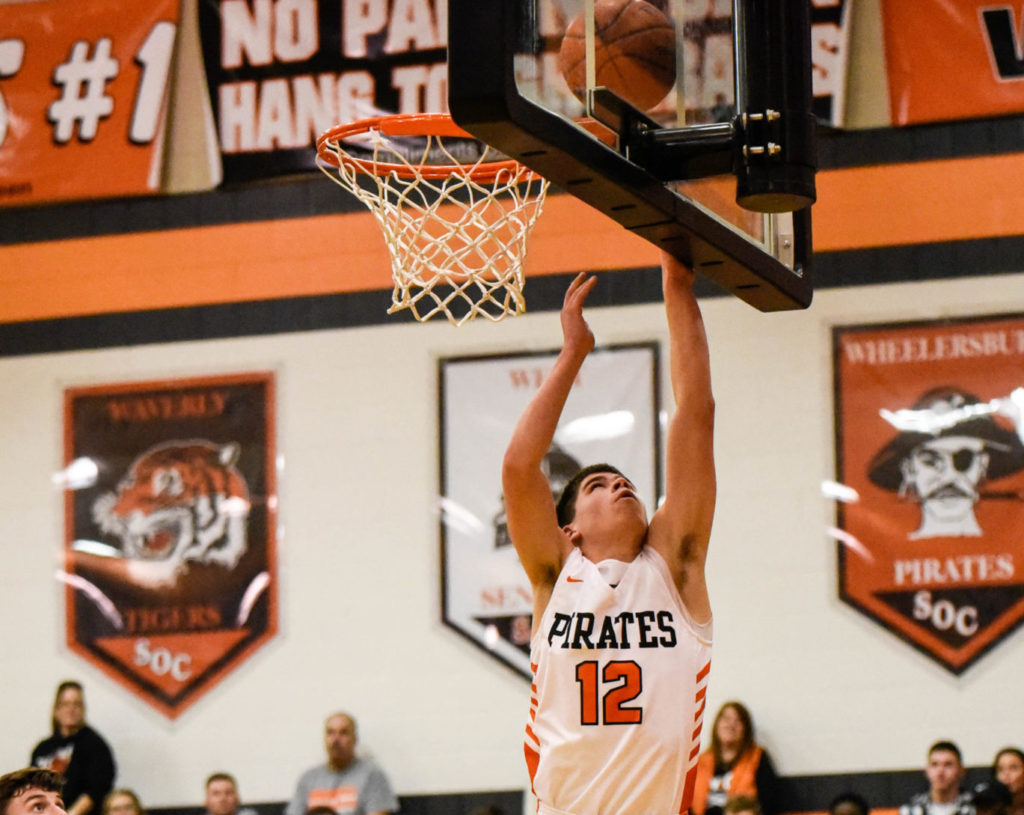 The Pirates (1-0, 1-0 SOC II) had their hands full with an up-and-coming Valley team, who buried five 3's in the second half, but still managed to pull out a 65-60 victory over the Indians on Tuesday.
"We had a lot of issues, but that's to be expected in your first game of the season," Wheelersburg coach Steven Ater said. "It was Valley's third game, so they've been able to work on some things and we hadn't had live competition in two weeks. It was an absolute battle, but I'm just happy we're off to a 1-0 start."
While Valley (1-2, 1-1 SOC II) pushed the Pirates to the limit, 'Burg relied on seniors J.J. Truitt and Matthew Miller to get them to the finish line.
Truitt did most of his damage in the first three quarters with 15 points, stepping into that go-to scorer role when they needed a bucket before finishing with 20 points on the night.
When the fourth quarter came, it was Miller time. He became the playmaker, whether it was taking the ball himself or running the offense from the top of the key. He finished with 20 points, including 10 points and a pair of assists in the fourth.
"J.J. and Matthew both did a great job of attacking and taking advantage of opportunities in the lane," Ater said. "The good thing about this team is that we have a lot of guys who are capable of shouldering a scoring load on a different night. This was J.J. and Matthew's chance, and they took it which is what you expect from two seniors."
Truitt started the game by scoring seven of the Pirates' 11 opening points as they led 11-9, before Valley took a 15-13 lead following a layup from Colt Buckle.
Although the Pirates committed five turnovers in the first, they turned the tables on Valley and forced five turnovers in the second as both teams remained deadlocked through the frame.
Ultimately, a bucket from Truitt gave the Pirates a 26-24 lead at the break.
"We went inside and got some easy baskets at the rim, but we got sped up and turned the ball over more than we'd like to," Ater said. "That forced us to sit on the perimeter and we weren't hitting from outside in the first half. There were times we stopped ourselves on drives to the rim, but I think part of that was trying to read a different live defender opposed to a teammate in practice."
Truitt and Miller came out with back-to-back buckets to open the third, but then Valley began to connect from distance via Jace Copley, George Arnett and Bryce Stuart, which tied the game at 40-40.
Truitt connected on the final four points of the frame as the Pirates took a 44-41 lead heading into the fourth.
Miller hit a bucket to put the Pirates ahead 51-49 before Stuart got fouled and hit 1-of-2 at the foul line. That missed free throw proved costly as the Pirates started to find a small crack. Miller kicked it into high gear by scoring and assisting on the Pirates' next seven points for a 58-50 lead, including a pair of 3's from Eli Swords.
Although Valley extended the game with fouls and hit some shots, the deficit proved to be too much to overcome as the Pirates sealed the victory.
"This game gives us a lot to learn from, and it's better to learn from a win than a loss," Ater said. "We probably could have made it easier on ourselves at the end, but that's also credit to Valley for gutting it out and showing their resiliency. There's some things we can sharpen before Friday so we'll get back to work."
Following Miller and Truitt, Carter McCorkle added nine points and five rebounds for Wheelersburg.
Stuart finished with 19 points and five rebounds to lead Valley, followed by 14 points and seven rebounds from Perkins, alongside 13 points from Copley.
Wheelersburg returns to action on Friday at West in SOC II action, while Valley hosts Northwest that same evening.
BOX SCORE
Valley: 15-9-17-19 — 60
Wheelersburg: 15-11-18-21 — 65
Valley: 22-48 FG, 9-17 FT, 7-16 3pt., 22 rebounds (Perkins 7), 14 turnovers, 7 assists (Perkins 3). Scoring: Stuart 19, Perkins 14, Copley 13, Arnett 9, Nickel 3, Buckle 2.
Wheelersburg: 28-47 FG, 16-21 FT, 3-14 3pt., 21 rebounds (McCorkle 5), 11 turnovers, 7 assists (Miller, Adkins 2). Scoring: Miller 20, Truitt 20, McCorkle 9, Sanderlin 7, Swords 6, Jolly 2, Lawson 1.