Brock Netter, Staff Writer
BAINBRIDGE — It's a very small sample size, but Paint Valley's stock is trending in the right direction.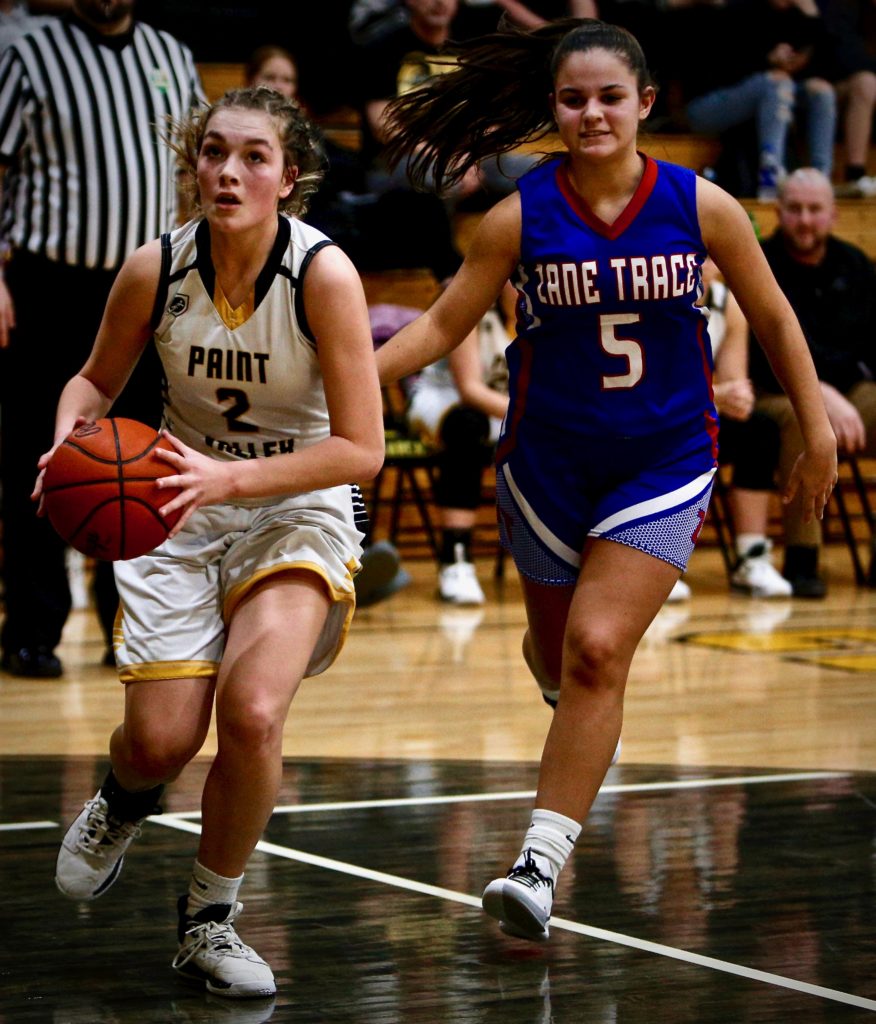 The Bearcats rebound as well as any team in the SVC, and force turnovers efficiently. And Thursday, they found some offensive balance.
With three players finishing in double-digit scoring figures, Paint Valley won the rebounding battle by a 45-30 margin and opened SVC play with a 59-44 win over Zane Trace.
"We knew this game was going to be challenging, but we wanted to set the tone for SVC play," Paint Valley coach Tristan Norman said. "Zane Trace is a much improved team and we knew they were going to bring a fight. But we also brought the fight right back to them."
Among the trio of Bearcats in double-digit scoring was sophomore guard Averi McFadden, who finished with career-highs of 16 points and 11 rebounds alongside four assists.
"I feel I had a good game because of my teammates," McFadden said. "I knew that I would have an outlet pass every time, and if not, then I know I can handle the ball until someone is open. Coach always says get to the right spots to get the right person the open shot, and we all did a great job of doing so."
Also, fresh off her record-setting rebounding game, Olivia Smith poured in game-highs of 19 points and 17 rebounds, while Abbi Stanforth added 10 points to the mix.
"After the first game against Western, we had a whole week off so we practiced a lot on the offensive side of the ball," Norman said. "We have a lot of girls who are threats and very capable of scoring from a lot of different spots on the floor. We preach over and over for them to put each other in a good spot to be successful, and I think tonight was the start of that lesson kicking in."
ePaint Valley (2-0, 1-0 SVC) never trailed, but still experienced some moments that were a little too close for comfort.
After a triple from Stanforth, Smith followed on the next possession with a put back, putting the Bearcats ahead 13-7 before they ended the quarter with a 15-10 lead.
With McFadden continuing to grab rebounds and run the offense, the Bearcats pushed their lead to 23-15 following a bucket from Smith. Both teams scored five points the rest of the way, making it a 28-20 game at halftime.
Zane Trace (0-2, 0-1 SVC) managed to cut the lead to 31-25 behind buckets from Lauren Lane and Emily Allen. However, it gave up back-to-back buckets to Smith and Stanforth, which put the lead back into double digits.
It remained that way after each scored nine points in the remaining time, putting the game at 44-34 heading to the fourth.
"Zane Trace is an extremely aggressive team. They apply pressure and play solid defense as well," Smith said. "They made things difficult, but we worked all week in practice about handling their press break and outworking them on the boards."
The Pioneers had one final rally left as Gracey McCullough, Kinley May, Alara Crow and Laynee Hill each hit a shot to cut the score to 49-42 with under four minutes to go.
However, after a couple of missed shots, Stanforth found a wide open Hanna Uhrig, who buried a trifecta that served as the final blow to the Pioneers.
"Things got close a couple times in the second half, but we kept our composure and relied on our experience to get us through," Norman said. "Starting 2-0 is great, but we have to keep working. There's a few areas defensively that we have to sharpen up as well as handling the full-court pressure better."
After the trio of Smith, Stanforth and McFadden, Kendall Dye added eight points and four rebounds to the mix.
Lane finished with 13 points to lead Zane Trace, followed by 10 points and 14 rebounds from Allen, as well as six points and four rebounds from McCullough.
Paint Valley returns to action on Saturday at home against Belpre, while Zane Trace travels to Westfall on Tuesday in SVC action.
BOX SCORE
Zane Trace: 10-10-14-10 — 44
Paint Valley: 15-13-16-15 — 59
Zane Trace: 17-59 FG, 9-18 FT, 1-11 3pt., 30 rebounds (Allen 14), 23 turnovers, 9 assists (May, Lane, Guffey, McCullough 2). Scoring: Lane 13, Allen 10, McCullough 6, May 4, Crow 4, Fetters 3, Hill 2, Guffey 2.
Paint Valley: 18-47 FG, 19-34 FT, 4-11 3pt., 45 rebounds (Smith 17), 28 turnovers, 9 assists (McFadden 4). Scoring: Smith 19, McFadden 16, Stanforth 10, Dye 8, Uhrig 4, Furness 2.