Brock Netter, Staff Writer
CHILLICOTHE — For roughly 30 of 32 minutes on Monday, Unioto found itself trailing while trying to minimize a number of turnovers.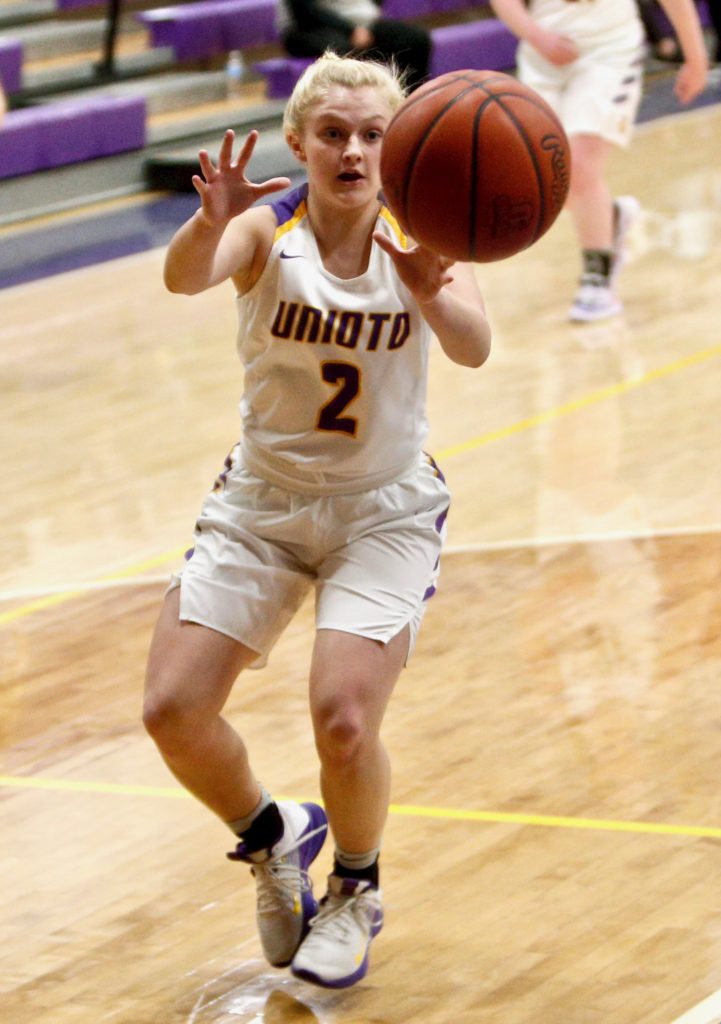 And while the Shermans ended the night with 20 turnovers, they played a clean final minute. That's all it took.
Unioto forced a pair of turnovers, which set up Avery Miller to score the game-winning basket with 2.6 seconds left to give the Shermans (1-1) a 37-35 victory over Jackson.
"Honestly, I didn't think I was even going to get the ball on the final play," Miller said. "I thought that Alexis [Book] was going to throw the ball to Amelia [Uhrig]. But I ended up being open going to the basket and I made it."
Alongside the game-winning bucket, Miller finished as the only Sherman in double-digit scoring figures with 11 points and four rebounds, including a huge 3-pointer in the fourth quarter to keep her team within striking distance.
"When she's giving her full effort, she's completely productive," Unioto coach Jeff Miller said. "She was in cruise control in the first half, and she'd admit that herself. We're going to ask a lot from her because she's the only varsity returner from last year that played. We need her to lead in those final minutes and she came through for us."
Unioto held early leads of 2-0 and 5-2 before Jackson (1-2) went on a 6-0 run behind two buckets from Katelyn Webb and one from T.J. Carpenter to take an 8-5 lead.
The Shermans got a spark from Eric Callahan off the bench and narrowed the gap, but still trailed 12-10 after the first.
Jackson created more distance between the two with a 6-0 run in the second, this time as a result of second chance scores from Kenzie Davis, stretching the lead to 20-12 with 4:55 left.
By halftime, the Ironladies had a 20-14 lead.
"We wanted to spread Jackson out more on the perimeter offensively, but we also didn't help ourselves any because we missed a lot of easy shots," Jeff Miller said. "Jackson did as well, but they had a rebounding advantage in the first half. We talked about ending possessions with shots, whether we make them or not."
The Ironladies maintained control and attempted to push their lead to double digits in the third, figuring it would be a near knockout blow to the Shermans.
Leading 24-16, Kenzie Davis buried one of two free throws but managed to get an offensive rebound after the miss and called timeout to keep possession.
It turned into an empty possession, but Jackson still owned a 27-20 lead heading into the fourth.
Jackson was still holding onto an edge, and attempted to seize all momentum after Carpenter converted a big-time three-point play to keep the Ironladies ahead 35-29.
But the freshman duo of Alexis Book and Amelia Uhrig began to make winning plays as the Shermans battled back. Uhrig was grabbing offensive rebounds, and Book buried a triple that cut the lead to one possession.
"That fourth quarter was a little nerve-racking at first, but once we all settled in, it made it a little easier to come back," Uhrig said. "Honestly, I think the biggest thing for me was learning how physical I have to be in the post. If I'm not physical, then I can't do anything so I had to step it up in that area."
Uhrig converted two free throws that trimmed the lead to 35-34 with 42 seconds left. After the Shermans forced the 13th and final turnover for the Ironladies, they caught a break when a near turnover of their own bounced off a Jackson player.
That set up Book with the out-of-bounds pass, and she found Miller rolling off a screen to the bucket for the go-ahead shot and, ultimately, the win.
"It's sort of funny because I told the girls in practice after the McClain game that their freshman nerves are gone and now it's time to play. And sure enough, it was a freshman who made the biggest pass of the night," Jeff Miller said. "We are asking a lot out of those freshmen who are experiencing varsity action for the first time, but Alexis and Amelia did a great job of making plays in big spots."
After Miller's fina stat line, Uhrig finished with six points and seven rebounds, followed by four points each from Callahan, Nyanna Hatfield and Karlee Renner. Book added three points, five rebounds and three assists.
For Jackson, Carpenter finished with game-highs of 12 points and 14 rebounds, followed by nine points from Webb and eight points and five rebounds from Davis.
Unioto returns to action on Thursday at home against Huntington to open SVC action while Jackson hits the road on Wednesday, at McClain, for an FAC battle.
"Defense is a five-man job and that's what we need to do on Thursday," Jeff Miller said. "I think sometimes we get three players having a good defensive possession and the other two are taking a break, which leads to us getting burnt. That's our focus, doing your job on the defensive side. Offensively, we need to be more consistent and focus on getting good, quality shots."