Brock Netter, Staff Writer
WILLIAMSPORT — Neither offense had much of a rhythm on Friday evening, but Westfall relied on its returning experienced players to take it to the promised land.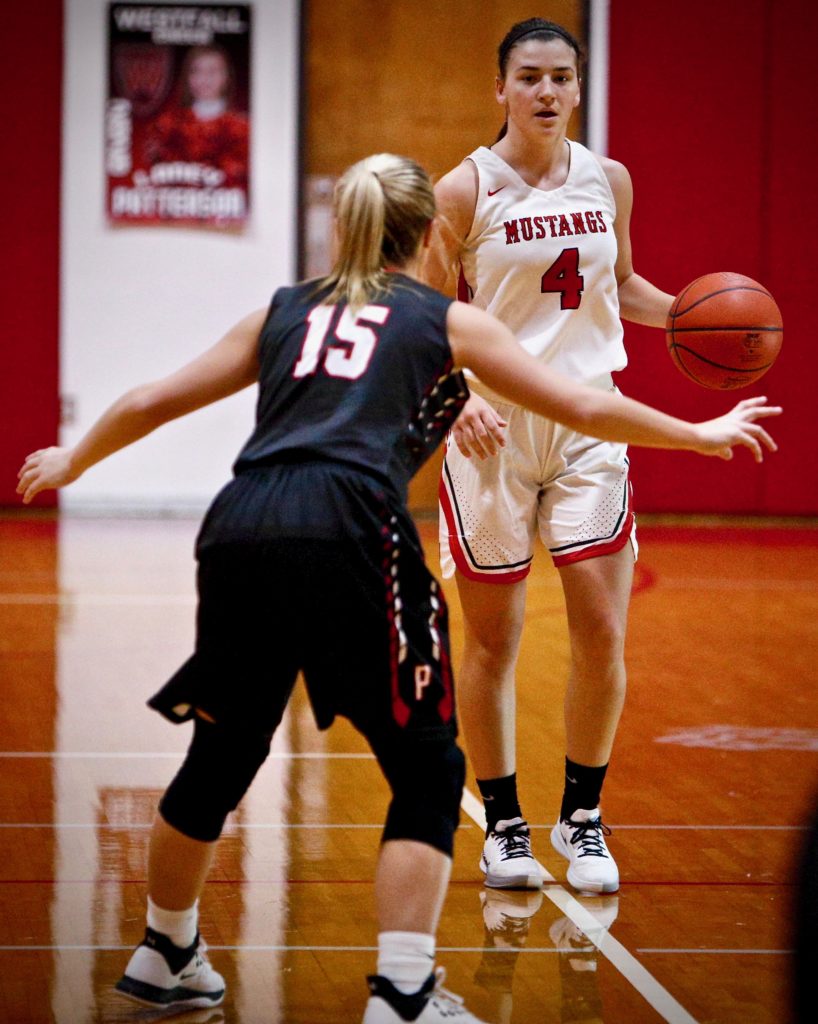 Senior Mahaley Farmer and junior Gabby Patete combined to score 28 of Westfall's 38 points on the evening as the Mustangs squeaked by Washington (0-1) by a 38-32 final.
"I knew we were going to be pretty rusty coming out after being quarantined for two weeks," Westfall coach Zane Miller said. "We went pretty deep and played nine girls, and they all played quality minutes, not just 1-2 minutes and then they're out. Some things to work on that we can fix for the next game, but I'm happy with the win. It's a COVID win so we'll take it."
Farmer finished with nine points, including five in the fourth alongside five rebounds and a huge assist to set up the dagger from Patete, who finished with a game-high 19 points, 16 of which came in the second half.
"I was telling our team throughout halftime that we could not let ourselves get into a slump," Patete said. "It happened a few times last year where we'd lose by 15 points despite being down just one point at halftime. I knew that I needed to pick it up for myself and the team because I knew I was capable of way more than what I did in the first half."
Both teams started out even as they each had four players score a bucket in the opening quarter, but Westfall (1-0) held an 11-9 lead after one.
Despite the game being played at a quick pace, shots weren't falling for either team. Washington won the quarter 5-4, but trailed 15-14 at halftime.
With the game at 17-16, Washington's Emily Seimer hit a pair of free throws, later followed by two buckets from Aaralayne Estpe and Alizae Ryan, to cap a 6-0 run and take a 22-17 lead.
"All credit to Washington, they are an incredibly scrappy bunch who grinds you down," Miller said. "They did some things that quite honestly we weren't ready for and made us work for every bucket."
However, Westfall switched up and began running a three-quarter court press to try generating some offense before the game got away.
The Mustangs forced three straight turnovers which turned into a personal 7-0 run for Patete that put the Mustangs back ahead 24-22. However, the Blue Lions stayed calm and battled back to take a one-point lead heading into the fourth.
Unfortunately for them, they ran out of steam and couldn't counter Patete and Farmer bucket for bucket down the stretch.
With the game tied 30-30, Farmer came through with a touch basket, plus the foul, and then gave the key assist to Patete, who buried a triple from the left corner that ultimately sealed the deal for the Mustangs.
"We needed to lockdown on defense because that transitions into our offense," Farmer said. "We're a fast team who likes to pick up the pace. The faster we go, the easier it is for us to get into an offensive rhythm and we just work harder."
After Patete and Farmer, Marissa Mullins added four points, seven rebounds and four blocks.
For Washington, Seimer finished with eight points, Estep had five points and Mallory Hicks added five points with eight rebounds.
Westfall returns to action on Tuesday at home against Amanda-Clearcreek, while Washington returns to action on Saturday at McClain to open FAC action.
"Coach always says that defense runs your offense, so we need to be better defensively," Patete said. "I don't think we play as hard defensively as we do offensively right now, but we'll continue working hard and improving in that area."