Derrick Webb, Staff Writer
BAINBRIDGE — Two minutes and seven seconds into their season opener, Paint Valley coach Bobby Williams had to call a timeout with his team trailing 7-0.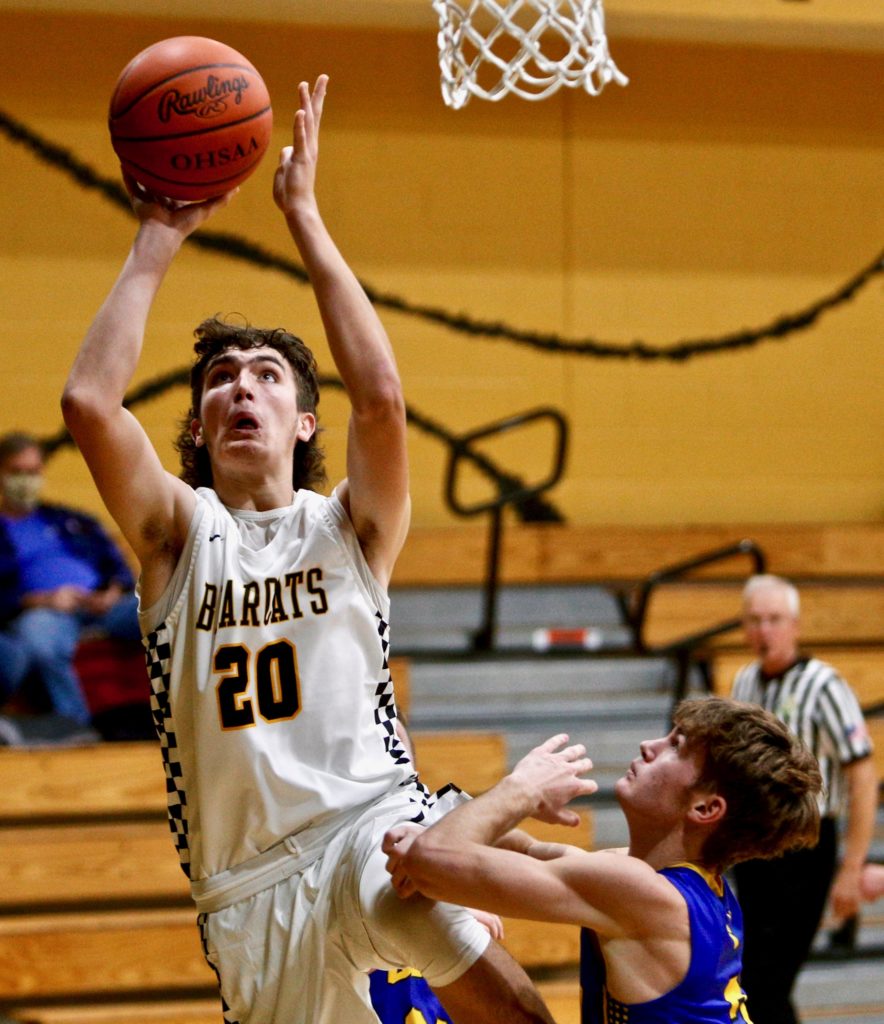 On the opposite end, Clay's Shaden Malone had scored each of the Panthers' seven points and was having his way with the Bearcats' defense.
"They came out and smacked us in the mouth with a 7-0 run," Williams said. "We had to regroup. That was kind of our shifting point. That's true even in last season. A lot of times, we'd go the other way and not answer that call. I think today, we answered that call."
Did they ever.
Throughout the rest of the first half, the Bearcats (1-0) outscored Clay by a 33-7 margin. That was more than enough to pull away before Paint Valley put away a 75-38 victory.
"We can go 10 deep. That helps. We knew the Malone kid was really good. But I think our defensive intensity was a lot better and we're a lot quicker than we were last year. Definitely more athletic," Williams said.
Coming into the game, Cordell Grubb was a known scoring commodity for the Bearcats. But on Friday, sophomore Dax Estep quickly established himself as a bonafide number two option.
Estep was active on the glass and managed to give his teammates second looks on multiple possessions. He finished the game with 21 points and nine rebounds.
---
---
"That's what we're expecting this season," Williams said. "We've got some guards that can knock down shots, too. Cordell is going to see a lot of defense this year and we're trying to run an offense through him. He's a great passer as well. But Dax stepped up tonight."
After Malone gave Clay (0-1) a 7-0 lead, Estep, Grubb and Cole Miller all logged scores to cut the lead to 7-6 with 3:50 left in the first quarter. After Clay Cottle gave the Panthers a 10-6 lead, Miller hit a 3 and Blaine Parker scored to put PV ahead at 11-10 with 2:04 remaining.
The Bearcats never trailed again.
After entering the second quarter with a 14-10 advantage, Grubb hit two consecutive 3's with 7:48 and 7:21 left, capping an 8-0 run and pushing the lead to 22-10. By halftime, the advantage was 33-14 and by the end of the third, it was 57-34.
Nothing changed in the fourth as Paint Valley won it by an 18-4 margin.
Grubb led all scorers with 23 points, followed by Estep's 21 points and nine boards. Miller finished with 12 points and six rebounds while Trent Mettler tallied six points and two assists.
Malone led Clay with 17 points and six rebounds while Cottle finished with 19 points.
Paint Valley is back in action on Tuesday, traveling to Fairfield, while Clay plays the same night, hosting Oak Hill.
"We can get better defensively. Our rotations are a little slow right now," Williams said. "We made a point to try and keep kids out of the lane. But we're a young team. Most of the starters are sophomores and juniors. So there's a lot of things we can still improve on. But it's going to be a fun year."
BOX SCORE
Clay: 10-4-20-4 — 38
Paint Valley: 16-17-24-18 — 75
Clay: 14-47 FG, 8-12 FT, 2-8 3pt., 19 rebounds (Jessee 5), 14 turnovers, 0 assists. Scoring: Cottle 19, Malone 17, Jessee 2.
Paint Valley: 32-64 FG, 1-4 FT, 10-19 3pt., 40 rebounds (Estep 9), 10 turnovers, 16 assists (Mettler 4). Scoring: Grubb 23, Estep 21, Miller 12, Mettler 6, Parker 4, Brauner 3, Blanton 2, Byrd 2, Jeffers 2.