Derrick Webb, Staff Writer
PORTSMOUTH — When Notre Dame's Ava Hassel first stepped onto a basketball court, she knew she wanted to go on a lengthy journey with the game by her side.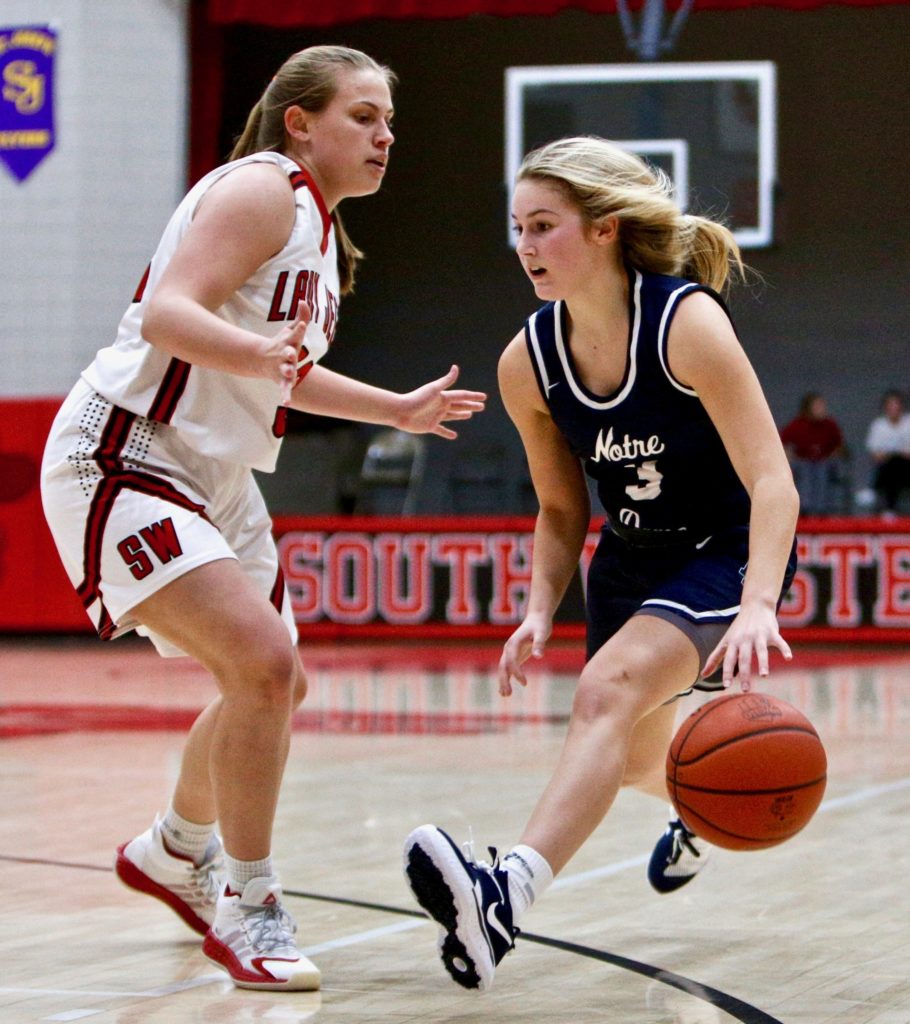 Hassel has blazed her way through the high school ranks, proving time and time again why she's one of Southern Ohio's best talents.
Now, she'll have the chance to continue doing so, while taking the next step on that journey, at the collegiate level.
On Friday afternoon, Hassel announced that she had verbally committed to DePauw University — a Division III school located in Greencastle, Ind.
"I fell in love with DePauw before I even stepped on campus. The coaches have been so awesome to me and I have enjoyed getting to meet the players on the team," Hassel said. "The basketball program is great and I look forward to making runs for a national title. I believe DePauw is going to give me the best opportunities for success after my four years there."
As a junior, Hassel averaged 15.9 points, 3.3 rebounds, 4.0 assists and 3.3 steals each night.
Those numbers led the Titans to a 24-3 mark and their first-ever regional final appearance.
Hassel paved the way to the team's third consecutive district title while she earned SOC I Player of the Year honors as well as all-district and All-Ohio nods.
All of that happened with her support system close by.
"My family has done so much for me and supported me through every decision I have made," Hassel said. "My mom and dad have been my rocks. They have sacrificed countless hours taking me to tournaments, showcases, and visits. My coaches have helped me tremendously with my recruiting process and have pushed me to be the best player I can be. [Notre Dame] coach [J.D.] McKenzie has helped me since I can remember, pushing me to be a leader and bringing the potential out of me. I will forever be grateful for everything he has done for me, on and off the basketball court. I have been blessed with the best teammates, in high school and travel ball, and lifelong friends. I will cherish them forever and I wouldn't be who I am without any of them."
Next season, she'll be joining a team that was 28-2 overall in 2019-20 and 16-0 in the North Coast Athletic Conference.
The Tigers won the NCAC Tournament, beating Denison by a 66-47 final, and finished their season in the Second Round of the Division III NCAA Championship.
DePauw won Division III National Championships in 2013 and 2017.
"My whole life, I have strived to make it to the collegiate level. I am super excited to experience how different the pace of the game is from high school," Hassel said. "At DePauw, I believe I will get a legit shot at playing against great competition. I'm hoping to help the program win another national championship, which would be an all-around amazing experience to go through."
But first, there's business to attend to during her senior campaign.
The Titans started this winter with a 54-50 win at South Webster, a game in which Hassel scored a team-high 16 points.
For good reason, Hassel has big expectations for the rest of the season.
"It feels great to have this goal off my shoulders so I can just go out and play for my senior season," Hassel said. "I have high hopes for our team this year, and I think our young girls will step up big time. I plan to help my team win another conference, sectional, and district title. The sky is the limit for this team with the amount of talent we have. We want to make it back to the regional final and move on from there."