Brock Netter, Staff Writer
CHILLICOTHE — Unioto never trailed and held a comfortable lead all night, but the Shermans still had a bit of trouble down the stretch putting McClain away.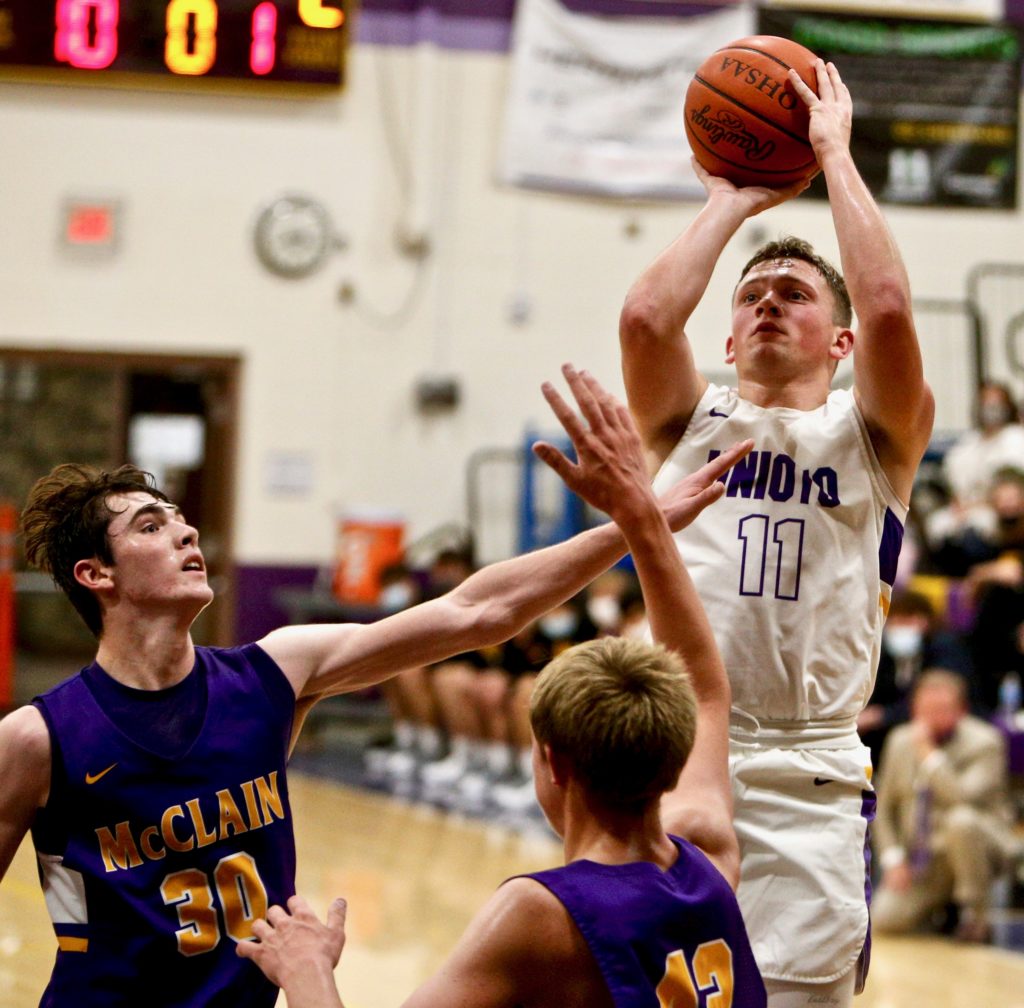 But that's when the patience of senior guard Gunnar Greenwalt paid off.
After playing three quarters of stout defense, he got his chance offensively and connected on four consecutive 3's in the fourth quarter that allowed the Shermans to pull away from the Tigers, winning 58-32 on Wednesday.
"I was trying to get us to swing the ball backside, but we just didn't for a while," Greenwalt said. "Once we finally did in the fourth, I took the chance and knocked down the shots. Isaac [Little] and Cam [DeBord] kept finding me, then we set up a play to get me the ball again so I just kept shooting the rock."
Greenwalt, who had two points entering the fourth, finished with 16 for the night to go with four rebounds and four assists.
"Gunnar had a really good preseason and shot the ball incredibly well," Unioto coach Matt Hoops said. "I couldn't be more happy for him to have that moment in his first game in his senior year, putting on a shooting clinic like he did. Anytime we have guys other than Isaac scoring from the perimeter, it makes us that much better."
Although neither team played very crisply, the difference early was that Unioto had Isaac Little and McClain didn't.
He buried a triple to start the game, and later sank four straight free throws to put Unioto ahead 7-2. The Shermans (1-0) pushed that lead to 13-5 to end the first after a rebound and put back from Greenwalt at the buzzer.
Using that momentum, Unioto started the second on a 5-0 run, following a triple from Evan Park, that pushed the lead to double digits at 18-7.
---
---
On the other end, the Tigers (0-1) were struggling to even get shots off because of Park and rising freshman Tayvion Galloway, who both stood tall in the post.
Galloway's energy and defensive intensity was a major part of why the Shermans had a 24-9 lead at halftime, a time when he had already tallied four blocks.
"He came in excited and ready to work," Greenwalt said of Galloway. "I told him at the beginning of the season that as long as he kept his head on straight and put in the work that his opportunity would come. It just so happened that Cater [Marko] was quarantined this week. That opened the door for Tayvion to start and he was ready."
Despite Unioto's offense hitting a wall in the third quarter, its defense continued to hold firm, despite the Tigers getting to the free throw line at a high rate.
McClain won the third by a 12-9 margin but still trailed Unioto 33-21 as the offense never found a rhythm. They let Greenwalt get loose from deep in the fourth and that was all she wrote as the Shermans closed out the win.
"Overall, for our first night out, I thought we played a really solid game, even with all of the unknowns surrounding COVID-19," Hoops said. "It's a hard for us coaches, but even harder for younger kids not knowing from day to day what's going to happen. But the guys came ready to play and executed for the most part. We got our spacing and the ball started moving more in the second half. That allowed us to create the distance we did. Still a few things to clean up, but I'm happy with how we played."
Little led all scorers with 18 points and three assists, followed by Greenwalt. Cam DeBord added nine points and five rebounds.
Bryson Badgley had nine points and five rebounds for McClain, followed by eight points and five rebounds from Braden Wright.
Unioto returns to the court on Tuesday at Miami Trace while McClain hosts Washington on Dec. 4 to open FAC action.
"Felt like we gave up too many second chance opportunities and McClain got to the foul line too much for our liking," Hoops said. "Miami Trace is a big, physical team, so rebounding the ball will be a point of emphasis and playing without fouling."