Derrick Webb, Staff Writer
WASHINGTON C.H. — Only one game into the season and Eastern Brown coach Kevin Pickerill has an idea of how resilient this year's group will be.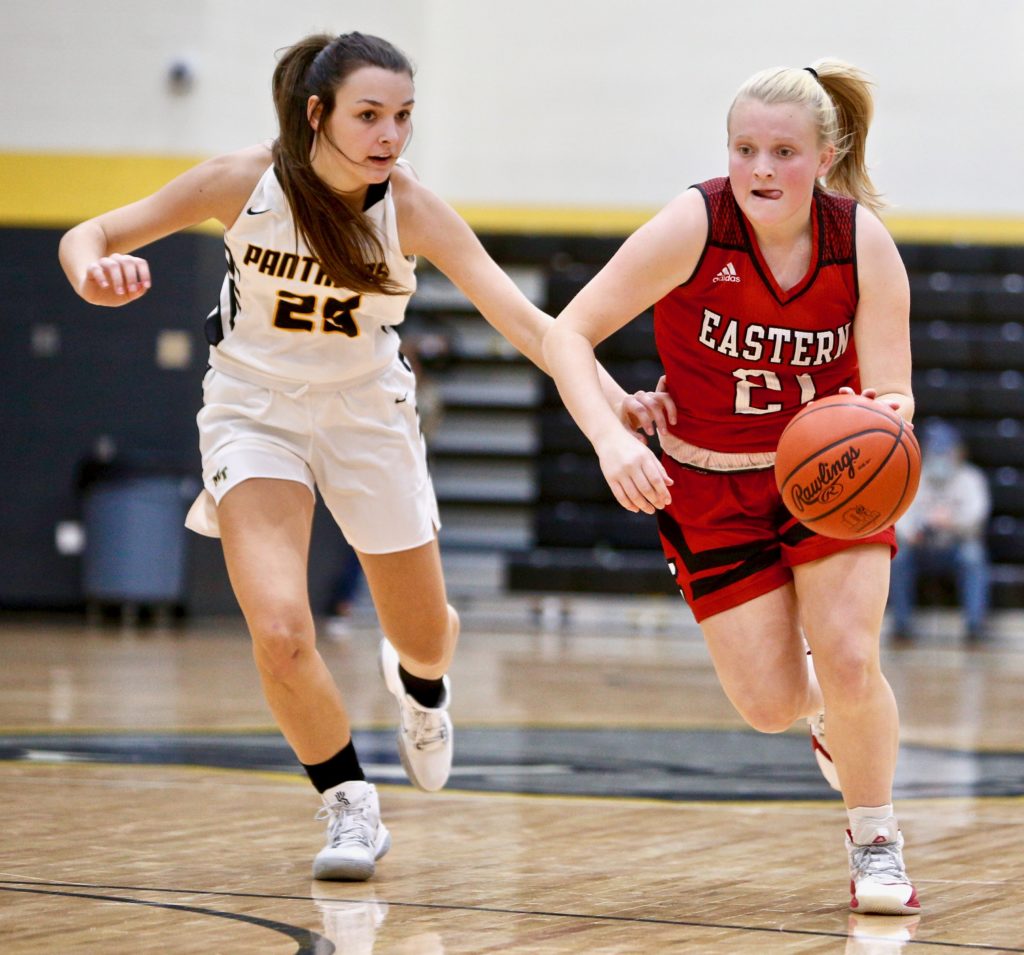 Pickerill's Warriors traveled to Miami Trace on Tuesday and found themselves reeling late in the fourth quarter. But after seeing a double-digit lead dissolve to just two points, Eastern Brown regrouped, got a key defensive stop and hit its free throws to put a gritty 45-42 win on ice.
"I was tickled to death with our depth and the way our bench played," Pickerill said. "But overall, I knew Miami Trace was going to be very physical. They weren't going to set and do one thing. They're going to throw things at you and you have to be ready. I think our kids handled it well."
Coming off that bench was junior Izzy Barber, who missed her entire sophomore season with an injury.
The Warriors (1-0) were playing without usual post Mackenzie Gloff. Barber stepped into Gloff's place and provided valuable minutes down low.
"Izzy gave us some really good minutes and that was big," Pickerill said. "I've said all along she was kind of our secret weapon. One thing about us is that it's next man up in our program. I felt like our kids did that well tonight without Mackenzie being able to play."
Meanwhile, junior guard Bailey Dotson was in a similar situation.
Dotson, who was in the Warriors' starting five, made her first start since December of 2019. She missed the entire second half of last season with an injury.
"I love that kid. She brings a lot of energy every single day," Pickerill said of Dotson. "She's fun to be around and the kids enjoy her. She's another ball-handler and she's a threat to score. She can put the ball on the deck and she's not afraid to get in and get mixed up a little bit. She gives you every ounce she's got."
---
---
In the early going, Miami Trace (0-2) took a 5-2 lead thanks to buckets from Gracee Stewart and Libby Aleshire. But Eastern's Rylee Leonard, who scored the team's first seven points, led a quarter-ending 11-0 run to give the Warriors a 13-5 lead heading into the second quarter.
After MT's Delaney Eakins hit a triple to make it a 15-9 ballgame, Emma Prine and Barber scored to push the lead to 20-10. Leonard then dialed long distance with 1:32 left, making it 23-10. Just before halftime, Magarah Bloom brought the Panthers back to within 10 at 23-13.
In the third, the Miami Trace made its run.
Led by Eakins and Bloom, the Panthers ripped off eight straight points to trim the deficit to 29-24 with 5:10 left in the quarter. But with the Warriors leading 31-27, Leonard and Prine hit back-to-back buckets to make it a 36-27 score, once again widening the advantage.
At the 4:14 mark in the fourth, Bloom hit a pair of free throws, bringing Miami Trace to within five at 39-34. Then, with 2:59 left, the lead was cut to four at 41-37 thanks to a bucket from Kaelin Pfeifer.
Eastern's Emma Brown scored before Hillery Jacobs hit a 3 on the other end, equaling a 43-40 tally. Leonard then hit the front end of a pair of free throws before Jacobs scored, making it 44-42 with 40.4 seconds remaining.
But the Warriors earned a defensive stop, the biggest of the game, before sealing the deal on a season-opening victory.
Leonard led all scorers with 24 points while Prine added nine points to the mix. Dotson finished with four points and three rebounds and Wills had three points, five boards and three assists.
"Rylee stepped up and played the game we're expecting out of Rylee," Pickerill said. "She's going to see a lot of double teams and she handled it for the most part. And our kids played off of her."
For Miami Trace, Bloom finished with nine points, nine rebounds and two assists while Eakins tallied nine points, seven rebounds and two assists. Jacobs also helped out with six points and three assists while Stewart followed with eight points.
The Panthers will be back in action on Dec. 5, traveling to Lynchburg-Clay. The Warriors will look to build off their season-opener on Monday, going to Ripley for a SHAC matchup.
BOX SCORE
Eastern Brown: 13-12-11-9 — 45
Miami Trace: 5-8-16-13 — 42
Eastern Brown: 15-41 FG, 13-20 FT, 2-13 3pt., 20 rebounds (Wills 5), 17 turnovers, 7 assists (Wills 3). Scoring: Leonard 24, Prine 9, Dotson 4, Wills 3, Barber 2, Brown 2, Bailey 1.
Miami Trace: 13-43 FG, 9-15 FT, 7-18 3pt., 39 rebounds (Bloom 9), 27 turnovers, 8 assists (Jacobs 3). Scoring: Bloom 9, Eakins 9, Stewart 8, Pfeifer 7, Jacobs 6, Aleshire 2, Ferguson 1.