Derrick Webb, Staff Writer
Two regional finalists, four district champions, and a handful of sectional title winners … needless to say, this past volleyball season — one that was in doubt at one time — was as successful as they come.
Southern Ohio Sports Authority was right there every step of the way, covering individual milestones, improbable feats and wins that changed history.
After a fun-filled year, take a look at our All-Area team, which consists of 25 area players who were at their best throughout the fall season.
**Bold, italicized statistics recognize team leader
Kylee Barney | Senior | Middle | Wheelersburg
2020 statistics: 294 kills, 1 ace, 86 blocks, 18 digs, 17 assists
Barney ends her career with a school record 289 blocks. The 6-foot-2 middle led the Pirates to four straight district championships and a regional title in 2019. Everytime she stepped onto the court, the Division III District POY's presence alone gave Wheelersburg a sizable advantage. When the volleyball greats at 'Burg are discussed, Barney has to be in that conversation.
Alli Bennett | Senior | Setter, Hitter | Zane Trace
2020 statistics: 234 kills, 23 aces, 14 blocks, 376 digs, 366 assists
Bennett's ability to put the ball on the floor is top-notch. But her versatility is what really stood out all year long. Rather quietly, she'd pack the stat sheet while pacing the Pioneers. Her efforts led to 18 wins and a third place finish in the conference. The all-around star ends an uber-successful career at Zane Trace with a total of 732 kills, 1,184 digs and 944 assists.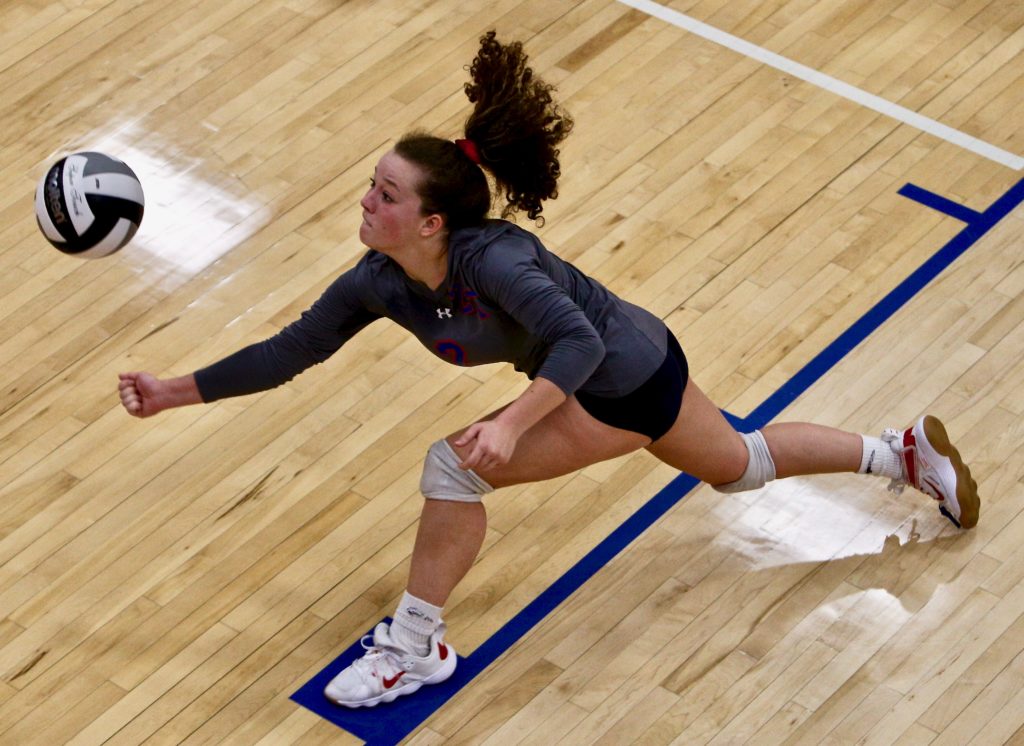 Lexi Betts | Senior | Libero | Zane Trace
2020 statistics: 1 kill, 26 aces, 0 blocks, 451 digs, 35 assists
Toughness. Tenacity. Leadership. All three traits could be attributed to Lexi Betts. The Pioneers' defense relied on Betts to set the tone on a nightly basis. She answered that call every time. She was instrumental in Zane Trace's 18 wins and led the team to a second consecutive district final appearance. She ended her career with 899 digs and 980 serve receptions in 169 sets
Camryn Carroll | Junior | Libero | Adena
2020 statistics: 2 kills, 42 aces, 0 blocks, 406 digs, 9 assists
Carroll's picture may appear in the dictionary next to the word "defense." The two are synonymous. The SVC's Defensive Player of the Year, which is impressive in its own right, put on a defensive clinic all year long. Her 406 digs led her team while she tallied just 15 dig errors in 83 sets. She was also one of the team's best at the service line. She's as solid as they come.
Isabella Claxon | Freshman | Setter, Hitter | South Webster
2020 statistics: 201 kills, 41 aces, 14 blocks, 198 digs, 390 assists
When you think about the area's best young talents, Claxon has to top the list. She now has valuable big-game experience and she has a supporting cast that consistently makes her better. The freshman led the team in assists and logged close to 200 digs and kills. The Jeeps are going to be good next season … like state tournament caliber. Claxon is a huge reason why.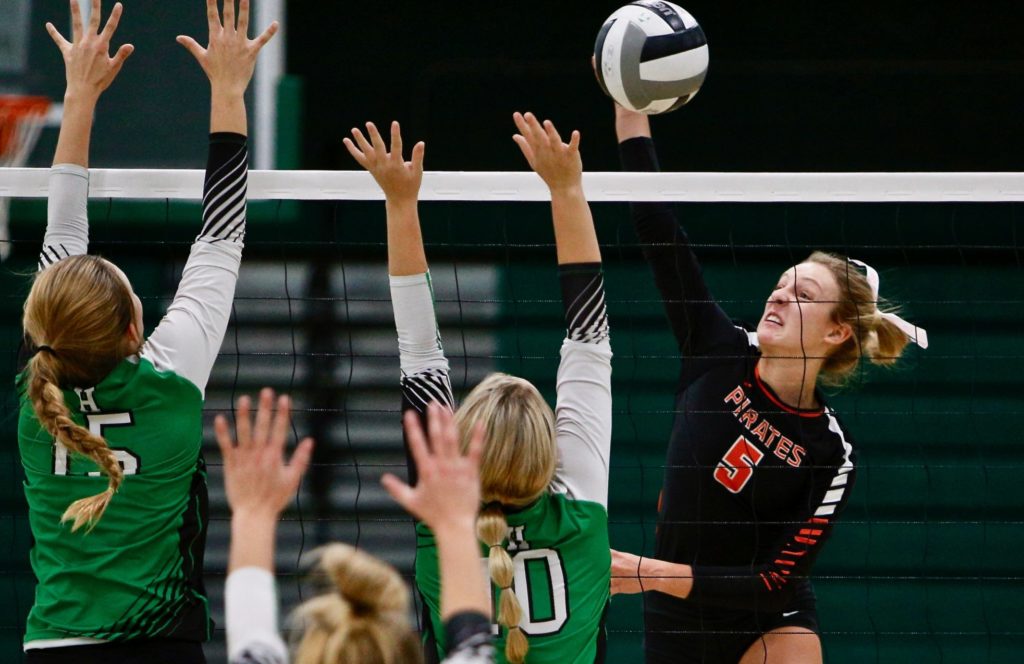 Kaylee Darnell | Senior | Hitter | Wheelersburg
2020 statistics: 211 kills, 31 aces, 10 blocks, 260 digs, 13 assists
Darnell is one of those once-in-a-lifetime players. She leads by example, she has the heart of a champion with a never-say-die attitude and she constantly showed her flexibility to play anywhere in the rotation. That combination is the gold standard. In her four years at Wheelersburg, Darnell helped the Pirates win 99 matches, including a 23-2 mark this season.
Claire Dettwiller | Senior | Middle | Notre Dame
2020 statistics: 219 kills, 14 aces, 34 blocks, 140 digs, 9 assists
Dettwiller picked up where she left off as a junior, powering her way to all-conference and all-district honors. Over the past two seasons, Dettwiller has emerged into one of Southern Ohio's best middles, totaling 463 kills and 68 blocks during that time. She was the team's energetic leader and leaves a legacy of success at ND, which includes three district titles.
Aaralyne Estep | Junior | Libero | Washington
2020 statistics: 17 kills, 31 aces, 0 blocks, 306 digs, 0 assists
Just a junior, Estep already has 1,000-plus career digs. She reached that mark this fall, adding 306 to her total and continuing to cement her reputation as one of the area's top defensive options. The Blue Lions have had plenty of success during Esteps' three-year stay. They'll look to continue that trend next season as she spends one last year in blue and white.
Olivia Fliehman | Senior | Hitter | Miami Trace
2020 statistics: 296 kills, 61 aces, 26 blocks, 334 digs, 4 assists
At the center of Miami Trace's best season in school history was Olivia Fliehman. The Panthers won their first-ever FAC title, their first sectional title since 1997 and set a school record for single-season wins with 18. Fliehman led the team in kills, aces and digs. She was the FAC Player of the Year, a first-team all-district honoree and the engine that kept the team running.
Ellie Harper | Junior | Hitter | Adena
2020 statistics: 232 kills, 2 aces, 28 blocks, 60 digs, 41 assists
When Adena needed a point, Harper's name was habitually called … and she habitually delivered the goods. While the team displayed magnificent balance, Harper's production was consistently imperative. At the biggest moments, it was her time to shine. She was a key reason why the Warriors won 22 games and captured their first conference title since 2016.
Ava Hassel | Senior | Setter, Hitter | Notre Dame
2020 statistics: 163 kills, 54 aces, 2 blocks, 381 digs, 307 assists
In her four years at Notre Dame, Hassel's Titans lost one single game in SOC I play. During her tenure, Notre Dame finished 82-21 overall with a 53-1 mark in conference action. She was a huge part of that success while playing several different roles. This fall, Hassel led the Titans in aces, digs and assists and helped her teammates reach another district championship match.
Lauren Jolly | Senior | Setter | Wheelersburg
2020 statistics: 29 kills, 31 aces, 28 blocks, 204 digs, 767 assists
In just over two seasons as the Pirates' full-time setter, Jolly logged 1,701 assists — a number paced by a total of 898 as a junior and 767 as a senior. She also proved her worth defensively, totaling 720 career digs and 52 career blocks, despite a 5-foot-5 frame. She's the perfect combination of intelligence and skill and leaves huge shoes to fill at the setter position.
Carli Knight | Senior | Hitter | Waverly
2020 statistics: 198 kills, 21 aces, 12 blocks, 264 digs, 9 assists
Knight not only earned her 1,000th dig this season, but she also set Waverly's school record in the category. She ended her career with 1,063 digs and was just as valuable as a hitter, notching 973 kills. She laid the foundation for the future as the team's only senior while continuing to add her legacy. In her four years at Waverly, the Tigers nailed down 63 wins.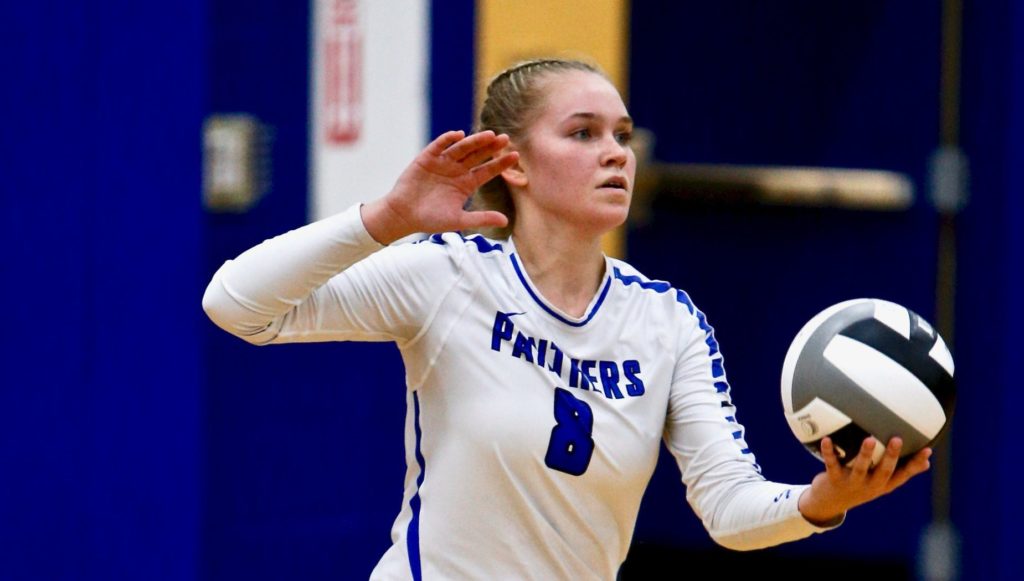 Hannah Lougheed | Junior | Hitter | Southeastern
2020 statistics: 303 kills, 46 aces, 28 blocks, 286 digs, 214 assists
As one of the budding stars of the SVC, Lougheed had high expectations to meet coming into her junior year. She exceeded those marks tenfold. The powerful outside hitter led the Panthers in kills and aces while lending a helping hand defensively. She'll enter her senior year with 623 kills, 695 digs, 159 aces and 330 assists, and as the team's unquestioned veteran leader.
Faith Maloney | Junior | Middle | South Webster
2020 statistics: 327 kills, 74 aces, 96 blocks, 163 digs, 12 assists
When Maloney hit the ball, chances are it found a spot on the floor. Maloney pummeled opposing defenses with swing after swing, leading the Jeeps to a 23-2 finish and their second consecutive district title. She led the team in kills, aces and blocks and was consistently a one-woman wrecking crew. The Division IV District POY will be back for more next season.
Jenna Martin | Junior | Middle | Adena
2020 statistics: 239 kills, 15 aces, 85 blocks, 51 digs, 8 assists
The second-team All-Ohio honoree led the Warriors to their second consecutive district title while posting high marks in kills and blocks. Martin was the model of consistency, providing her teammates with leadership and electricity they could feed off. She'll be back next season, as will most of her teammates, to chase an elusive regional title. Martin will be the center of that storm.
Marissa Mullins | Junior | Middle | Westfall
2020 statistics: 325 kills, 25 aces, 69 blocks, 308 digs, 26 assists
While Phillips was the 2019 SVC POY, Mullins took home that honor in 2020. She was one of the more underrated players coming into the season, but by its end, her name was circled twice on every opponents' game plan. Mullins was lethal at the net, provided Westfall with a second top-tier offensive weapon and was just as good, if not better, while on defense.
Kristin Phillips | Senior | Middle | Westfall
2020 statistics: 371 kills, 36 aces, 56 blocks, 170 digs, 18 assists
The 2019 SVC POY had yet another magnificent season, leading Westfall to its first district title since 2017. Phillips, a University of Tennessee at Martin commit, following in her sister Hannah's footsteps, led the Mustangs in kills and aces while also displaying her value on the defensive side as well. She cemented her legacy in Williamsport while leading WF to 17 wins.
Kacey Pierce | Senior | Hitter | Unioto
2020 statistics: 536 kills, 25 aces, 7 blocks, 327 digs, 10 assists
Night in and night out, the Shermans constantly looked for Pierce to lead them to victory. And all year long, the senior gave it her absolute best effort. Pierce's 536 kills was a top mark in the SVC, an accomplishment in itself considering the league's jam-packed pool of talent. Pierce averaged six kills per set and led Unioto to 13 wins. She ends her career 28 kills shy of 1,000
Lexi Scott | Sophomore | Hitter | Zane Trace
2020 statistics: 251 kills, 0 aces, 37 blocks, 131 digs, 54 assists
As a freshman, Scott was considered as one of the SVC's most promising young hitters. As a sophomore, she fully blossomed into a star. She led the Pioneers in kills, had the hot hand in most matches and was counted on to pace an offense deep into a tournament run. When she returns next season, she'll be widely looked at as one of the area's best all-around players.
Livi Shonkwiler | Senior | Setter | Minford
2020 statistics: 66 kills, 53 aces, 9 blocks, 198 digs, 480 assists
For quite some time now, Shonkwiler has been one of the area's most consistent setters. Nothing changed during her senior season. Shonkwiler passed out 480 assists, reaching 1,000 in her career and setting a new school assists record. Minford setters will now be chasing Shonkwiler's career total of 1,699 assists — 1,508 of which came in the past three seasons.
Olivia Smith | Junior | Hitter | Paint Valley
2020 statistics: 311 kills, 25 aces, 34 blocks, 350 digs, 22 assists
There aren't many players who are as consistent as Olivia Smith. The Bearcats junior did a little bit of everything this fall, upping her career totals to 726 kills and 978 digs. Her 311 kills was a career high, as was her 350 digs and 34 blocks. Paint Valley didn't have a single senior on its roster his season. Smith will return to lead that group into what they hope to be new territory.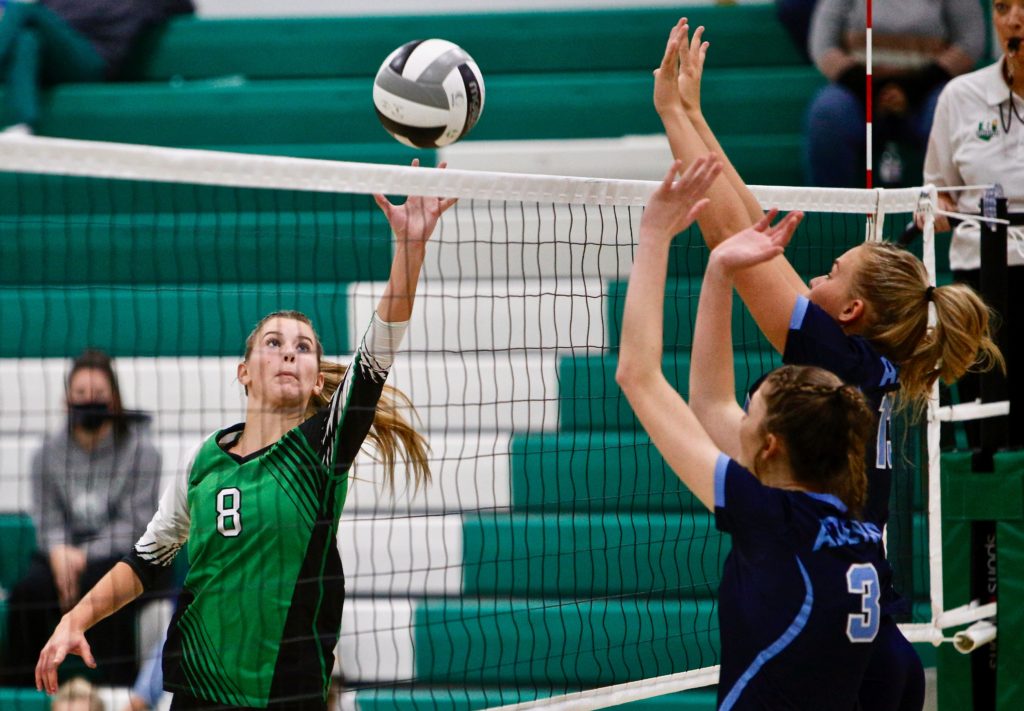 Megan Steele | Junior | Hitter | Huntington
2020 statistics: 321 kills, 26 aces, 6 blocks, 378 digs, 229 assists
For the second straight season, Steele proved to be one of the area's best in just about every part of the game. She led her Huntsmen in kills while also absorbing setter duties at times. Her value on the defensive side was also apparent as she tallied 300-plus digs for the second straight year. Steele will enter her senior year with career totals of 870 kills and 976 digs.
Haidyn Wamsley | Senior | Hitter | Northwest
2020 statistics: 343 kills, 42 aces, 79 blocks, 188 digs, 20 assists
Wamsley set a new standard at Northwest in terms of volleyball. The 5-foot-10 senior could jump out of the gym, give opponents nightmares at the net, and hit from any spot on the court. She set a career high in kills while leading the Mohawks to 19 wins. Over the past three years, Wamsley was a central reason why Northwest sealed 46 victories. She leaves big shoes to fill.
Kloe Zink | Senior | Hitter | Jackson
2020 statistics: 217 kills, 13 aces, 8 blocks, 180 digs, 9 assists
When Zink transferred to Jackson just before the start of her junior year, the Ironladies knew they'd found a hidden treasure. After a year where she helped Jackson win 12 games, she led the team to 10 wins this fall and a sectional final appearance. She added 100-plus kills to her junior total, logged 10 or more kills in 11 matches and was the focal point of Jackson's offense.
Honorable Mention Selections
Lexie Lockwood, Southeastern; Makenna Lovely, Adena; Katie Hirsch, Huntington; Sophie Coleman, Unioto; Kinley May, Zane Trace; Katie Fife, Clay; Kenzie Ferneau, Western; Emily Boggs, Wheelersburg; Bri Claxon, South Webster; Reagan Lewis, Northwest; Ally Coriell, Minford; Eden Cline, West; Skylar White, Eastern; Chloe Scott, Miami Trace; Katie Conner, Chillicothe; Kaydee Brown, Jackson; Chloe Scott, Miami Trace; DeLaney Harper, North Adams; Jacey Justice, Peebles; Layla Hatton, Fairfield