Brock Netter, Staff Writer
LYNCHBURG —19 teams have tried, and 19 teams have failed to knock off Wheelersburg from the ranks of the unbeaten.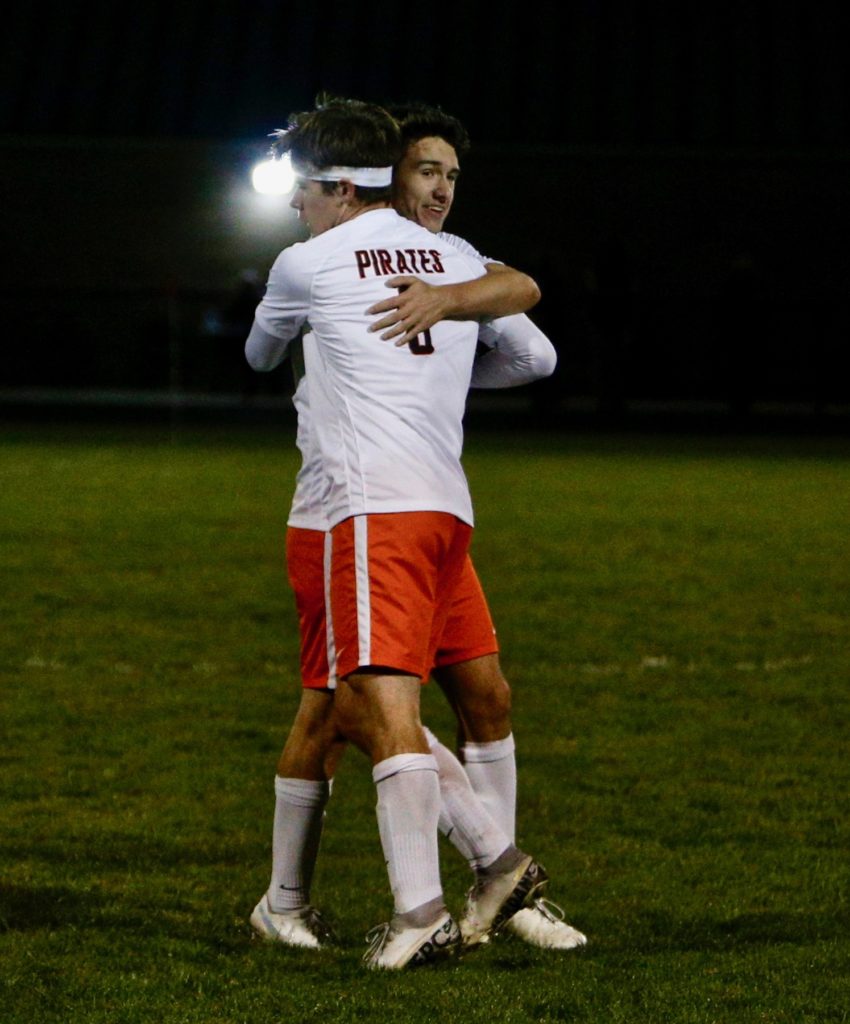 After Wednesday, the Pirates added a 20th victim while getting a satisfying measure of revenge to add a cherry on top.
After trailing at halftime, Wheelersburg made adjustments, and caught a couple of fortunate bounces along the way, as it ousted Lynchburg-Clay by a 2-1 final in a Division III regional semifinal … avenging last season's district final loss to the Mustangs.
"This is such a huge win, not just beating a great team like Lynchburg-Clay but understanding what this team is accomplishing," Wheelersburg coach Jon Estep said. "I was a freshman in high school the last time this program made it to the Elite Eight. These guys are special and it shows by the fact they're undefeated. We faced a little adversity, but I drew back to that Unioto game knowing that we had been in this situation before and battled back. It was the same here and they showed a lot of heart."
It was clear the Mustangs' game plan defensively was centered around limiting the impact of Aaron Jolly and not letting the ball get to his feet.
The Mustangs (15-5-3) consistently had two guys marking Jolly throughout the first half, and while Jolly wasn't able to create, the Pirates' offense was at a standstill.
---
---
Meanwhile, the Mustangs' offense played aggressively and found holes in Wheelersburg's back row to get off some shots. And with 12:31, Connor Tyree got the ball in the box and made a pair of defenders miss before connecting with the back of the net for a 1-0 lead, which remained up to halftime.
"That first half was ugly, I think we were still on the bus for those 40 minutes," Estep said. "But also credit to Lynchburg-Clay. They forced us into how they wanted us to play and we couldn't counter. We were struggling to get Aaron touches so we made a switch, and put him out wide to open things up in the middle."
While that adjustment worked like a charm, Wheelersburg began punching back and showing the fight it didn't fully have in the first half.
And within seven minutes, it paid off as Jolly fed a perfect cross to Lane Jordan, who finished to tie the game 1-1.
"Aaron attracts a lot of defenders, and I'm not really sure why," Estep said, sarcastically. "We knew Lynchburg-Clay was putting most of their attention on him, but he made a great play and Lane had a great finish as well. That goal let us breathe and gave us the confidence to know we could score on them."
Seven minutes later, Jordan found himself in a position to score again, but the ball bounced off him in the box. Luckily, Logan Davis was right there and connected with the back of the net for what turned out to be the game-winning score with 26 minutes left in the game.
"All year long we've told the guys that Aaron can only take us so far," Estep said. "Yes we depend on him to do a lot for us, but it's the other guys who will take us even further. Lane, Logan and our defense stepped up in the second half which is huge at this stage of the tournament."
Wheelersburg will now host Grandview Heights in a Division III regional final at 2 p.m., Saturday. Grandview defeated Berlin Hiland 4-1 to advance.
It will mark the first time since 1994 that Wheelersburg will play in a regional final.
"That's the best feeling as a senior, playing back home at the Ed [Miller Stadium], and for a regional title no less," Wheelersburg's Carter McCorkle said. "We're only the second time in school history to make it this far and it's historic. But for us to continue, we have to come out stronger in the first half on Saturday than we did in this one."