Derrick Webb, Staff Writer
WHEELERSBURG — Just after Lynchburg-Clay's Karlie Tipton scored her final goal of Tuesday's contest at Wheelersburg, she looked over to the Mustangs' stands and smiled.
There was certainly reason to do so.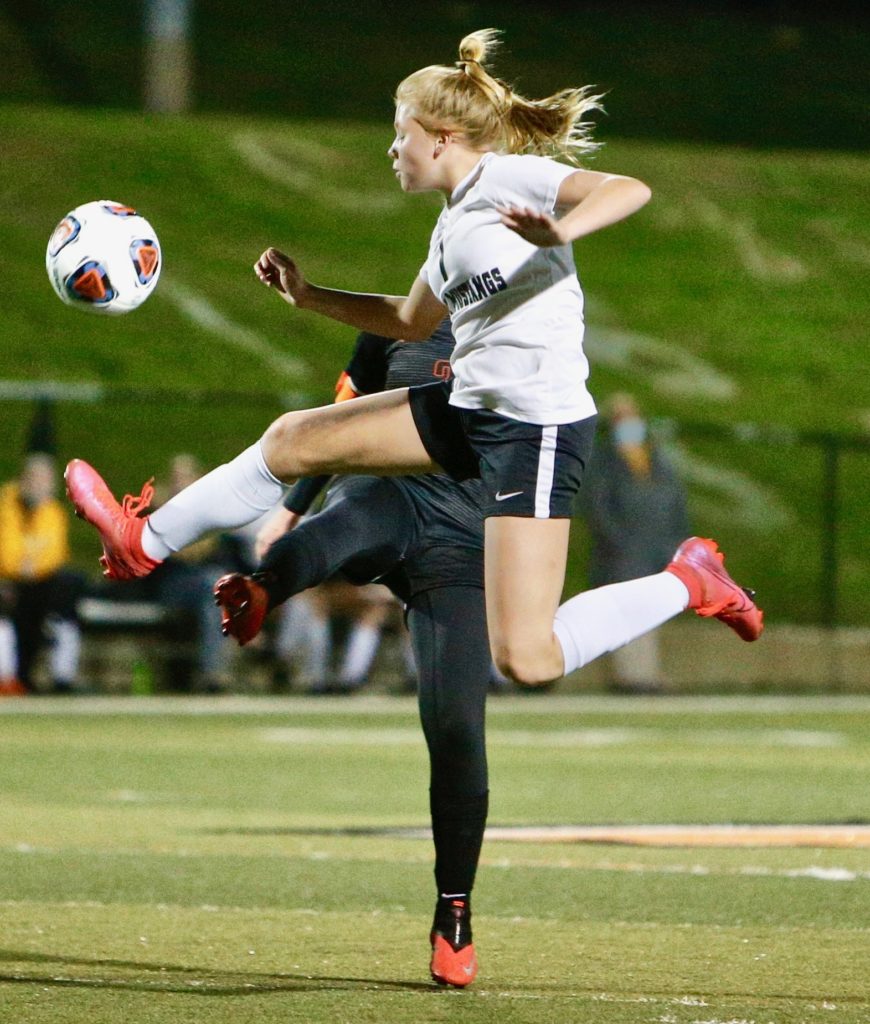 The sophomore had tormented the Pirates' defense all night long, pacing her Mustangs to a large lead in a Division III regional semifinal. Her third and last goal of the evening was the dagger in a 5-0 victory.
But that doesn't mean she had processed it just yet after the final horn.
"It's amazing. Going this far in the tournaments, you never expect to see that," Tipton said. "I knew I had it in me but I didn't expect that to happen."
Tipton's superb performance played a significant role in giving the Mustangs (16-4) a fast start.
From the first touch, Lynchburg controlled the pace and kept possession.
It was a turnaround from the team's overtime victory over North Adams this past Saturday.
"We came out, at the beginning of this game, ready to play. That's what we didn't do on Saturday," Lynchburg-Clay coach Dennis West said. "We controlled the ball and we controlled the game. This team is resilient. They take anything you give them and go with it, looking at it as a challenge. That's special. This was as good of a game as I've seen them play all season."
What's special is the Mustangs' defensive unit … which is as stout as they come. The group held the Pirates (15-4-1) to just one shot on goal while giving its offense plenty of chances to transition into scoring chances.
---
---
"Our defense has been unbelievably solid. That's our 11th shutout," West said. "We made it a point to know where four Wheelersburg girls were at all times. I thought we did an exceptional job of controlling the middle. When we control the middle, good things happen for us."
Tipton got the scoring started with 32:09 left in the first half. Then, with 15:44 left, Sierra Benney added a header off an assist from Jade Massey for a 2-0 score … the eventual halftime tally.
"Karlie just has speed. She can handle the ball and she puts in the work. She's strong, too," West said. "She led us in scoring as a freshman and she leads us in scoring this year. She's fun to watch."
The game's next score came with 20:26 remaining, via Tipton, before she completed her hat trick with 13:29 left. McKenna Roades then rounded out the night's scoring with a late goal of her own.
"We get girls into our program who have played a lot of soccer," West said. "But the older girls work with the younger kids and tell them what we expect as a program. We've been blessed and I've been blessed to have some great kids come through our program. This bunch here is another group that's just outstanding."
In total, the Mustangs sent 15 shots towards Wheelersburg's goal, 12 of which were on target. They were whistled for seven fouls, compared to the Pirates' six, and took three corners.
Lynchburg advances to a Division III regional final where the Mustangs will meet with Columbus Academy — a 1-0 winner over Berlin Hiland on Tuesday.
Columbus Academy ended Lynchburg-Clay's season in 2019 with a 1-0 win in a regional semifinal.
"We're going to have to play 80 minutes of soccer like we did tonight but against a team that is in the same position as we are," West said. "We played Columbus Academy at Chillicothe last year and lost 1-0. They're never easy to beat or to even try to score against. But it's nice to be able to play them on our field, where they have to make that drive."