Derrick Webb, Staff Writer
LOGAN — History continues to be rewritten in Adams County.

This past weekend, North Adams' girls seized the program's third-ever district basketball title … and the first since 1998. But Wednesday evening, as monumental as that accomplishment was, the Green Devils trumped themselves.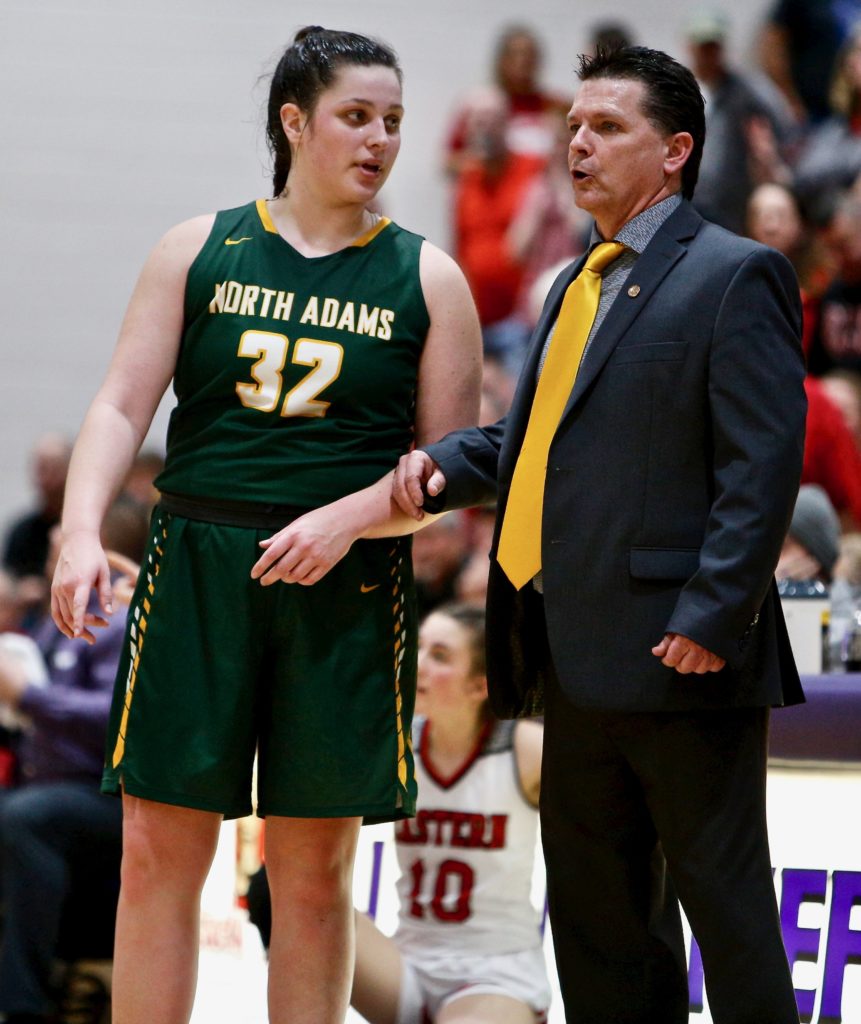 With a hard-fought 48-40 victory over Eastern Brown, a fellow SHAC opponent, North Adams (22-4) sealed their first trip to a regional final in school history. Now, they'll have the chance to play for their first-ever regional title and a first-ever trip to the state final four.

"The girls are just playing loose. I've told them to just go play and just keep making history," North Adams coach Rob Davis said. "This team may not be the most talented I've ever had, but there's something about their chemistry. I'm just so happy for our girls and for our community."

The win over the Warriors was North Adams' second this season … the first came on Feb. 6 by a 39-31 final. It was that game, according to Davis, that got the ball rolling for this year's team.

Since, the Green Devils have ran through a gauntlet during postseason play, beating Wheelersburg, Ironton and the Warriors — three high-quality programs — in consecutive fashion.

"That first win over [Eastern Brown] was huge," Davis said. "We led the entire game at Eastern and we let a win slip away [on Dec. 6]. But we had to learn how to finish. That's one thing about Eastern. They struggle some but their kids know how to win. But when we got that confidence boost, holding them to 31 points, we became a different team. That's when we really took off."

---
---
Wednesday, from the start, North Adams' Wylie Shipley was ready for takeoff.

The junior scored a game-high 16 points, continually attacked the basket and hit two early 3-point field goals to stretch her team's lead. She was the engine that kept the train rolling.

"What a game," Davis said of Shipley's performance. "She's being more aggressive, and that's what we're coaching her to do. Early in the season, that wasn't the case. But she's using her length to explode to the bucket and finish. Sometimes, now, she has too much confidence. But that's a good thing. These last few games, she's been something else."

Shipley's first 3 came with 2:35 left in the first quarter, putting North Adams ahead 10-5. Then, 58 seconds later, she dialed long distance again to make it a 13-7 score.

But the Warriors, per usual, fought back.

After entering the second down 13-8, Eastern senior Camryn Pickerill nailed a triple before freshman Rylee Leonard sunk a pair of free throws to tie the game at 13.

That's when Delaney Harper decided to make her presence known, converting back-to-back buckets to give the Devils a 17-13 edge. Harper then scored again before halftime, sending the Green Devils to the locker room with a 21-13 advantage and capping an 8-0 run.

"I think our length bothers some teams," Davis said. "But I just couldn't be more proud of how we executed. We wanted to get out on [Eastern's] shooters. Their game is to shoot the 3. So that's what we were focused on. Our rotation to get out on the shooters and our communication, we did a great job with that. We made them uncomfortable."

In the first half alone, Eastern was held to 4-of-21 shooting and 2-of-12 from distance — a far cry from its common first half performances.

However, following a 3 from Buttelwerth that gave North Adams a 28-15 edge with 5:21 left in the third, the Warriors (24-2) began to come alive.

Leonard and Emma Brown teamed up to lead the team on a 9-1 run, one that ended with a 3 from Leonard with 1:24 left in the third. Then, with 7:33 left in the fourth, senior Juanita Frost hit a trey, cutting the deficit to 33-29.

With a 36-33 lead, Shipley hit another 3 to push the lead back to six. But, behind Leonard, Eastern ripped off a 5-0 run, trimming NA's lead to 39-38 with 1:54 to play.

But that's as close as the Warriors would get before being forced to watch North Adams sink its free throws down the stretch without being able to convert on the other end — the Devils ended the contest on a 9-2 run.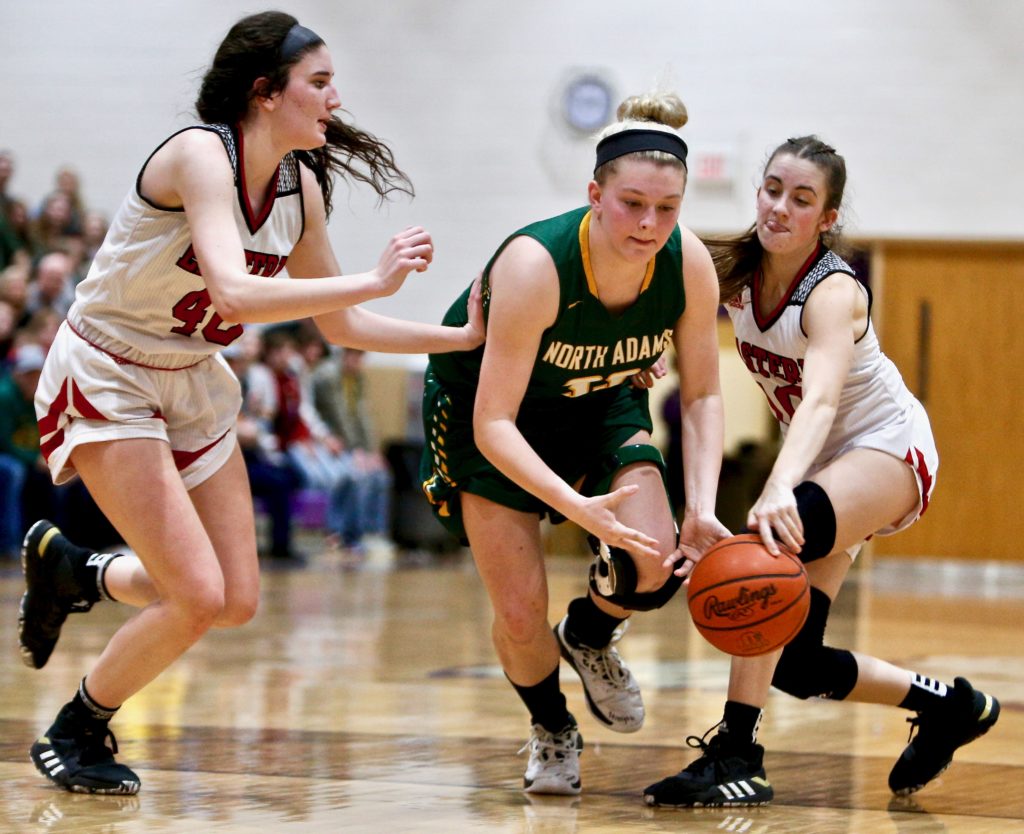 Shipley ended the contest with a game-high 16 points alongside four rebounds. Harper logged a double-double of 13 points and 13 boards, while Buttelwerth finished with seven points and five rebounds.

Leonard led Eastern Brown with 14 points and eight rebounds, Mackenzie Gloff had nine points and eight boards, and Emma Brown finished with eight points and six rebounds.

While the Warriors end their season — and say goodbye to Pickerill and Frost, two of their starters — the Green Devils now look to Berlin Hiland, whom they'll meet at 1:30 p.m., Saturday in a Division III regional championship.

"This is just great for the kids, just with the atmosphere," Davis said. "We've been so lucky with our crowds … our community comes to all of these big games. Our girls are lucky. A lot of teams don't get that. That's what I told our kids, to appreciate that. We'll have our hands full with Hiland but we're going to fight. We're going to try to go get one more."

BOX SCORE

North Adams: 13-8-12-15 — 48

Eastern Brown: 8-5-15-12 — 40

North Adams: 14-35 FG, 15-27 FT, 5-14 3 pt., 32 rebounds (Harper 13), 26 turnovers, 8 assists (Harper 2, Jones 2). Scoring: Shipley 16, Harper 13, Buttelwerth 7, Call 5, Howell 3, Sonner 2, Jones 2.

Eastern Brown: 13-53 FG, 10-19 FT, 4-22 3 pt., 32 rebounds (Leonard 8, Gloff 8), 20 turnovers, 6 assists (Leonard 2). Scoring: Leonard 14, Gloff 9, Brown 8, Pickerill 6, Frost 3.