Derrick Webb, Staff Writer
WAVERLY — The fire that North Adams set earlier this season isn't simply still burning … the flames are fanning.

The Green Devils (21-4) crossed another goal off their to-do list Saturday, beating Ironton by a 43-34 final in a Division III district championship — signaling the program's third-ever district crown and the first since 1998.

22 years is a long time to wait. But the smile on Braylie Jones' face when the final buzzer sounded made that wait more than worthwhile.

"Like our past wins, it's really about feeding the fire," Jones said postgame. "We just feel like, as a team, we've created a lot of chemistry together. We're working really well together, passing the ball, shooting the ball and we always have a positive attitude with everything we do."

In Saturday's win, Jones and company had no problems passing the ball to Mary Sonner.

And time after time, Sonner delivered in the clutch.

The senior guard doesn't usually earn frequent flyer miles on the scoring list, but this go-around, she pieced together 10 points … with each bucket more important than the last.

---
---
"Usually, teams don't guard me as hard as they do everybody else," Sonner said, smiling. "I'm usually just a distributor. But if they weren't going to guard me hard, I was going to attack the basket. Then, hopefully if I could get into the middle, I could pass it out to my teammates. I trust them to knock down the 3 every time."

Ironton (22-4) took a 4-0 lead thanks to back-to-back baskets from Samantha LaFon. But Delaney Harper and Wylie Shipley each provided an answer, tying the game with 4:30 left in the first quarter.

Harper made it 6-4 with 3:51 remaining and, believe it or not, the Green Devils never trailed again.

After taking a 10-8 lead into the second quarter, Harper made it 18-11 with two consecutive scores before Sonner pushed the lead to 23-11 just before halftime.

When Shipley hit a 3 just 29 seconds into the third quarter, North Adams had its largest lead of the game at 26-11.

Ironton, in its defense, started chipping away.

Lexie Arden hit a 3 with 7:04 left in the third before scoring three points the old-fashioned way, cutting the deficit to 26-17. But Shipley hit another trey with 5:17 left, making it 29-17, before her Green Devils took a 33-25 edge into the final eight minutes.

Neither team scored in the fourth until the 4:14 mark when Sonner made it 35-25. From there, after each team committed multiple turnovers, the Green Devils played keep away and took advantage of high-quality scoring opportunities to nail down the victory.

"We all really trust each other and that's what we did going into this game," Sonner said. "The community is behind us. I think that's what pushes us to go. That's why we want it. We want it for the community and we want it for each other. We have a motto of 'family,' forget about me, I love you. That's how we play. We play for each other."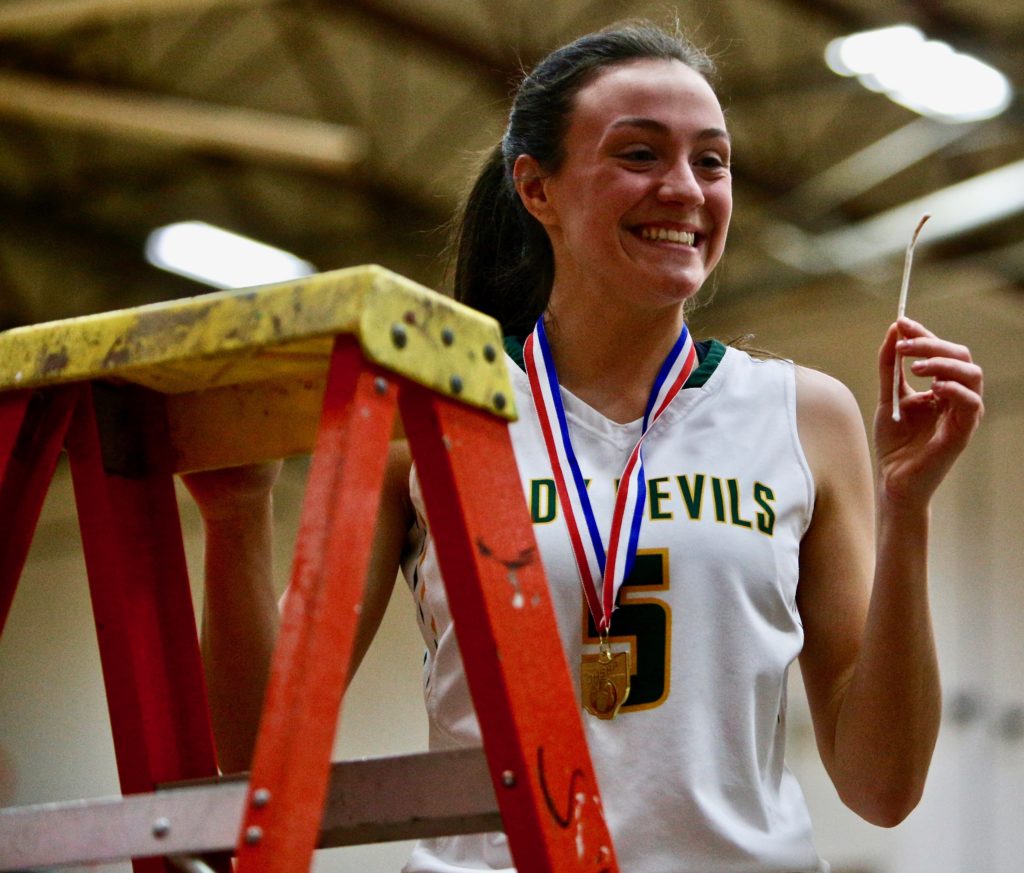 Statistically, Harper led the Green Devils with 13 points and 10 rebounds while Shipley ended with 12 points and six boards. Sonner had 10 points, and Jones finished with six points and eight rebounds.

Arden, playing through immense pain, led all scorers with 22 points alongside seven rebounds. LaFon also helped out, posting six points and grabbing nine rebounds.

North Adams now has a date with Eastern Brown at 8 p.m., Wednesday at Logan High School in a Division III regional semifinal.

The two split their season series during Southern Hills Athletic Conference action with Eastern Brown winning 55-51 on Jan. 6 and the Green Devils sealing a 39-31 win on Feb. 6.

"I think we just have to keep the fire going and stay calm," Jones said. "We have to learn how to do that because I think we got a little nervous [in the end] and started to panic. But other than that, our defense is playing really well. So if we guard who we need to guard, we'll be OK."

BOX SCORE

Ironton: 8-3-14-9 — 34

North Adams: 10-13-10-10 — 43

Ironton: 14-54 FG, 3-5 FT, 3-22 3 pt., 30 rebounds (Hannan 9, LaFon 9), 15 turnovers, 8 assists (Williams 5). Scoring: Arden 22, LaFon 6, Williams 5, Hannan 1.

North Adams: 18-42 FG, 5-11 FT, 2-11 3 pt., 30 rebounds (Harper 10), 16 turnovers, 6 assists (Buttelwerth 3). Scoring: Harper 13, Shipley 12, Sonner 10, Jones 6, Howell 2.