Derrick Webb, Staff Writer
WINCHESTER — Typically, freshmen don't experience a smooth transition from middle school basketball into the varsity level.

But Eastern Brown's Rylee Leonard isn't your typical freshman.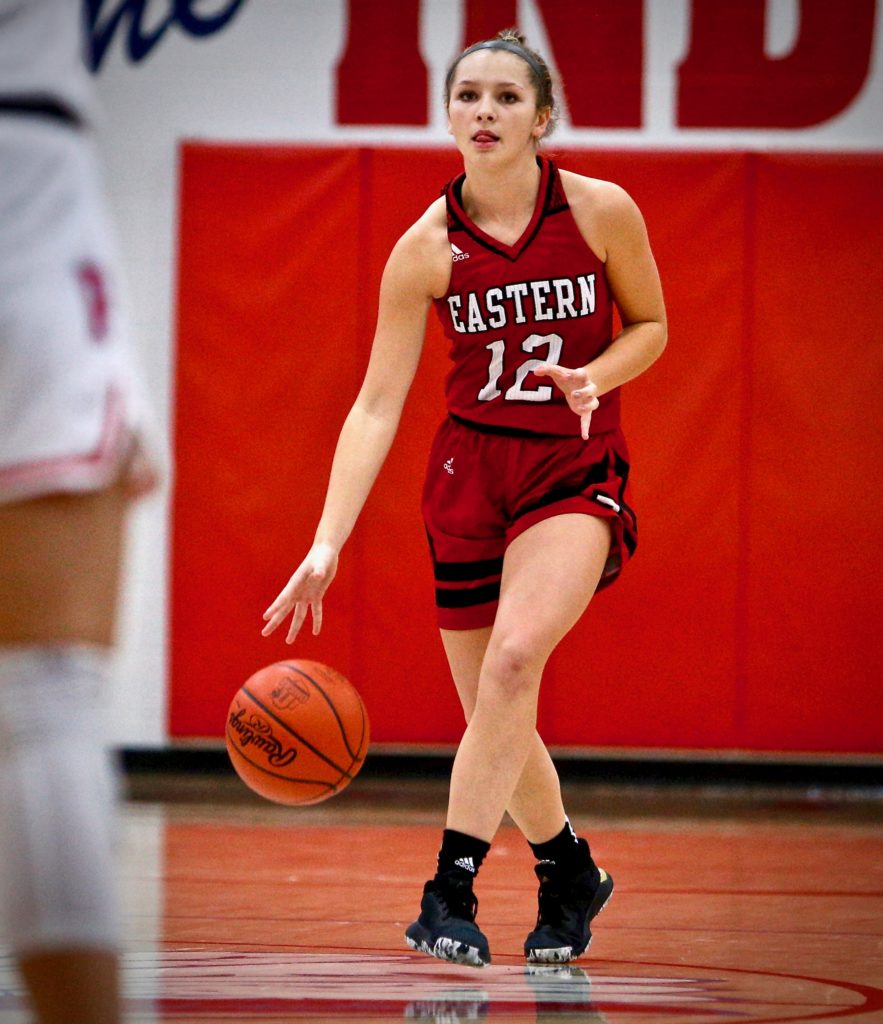 Leonard came out of her shell early this season, making a splash within the local sports scene. She's been imperative during a season in which the Warriors are 21-1 and co-SHAC champs.

If you've seen her play, you know how bright her future is. If you haven't seen her play, make sure and do so. She's a walking bucket.

Before Leonard and the Warriors take on Federal Hocking in a Division III sectional final at 1 p.m., Saturday at Valley, we caught up with the talented freshman to discuss her game, what her team needs to fine-tune and much more.

Question: You're one of the most dynamic freshmen in the region. What do you feel like has made you so good, so quickly at the varsity level and what lessons have you learned this season?

Leonard: I feel like the reason for my success at the varsity level is playing for one of the top AAU programs in the state. The game situations I have experienced and the training that they provide has prepared me for the varsity level. Also, having such great teammates and coaches has helped me grow throughout the season. A few lessons I have learned this season is to let the game come to me and don't try to force things that aren't there.

Q: You can score in many different ways. But in your opinion, what's your best on-court skill?

RL: Personally, I feel like my best on-court skill is scoring, and not just that, but being able to do it in multiple ways.

Q: 21-1. State-ranked. SHAC title. When I say those things, what comes to mind?

RL: Looking at that, what comes to mind is wow, impressive. The reason for that is many people didn't expect this. My team works hard day in and day out and together we accomplished that. It shows a lot about the program and the people in it, and what we overcame losing a really strong senior class last year … and we aren't done yet.

Q: Obviously the loss to North Adams wasn't the night your team had hoped for. But what was the mindset following that game? Does your team plan to use it as motivation going forward?

RL: Our mindset following that game was to take it and learn from it. We didn't want to dwell on that loss. We've had a great season and we shouldn't define it with that one unfortunate loss. Everyone learned a lot from that, and it will prepare us more for the tournament run. We're taking it as, don't let a loss beat you twice. It will definitely be motivation.

Q: What's the one thing, individually, that you feel you can get much better at?

RL: I definitely need to keep adding to my game. Always. I cannot be content where I'm at. In my opinion, I could always improve on reading the defense when I'm going to the rim and using the pull-up jumper.

Q: In a career sense, the start you've had is a tremendous one. What are your career goals and how can you use this season as a stepping stone to reaching them?

RL: A few career goals of mine are getting four SHAC titles, having a successful tourney run to at least regionals every year, and always being a good teammate no matter what. Looking forward, I have a goal of getting a full-ride scholarship to play the game I love, overall. I can use this season as a stepping stone by having the bar set high and knowing what it takes to reach that standard. None of my personal goals or team goals could have been reached this year if it wasn't for my great teammates and coaches that have put me in these situations to succeed.