Derrick Webb, Staff Writer
OAK HILL — Simply put, Oak Hill's season thus far has been a roller coaster ride.

That isn't a fact that the Oaks' coaches or players deny.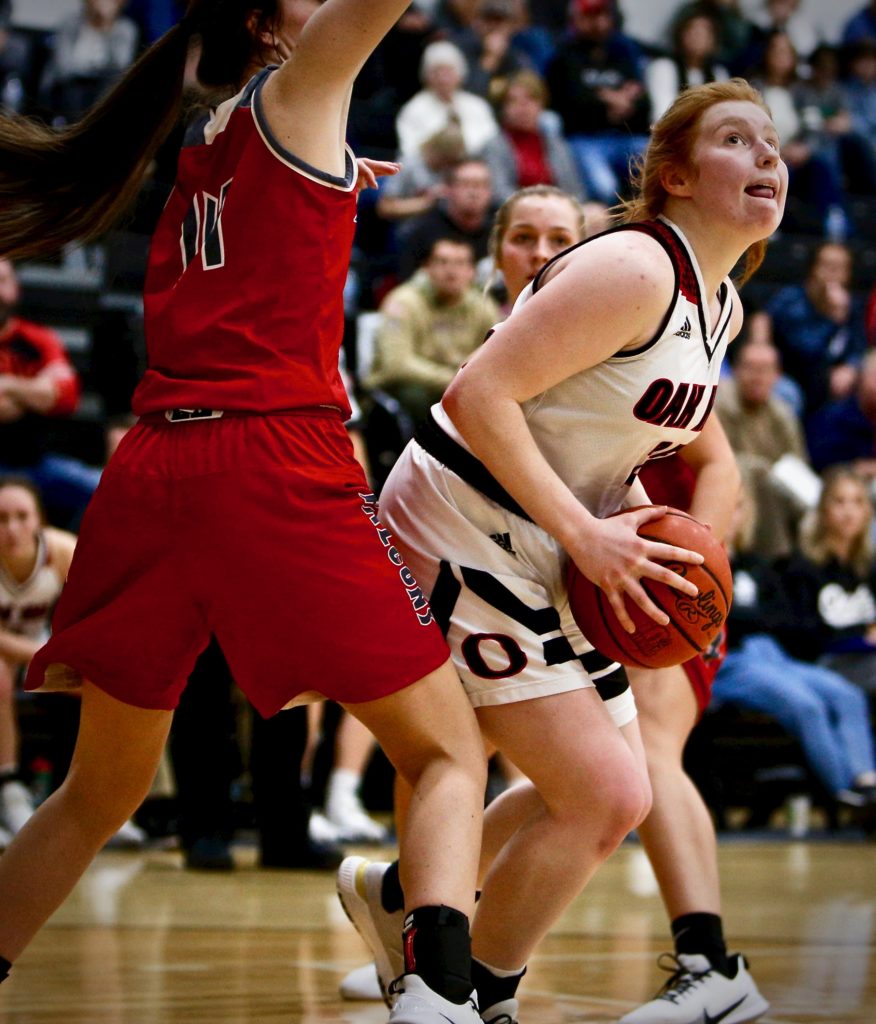 However, those same names will also admit that when they play to the best of their abilities, there are very few teams they can't beat.

Monday night, the Oaks (8-6, 6-4 SOC II) kept momentum early, fought off a late Minford rally, and beat the Falcons by a 49-46 final — sweeping the season's series between the two.

It was a win that showed senior Caitlyn Brisker just how good her team can be if they stick to what they do best.

"We knew coming into this game that we had to have a lot of energy," Brisker said. "If the energy dropped, we knew that [Minford] was a good team and that they'd take it from us. So we had to keep our energy up. We had to keep them off the boards, we had to have help side defense … they're great shooters when we're not on them. But we closed out on them pretty well tonight."

Brisker led all scorers with 19 points and added a trio of assists to the mix. She received help under the bucket from sophomore Chloe Chambers, who posted a double-double with 10 points and a game-high 14 rebounds.

---
---
"What worked well for me, I just tried to box out whenever I can and go in for every shot. I'm going to keep doing that," Chambers said.

The group, as a whole, has to keep doing what it's doing in order to make a lengthy tournament run. With just eight dates left on the regular season schedule, nailing down the little things is of the utmost importance.

"We have to keep our attitudes up. If we come into a game with any sort of bad attitude, it doesn't go well for us," Brisker said. "We get down on ourselves too easily. Collectively, we need to work on boxing out and getting rebounds together, and not letting the other team get second chances."

Behind Maddie Slusher and Livi Shonkwiler, Minford (6-8, 4-5 SOC II) shot out to an early 7-2 lead. But after Brooke Howard dialed long distance, Brisker nailed three consecutive shots to give Oak Hill its first lead at 11-9 with 1:32 left in the first quarter.

After that two-point lead stood at the beginning of the second, at 14-12, Chambers scored twice to make it a 20-15 game with 5:23 left in the half. Howard hit another 3 with 2:05 remaining to make it 26-21 before the Falcons managed to cut the lead to three at halftime, 29-26.

The third was where Oak Hill began to pull away.

Chambers scored with 7:13 left before Olivia Clarkson dialed long distance to make it 34-26. After a pair of free throws from Brisker, the Oaks had a 36-26 lead with 6:13 remaining. Later, at the 1:44 mark, Brisker scored to make it 39-30, before Clarkson put the finishing touches on the quarter with 1:09 left, giving the Oaks their largest advantage of the evening.

But Minford wasn't going away quietly.

Shonkwiler and Hannah Tolle scored three consecutive buckets to start the fourth and cut the deficit to 41-36 just after the five-minute mark. Shonkwiler then scored in transition to make it 43-40 before the team hit two of its next four free throws to cut the lead to 43-42.

With momentum fully on Minford's side, Brisker gave the Oaks a much-needed score with 3:14 left to make it 45-42. From there, she buried her free throws down the stretch to put the game on ice … the final two coming with just 6.3 seconds on the clock.
"When we play Minford, this is how the games are," Oak Hill coach Doug Hale said. "Shane does a great job coaching them and their kids are always ready to play us. Hopefully, this game will help both teams down the stretch, getting ready for the tournament."
After Brisker and Chambers, Howard ended the night with nine points, Baylee Howell had six, and Clarkson tallied five points and five rebounds.
Tolle led the Falcons with 15 points and six rebounds while Shonkwiler added 13 points of her own. Slusher ended the night with seven points, four rebounds and three assists while Makenzie Watters has nine points.
The Oaks will be back in action on Thursday, hosting Eastern, while the Falcons try and bounce back at home the same night, facing South Webster.
"It was a good team win," Hale said. "Give Minford credit for getting back in the game, and give our kids credit for taking that punch and brushing it off."

BOX SCORE
Minford: 12-14-4-16 — 46
Oak Hill: 14-15-12-8 — 49
Minford: 13-35 FG, 17-24 FT, 3-10 3 pt., 22 rebounds (Tolle 6), 12 turnovers, 6 assists (Slusher 3). Scoring: Tolle 15, Shonkwiler 13, Makenzie Watters 9, Slusher 7, Makayla Watters 2.

Oak Hill: 17-48 FG, 11-15 FT, 4-13 3 pt., 29 rebounds (Chambers 14), 13 turnovers, 9 assists (Brisker 3). Scoring: Brisker 19, Chambers 10, Br. Howard 9, Howell 6, Clarkson 5.