Here's a look at Tuesday's games from around the coverage area.
COAL GROVE 60, HUNTINGTON 46

CHILLICOTHE — Following Tuesday's game, Huntington coach Tiffany Carroll quoted the late, great John Wooden.

"Failure to prepare is preparing to fail."

In the Huntsmen' season-opening 60-46 loss to Coal Grove, Carroll said the main reason for her team's loss was indeed their failure to prepare.
---
---
"I don't think the focus is what we need it to be in practice. We haven't been coming with the mentality we need to prepare for the season," Carroll said. "We've told them and we've told them that they need to prepare. The bottom line is that we were not mentally prepared to start this game tonight."

Having said that, Carroll did admit there were some bright spots that stood out … including Allison Basye's hot start, Megan Steele's defensive play and Emily Haubeil's ability to score.

"[Basye] looked good at the beginning and then her shot kind of fell away. She has to get more comfortable with attacking the rim when her shot isn't falling," Carroll said. "I thought Megan did a fairly good job defensively to start, and Emily scored well when she had a path to the bucket. But there are many things to work on."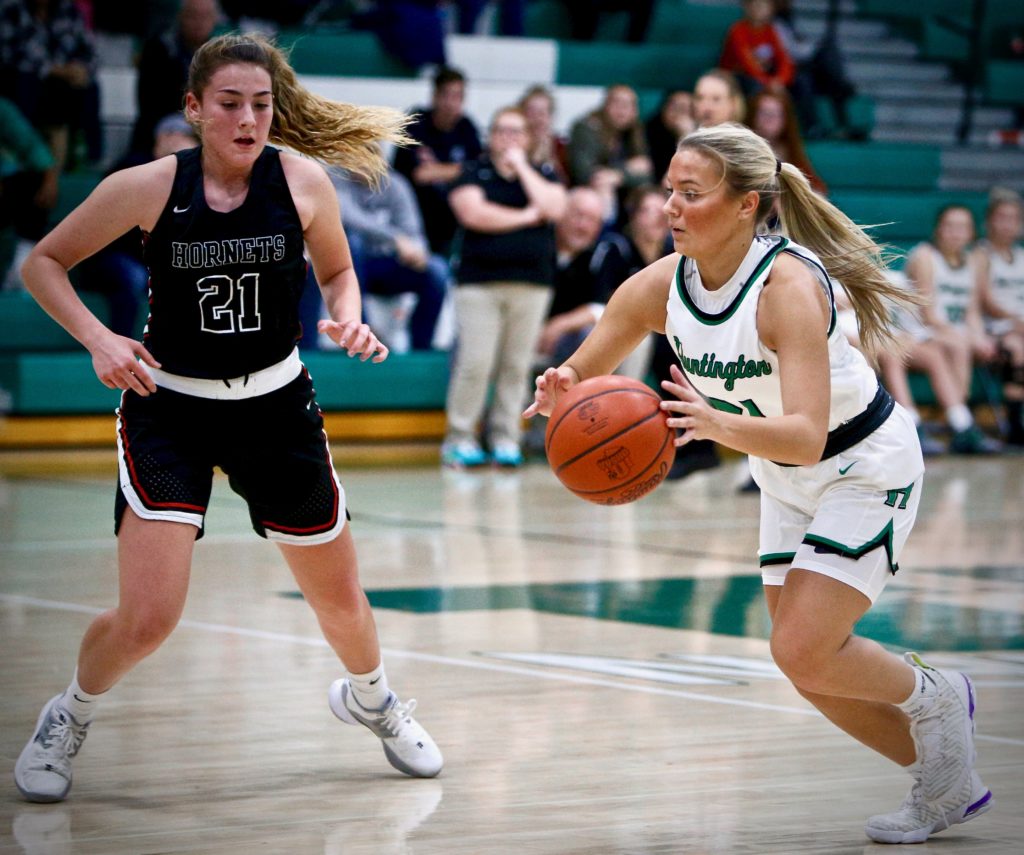 As far as game action goes, Huntington held a lead late into the second quarter. The Hornets took their first edge with just 37.2 seconds left in the first half before taking a 23-22 advantage into the break.

After Coal Grove took a 37-35 lead into the fourth, the Hornets pulled away midway through the fourth before converting their foul shots down the stretch.

Basye led Huntington (0-1) with 24 points, including the team's first 11, alongside eight rebounds while Haubeil followed with six points, three boards and two assists. Gracie Davis also helped out, scoring seven points and grabbing five rebounds, while Steele finished with four points, three rebounds and two dimes.

Addi Dillow led Coal Grove (1-0) with a game-high 28 points as well as five rebounds and three assists. Abbie Hicks followed that performance with 16 points, three boards and two assists.

"We can make all the excuses in the world," Carroll said. "We got a late start with a late volleyball run, which is a good thing. We didn't get as many scrimmages in as we would've liked. We've had some sicknesses. But like I said, at the end of the day, the season started today and we weren't ready."

Huntington will have the opportunity to get right next Thursday, hosting Unioto in both teams' Scioto Valley Conference opener.

BOX SCORE

Coal Grove: 13-10-14-23 — 60

Huntington: 14-8-13-11 — 46

Coal Grove: 13-36 FG, 30-35 FT, 4-15 3pt. (Hicks 3). Scoring: Dillow 28, Hicks 16, Harmon 8, Griffith 3, Dillon 3, Murphy 2.

Huntington: 13-42 FG, 18-28 FT, 2-12 3pt. (Hirsch 1, Basye 1). Scoring: Basye 24, Davis 7, Haubeil 6, Steele 4, Hirsch 3, Dyer 2.

ADENA 56, CLAY 18

The Warriors started Andrew Day's coaching era with a win Tuesday night, beating Clay by a 38-point margin.

Adena (1-0) was led by Hannah Stark with 19 points while Jaydn Smith had 11 of her own. Makaela Lovely also contributed with seven points while Jenna Martin finished with six of her own.

For Clay (0-2), Shaley Munion led the team with nine points while Jaelyn Warnock had four.

BOX SCORE

Adena: 13-15-14-14 — 56

Clay: 7-2-6-3 — 18

Adena: 22 FG, 7-14 FT, 5 3pt. (Stark 2). Scoring: Stark 19, Smith 11, Makaela Lovely 7, Martin 6, Makenna Lovely 4, Curry 4, Ogier 3, French 2.

Clay: 5 FG, 6-14 FT, 2 3pt. (Munion 2). Scoring: Munion 9, Warnock 4, Lopen 2, Gatti 2, Whiff 1.

WAVERLY 37, HILLSBORO 33

The Tigers (2-0) won their second game in as many nights, beating Hillsboro by a 37-33 final.

Leading Waverly to the win was Paige Carter with 13 points and eight rebounds, Zoiee Smith with eight points, seven assists and two boards, Michaela Rhoads with six points and Carli Knight with six points and three assists.

Leading Hillsboro (1-1) statistically was Karliegh Hopkins with 13 points while Josie Hopkins had nine.

BOX SCORE

Hillsboro: 8-6-13-6 — 33

Waverly: 3-5-17-12 — 37

Hillsboro: 12 FG, 7-12 FT, 2 3pt. (Hopkins 1, Bledsoe 1). Scoring: K. Hopkins 13, J. Hopkins 9, Bledsoe 5, Jo. Moberly 4, Watson 2.

Waverly: 14 FG, 8-17 FT, 1 3pt. (Smith 1). Scoring: Carter 13, Smith 8, Knight 6, Rhoads 6, Stewart 2, Brown 2.

PIKETON 51, WEST UNION 32

The Redstreaks (2-0) continued a hot start Tuesday night with a 19-point win over Whiteoak in non-conference play.

Leading Piketon to the win was Ally Ritchie with 11 points and five rebounds while Kennedy Jenkins scored 10 points and grabbed six boards. Hayleigh Risner also helped out, scoring nine points and bringing down nine boards while Bailey Vulgamore had nine points as well.

BOX SCORE

West Union: 6-6-12-8 — 32

Piketon: 15-9-13-14 — 51

West Union: 11 FG, 8-16 FT, 2 3pt. (Rowe 1, Davis 1). Scoring: Rowe 13, Davis 6, Grooms 4, Taylor 2, Purcell 2, Shivener 2, Weakley 2, Franes 1.

Piketon: 14 FG, 8-17 FT, 1 3pt. (Smith 1). Scoring: Ritchie 11, Jenkins 10, Vulgamore 9, Risner 9, Little 5, Lamerson 4, Johnson 3.

OTHER SCORES: Rock Hill 53, New Boston 35 … Washington 49, Fairfield 45 … North Adams 33, Miami Trace 21