Michael Knight, Staff Writer
CHILLICOTHE — For the second time in school history, Southeastern will be playing in a Week 12 contest.
The Panthers earned that right with a 40-3 drubbing of Dayton Christian in a Division VI, Region 24 Quarterfinal, Friday night in front of a home crowd.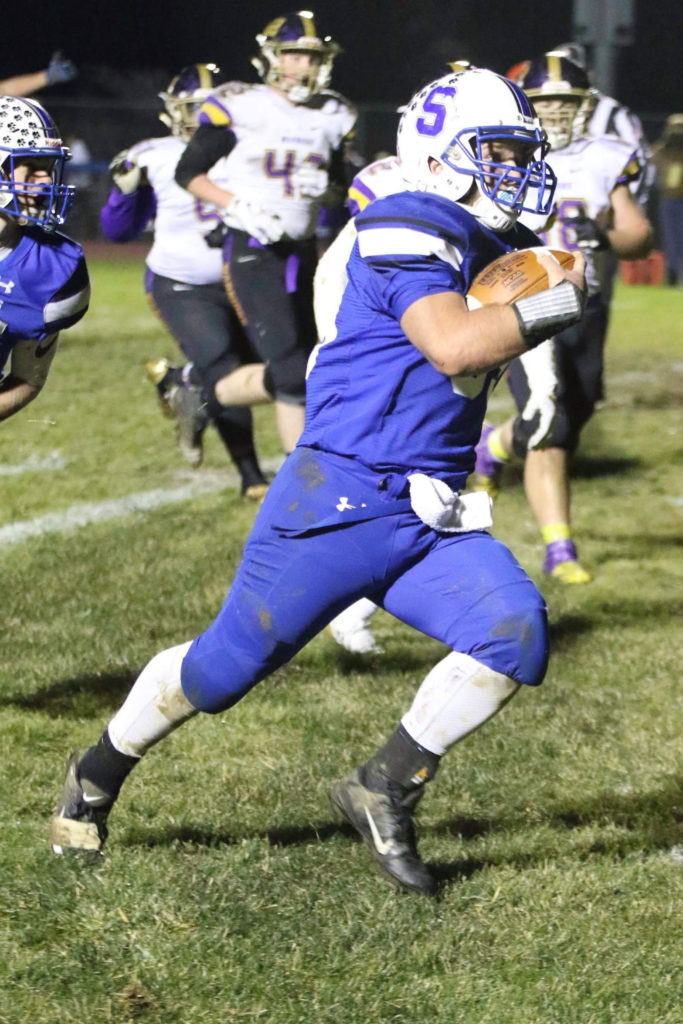 The first time the program won a postseason contest, in 2017, it took a miracle finish to do so — Southeastern fans may recall Carson Stauffer forcing a fumble before a sophomore Lane Ruby hit Dakota Houser for the game-winning score with just three seconds left on the clock.
The second time was much different as the Panthers (11-0) placed their feet on the gas early and didn't let up.
"This shows what these kids can do when they come together and when they believe in each other," Gallaugher said. "This shows what hard work does. I'm awful proud of them. I wouldn't want to coach any other group."
On the Panthers' first drive, they called upon Mikey Nusser to get the job done. The junior answered with three runs for 28 yards, including an 11-yard touchdown scamper to put Southeastern up 8-0 after a two-point try.
---
---
Dayton Christian (8-3) answered with a field goal at the 1:40 mark in the first quarter, cutting the lead to 8-3. But the Panthers went up 16-3 with 10:10 to go in the second when Ruby scored from 17 yards out.
With 7:24 left before halftime, Ruby scored again, this time from 65 yards out, to make it a 24-3 ballgame after a third successful two-point try. Nusser scored the Panthers' final touchdown before the break, sending the Panthers into the locker room with a 32-3 advantage.
"2017 was special. A lot of us were a part of that team," senior Dalton Thurston said. "But this year, with it being our senior year, it's a lot more special. Don't get me wrong, that year was special, too. But we're a bigger part of this team and that's what we're playing for."
Southeastern's final touchdown came from Jarrett McWhorter, who logged a one-yard plunge to cap a 66-yard scoring drive with 3:22 left in the third, producing the night's final tally.
Ruby led the Panthers statistically with 10 carries for 165 yards and two scores while completing one pass for 35 yards, to Tanner Chenault. Nusser followed with 17 attempts for 102 yards and two touchdowns, Thurston had 10 rushing attempts for 65 yards, and McWhorter had six rushes for 27 yards and a score.
All in all, if you're counting at home, Southeastern's rushing attack produced 359 yards and five scores. But possibly just as impressive was the Panthers' defensive effort … which included the second-lowest scoring output from an opposing team all season long.
"It was a great defensive effort from our whole team, all 11 guys," Southeastern coach Evan Gallaugher said. "I thought they executed the game plan to perfection. Aarick Hill is a big name that stands out to me. He really played lights out tonight. [Dayton Christian's] offense relies a lot on the jet motion from the slot receiver and we kind of took that away early. We forced more of the quarterback run, which goes a little more in our favor."
The Panthers will now meet with Covington, which was a 33-27 winner over Worthington Christian. The Buccs will enter Week 12 at 9-2 with those two losses coming to Minster (35-25) and Fort Loramie (19-14).
"We have to go 1-0. There's nothing else to it," Thurston said. "We have to win, or else we go home and [us seniors] will never play another high school game again. So we have to go 1-0."