Derrick Webb, Staff Writer
FRANKFORT — Throw records out the window, forget statistics and pay no attention to what has already been done … playoff football is officially here and the slate has been wiped clean.

At 7 p.m. Friday night, the Adena Warriors host the Mechanicsburg Indians in a Division VI, Region 24 Quarterfinal.

Both programs have fought to get to Week 11, both still have plenty to prove and both are hungry for a postseason win. It doesn't get any better than that.

Here's everything you need to know about Friday's game.
THE FACTS
| | | |
| --- | --- | --- |
| MECHANICSBURG | | ADENA |
| Ohio Heritage | CONFERENCE | Scioto Valley |
| Kurt Forrest | HEAD COACH | John Penwell |
| 8-2 | RECORD | 8-2 |
| 16 | PLAYOFF APPEARANCES | 6 |
| 7 (2018) | CONSECUTIVE PLAYOFF BERTHS (LAST PLAYOFF BERTH) | 2 (2018) |
| 14-15 | OVERALL PLAYOFF RECORD | 0-5 |
FOUR THINGS TO KNOW
Adena and Mechanicsburg are familiar with each other, playing one another in every season from from 2000 to 2009. During that time, the Indians were 8-2 against the Warriors. This season, both teams are 0-2 against playoff qualifiers.
Adena enters the matchup still looking for its first-ever playoff win. The Warriors have qualified for the postseason five times and will be making just their second-ever back-to-back appearance — 2018, 2011, 2006, 2005 and 1985. Mechanicsburg is a storied postseason program, making its 16th playoff appearance. This year's playoff berth is the program's seventh consecutive, it was a state semifinalist in 2013 and it's won a total of 14 games after Week 10. Prior to the current seven-year playoff run, the Indians also qualified in every season from 2002 to 2008.
The Warriors have outscored their opponents this season 304-194 while the Indians have done so by a 408-94 margin. Mechanicsburg's defense has shutout four teams while allowing less than 10 points on seven occasions. Meanwhile, Adena's defense has just one shutout and has allowed 20 points or less in five contests.
The two losses that Mechanicsburg owns are both at the hands of 9-1 teams. In Week 6, the Indians fell to West Jefferson by a 30-22 score before dropping a 35-15 score to West Liberty-Salem last week. Otherwise, Mechanicsburg's eight wins have come over teams with a combined record of 25-55, including two winless programs.
PRIMETIME PLAYERS
Preston Sykes, QB, Adena: Without a doubt, Sykes is the engine that keeps the Warriors' offense running. Possessing a mix of speed and power, he can tuck the ball and run for success or he can air it out. This season, Sykes has rushed for 515 yards on just 84 carries while throwing for another 1,010. All in all, he's scored 18 touchdowns. He has the ability to take over any game.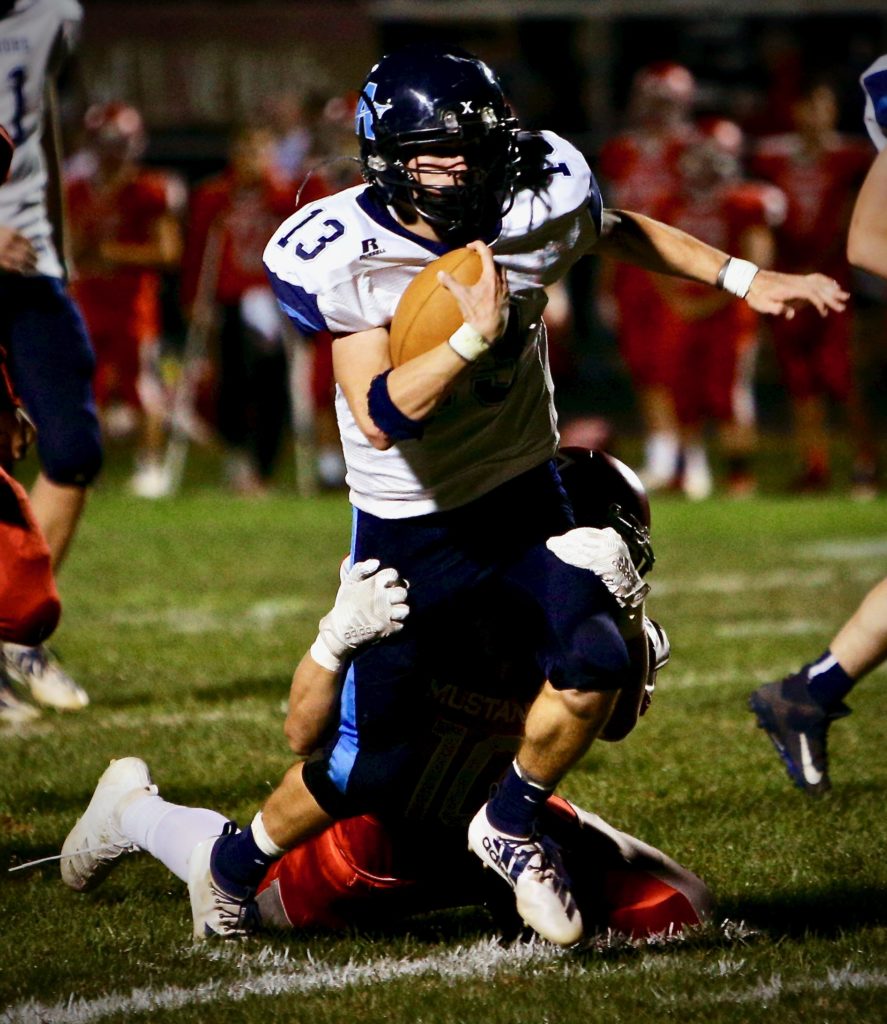 Nate Throckmorton, RB, Adena: Throckmorton has been the Warriors' main option in the backfield, totaling 642 yards on 107 carries, an average of six yards per attempt. Throckmorton sees the field well, he can change directions at will and he'll give Mechanicsburg's defense something to chase after. If Adena's offensive line can handle the Indians' defensive front, Throckmorton will be the beneficiary. If he gets going, the Warriors' offense as a whole can click on all cylinders.
Chayse Propst, RB, Mechanicsburg: The junior finished second in the Ohio Heritage Conference in rushing this season with just over 1,000 yards. The junior has scored 14 times on the ground and has also caught six passes for 71 yards. His season-high in rushing came in a Week 2 win over Urbana, when he tallied 168 yards and two scores on 16 attempts.
Aaron Conley, QB, Mechanicsburg: While the Indians have used two quarterbacks in most of their contests, with reps split between Conley and Logan Hurts, Conley has assumed most of the responsibilities. Without last week's statistics — they have not been made available — Conley completed 58-of-105 passes for 1,103 yards with a 14-4 touchdown-interception ratio through nine games. He also adds 305 yards and five rushing touchdowns to the mix.
WHAT LIES AHEAD
One team will face a lengthy offseason and the other will face the winner of Grandview Heights (6-4) and Paint Valley (8-2) in Week 12.

You can follow live Twitter updates at @Clayarcher7673 on Friday night. Then, after the game, be sure to visit sohiosa.com for details, photos and video from the contest.
SPONSORED BY ADVANCED SERVICES HEATING AND COOLING