Derrick Webb, Staff Writer
Soon enough, leaves will change, temperatures will drop and pigskins will fly.

With the start of high school football season just a day away — we can't believe it either — here's a list of 15 players in our coverage area, and in no particular order, to keep an eye on this coming fall.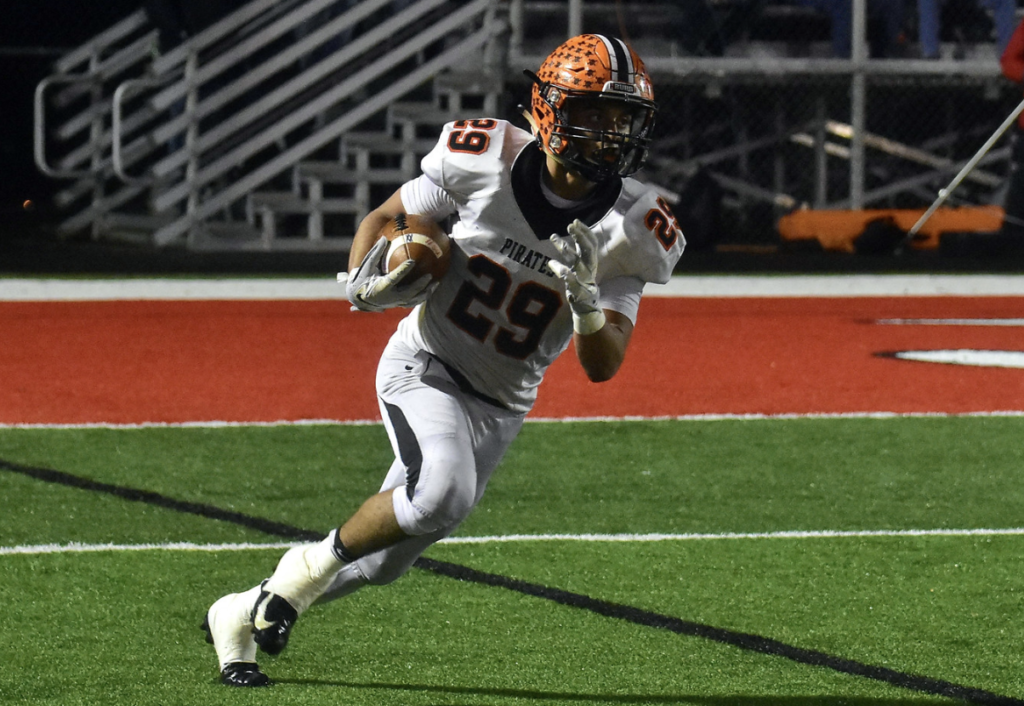 Makya Matthews | Wheelersburg | Senior | Tailback

If you need to know anything about Mr. Matthews, just know Pirates coach Rob Woodward calls him "electric." Woodward, with a 117-22 overall coaching record and three regional titles under his belt, knows a little bit about football. Last season, Matthews was responsible for 1,191 total yards … 267 rushing and 924 receiving … alongside 19 total touchdowns. That was on a team that finished 12-2 with a Division V regional title. This season, he'll be handed the reigns to the offense after last year's graduating class. Expect him to do something magnificent each week. With a mix of speed, power and athleticism, he's a threat to score anytime he touches the ball.

Jared Icenhower | Jackson | Senior | Quarterback

With underrated speed and a right arm that moonlights as a rocket, Icenhower has proven he can give an opposing defense fits in multiple ways. The senior quarterback spent last season perfecting his craft, leading his Ironmen to a 7-4 mark and a trip to the playoffs … the program's 13th postseason berth. Icenhower's performance against Chillicothe last season says all you need to know about him. In a must-win game with a trip to Week 11 on the line, he completed 4-of-7 passes for 102 yards and a score, leading his team to a 20-7 win. He's accurate when he drops back to throw, he's lethal while on the run, and he's the heart and soul of the Ironmen.

Hadyn' Shanks | Waverly | Junior | Quarterback

When Shanks was named the Tigers' starting quarterback as a sophomore, he was entering that role as Clayton Howell's successor. Howell closed his career at Waverly with two straight playoff appearances … the program's first back-to-back postseason berths since 2006-07. So with pressure on his shoulders last fall, Shanks didn't miss a beat. He led the Tigers to a 9-2 record, a third straight playoff berth and, oh yeah, threw for 2,228 yards and 34 touchdowns in the process. The junior is back under center this season, looking for a fourth straight Week 11 game. He'll have the weapons around him to have another special year.
Jamarcus Carroll | Unioto | Senior | Tailback

Carroll's season-ending injury last fall has been well-documented … and so have the numbers he put up before it happened. With a lethal mix of speed and elusiveness, in just six games, he rushed for 1,329 yards and scored 16 times. He didn't play the last four weeks of the year and still finished second in the SVC in rushing. This season, he returns to the Shermans' backfield, looking for similar success. If he can stay healthy, Unioto will reap the benefits. During the offseason, the Tanks moved into Division III, meaning they'll have to be better than they've ever been to get into the playoffs. A healthy Carroll certainly goes a long way in that process.
Payton Shoemaker | Waverly | Senior | Tailback

When the football finds its way into Shoemaker's hands, good things happen. After transferring to Waverly as a junior, he was immediately assembled into the Tigers' offensive game plans. And immediately, that decision paid off. He's still appearing in his opponents' nightmares, and after a year of learning Waverly's offense, he'll be even more of a factor in 2019. But it's not just offense … the two-way speedster impacted all three phases of the game as a junior, tallying 173.8 all-purpose yards per night and scoring 14 touchdowns. His teammates will heavily rely on him to do more of the same — and then some — this fall.

Evan Horsley | Wheelersburg | Senior | Linebacker

Horsley was as important as any of his teammates on a defense that held opponents to 11.3 points per game last season and pitched four shutouts. As a junior, he tallied 56 tackles, assisted 35 more and forced two fumbles. Now a senior, Horsley will be asked to increase his productivity in a leadership role. That's no easy task when you look at Wheelersburg's schedule — the Pirates' first five weeks feature dates with Ironton, Bishop Hartley, Ashland Blazer (Ky.), Greenup County (Ky.) and Jackson. But if you want a guy leading you into battle with that gauntlet awaiting you, Horsley is the perfect candidate to do so.
Seth Beeler | Huntington | Senior | Quarterback

For the past four years, Elijah McCloskey has been running the show under center for the Huntsmen. But with the McCloskey era now over, it's Beeler's turn to air it out. Last season, Beeler spent his time on the receiving end of McCloskey's passes, posting 64 receptions for a league-leading 920 yards and 14 touchdowns. While he learns his lessons during his transition to quarterback, he'll likely use his feet when he finds himself in trouble. That's not good if you're trying to defend him, given his speed, the way he sees the field and his ability to break tackles. Over the past three years, Huntington is 10-20. Beeler is the key to breaking that trend.

Lane Mettler | Paint Valley | Senior | Linebacker

If you're looking to describe Mettler in one word, the term "gamer" comes to mind. He's a bulldog, he's ol' reliable, he's everything you want in a linebacker and running back. While leading the Bearcats to an 11-1 season last fall, Mettler rushed for nearly 500 yards and scored 12 times while racking up 100 tackles and 11 sacks on the defensive side of the ball … spearheading a defensive effort that held opponents to just 10.7 points per game. For those efforts, he was named the Division VI Southeast District Defensive Player of the Year and earned first-team All-Ohio honors as a junior. There's no reason to not expect the same this fall.
Lane Ruby | Southeastern | Senior | Quarterback

Speaking of electric … Southeastern's Lane Ruby possesses lightning in a bottle type speed. The senior signal caller's resume speaks for itself as he's piled up an overall record of 24-9 during his three-year career and has led his Panthers to back-to-back playoff appearances. To put that in perspective, Southeastern was 6-24 in the three years prior to Ruby's arrival. Last fall, Ruby rushed for 1,481 yards, threw for another 492 and accounted for 27 total touchdowns. The dual threat has one more year to feast on opposing defenses. Good luck stopping him.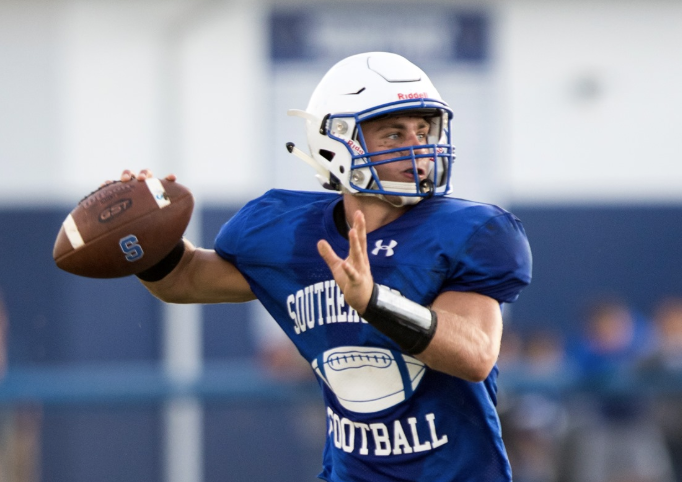 Preston Sykes | Adena | Junior | Quarterback

The right elements aligned for Sykes to have a breakout year in 2018. While leading his Warriors to a 7-3 mark and their first playoff berth since 2011, he threw for 733 yards, ran for 580 more and scored a total of 18 times. He's now grown a year older, and a year wiser, while Adena returns a favorable amount of starters to compliment its quarterback. The Warriors start their year with dates against McClain, Marion Elgin and Washington … three games they can win if they play to their abilities. If they win at least two of those three, heading into SVC action, Sykes and company could use that momentum to brew a second straight postseason berth.

Lonnie Smith | Green | Junior | Linebacker

Green ended a 28-year playoff drought last season as the Bobcats finished 8-3 — one year after going 1-9 — playing in Week 11 for the first time since 1990. The 6-foot-3 linebacker was the SOC's Defensive Player of the Year, piling up 81 tackles, 10 sacks and 18 tackles for a loss. He was also an important part of Green's rushing attack, accounting for 801 yards on an offense that turned in a final tally of 3,015 rushing yards and 42 touchdowns. Smith will be leaned on, and heavily, this fall as the Bobcats attempt to clinch a second straight playoff berth.

Patrick Rourke | Chillicothe | Senior | Defensive Lineman

As a junior last season, Rourke was an all-conference, an all-district and an All-Ohio selection. He led a strong defensive front that habitually chased the opposing quarterback and helped coach Jeff Arndt's unit allow 17.9 points per game, a skewed number considering 89 of the defense's 179 points surrendered came in the team's three losses. Rourke has proven himself as one of the area's strongest interior linemen time and time again. He's back for one more ride with the Cavaliers and will be held to the same standard.
Ty Wiget | Minford | Senior | Tailback

If you remember, the Falcons were 5-0 going into Week 6 last year. Then the injury bug started to take its toll. Wiget was unfortunately in that group, playing in just seven contests. However, his body of work before the injury occurred speaks for itself. He rushed for 751 yards and 12 touchdowns, averaging 5.9 yards per carry, and posted 172 receiving yards and two scores out of the backfield. When he was healthy and running hard, the Falcons were 6-1 and beat quality opponents like Oak Hill, West and Nelsonville-York. If he can stay on the field and out of the training room, you have to think Minford will be in the thick of a playoff race all year long.

Caden Sweitzer | Miami Trace | Senior | Tailback

Sweitzer was forced to share the backfield last season with multiple teammates. As a junior, he rushed for 385 yards on 92 carries and scored a pair of touchdowns. That's while splitting carries with multiple others, including Josh Liff and Dalton Mayer. Miami Trace finished just 2-8 last season, playing a schedule that included stout opponents like Clinton-Massie, Zanesville, Jackson and Chillicothe. This season, the Panthers will face a more favorable schedule, which could lead to more success. Sweitzer should see more carries during that process.

Kenton Richter | Unioto | Senior | Linebacker

On a defense that allowed 16.5 points per game last season, Richter was the unit's ring leader. He finished with a team-high 84 tackles, which ranked seventh in the SVC, alongside two tackles for a loss, a sack, and an interception. During his three-year stint with the Shermans, Unioto is 23-10 and has made three straight playoff appearances. That's no coincidence. This year, Richter will try and make that four consecutive trips and Richter will play a lead role in that effort.