Brock Netter, Staff Writer
CHILLICOTHE — As Huntington's Elijah McCloskey took off for third base on a wild pitch Monday night, he happened to catch a glimpse of where the ball was.
Once he realized it was in the air, going towards the backstop, he shifted his speed into high gear.
He slid across home plate with the greatest of ease and unleashed a fist pump Tiger Woods would've been proud of.
It broke a 5-5 tie in the top of the seventh and served as the game-winning run in a 6-5 victory over top-seeded Eastern Meigs (19-6) in a Division IV district semifinal.

"Unbelievable," Huntington sophomore Gavin Free said of the sequence. "He did an amazing job of seeing the ball come up and getting home. We have a great senior class that has led us through the season and to this moment. I couldn't be happier it was Elijah who got that moment."
McCloskey started the game on the bump and his team gave him a cushion to start. After he was walked, Nate Snyder ripped an RBI single to knock him in for a 1-0 lead.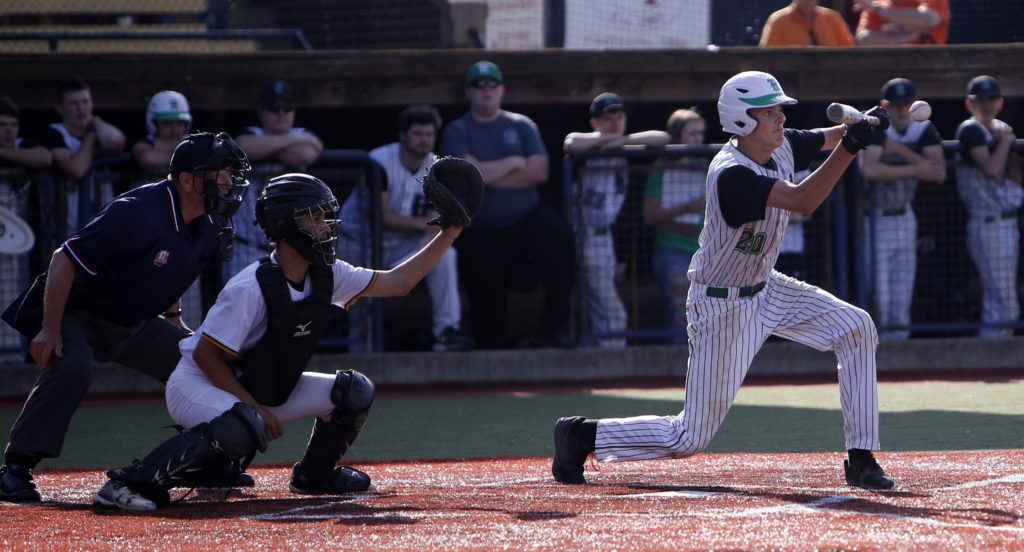 While Huntington (12-14) scored a run in each of the next three innings — Weston Roop logged an RBI single, Snyder laid down a sacrifice bunt and Eastern Meigs committed a fielding error — McCloskey was busy handling his business.
After the Huntsmen gave him a 4-1 lead in the bottom of the fourth, he had given up just three hits, an earned run and struck out three batters.
"My job was just to throw strikes and trust my defense," McCloskey said. "They made a ton of plays for me. I'm blessed to have such a great team, and that make us successful. It's a team game and I couldn't be more thankful for them."
Eastern Meigs caught up to McCloskey in the frame as Brayden Smith notched his second RBI of the game, cutting the lead to 4-2.
Two batters later, Blake Newland launched a two-run triple to right center field that tied the game at 4-4 and ended McCloskey's day on the mound.

But he wasn't completely finished contributing.

He put Huntington back on top in the top of the fifth with an RBI single for a 5-4 lead, before Eastern's Matt Blanchard blooped an RBI single in bottom of the sixth to force a 5-5 tie.
That set the stage for McCloskey's heroics in the seventh.
After hitting into a fielder's choice, he later found himself on second with two outs. Eastern's pitcher threw a curveball that hit the ground and bounced into the air.
That opened the door for McCloskey to advance his team into the next game.

"We're taught to read the ball down and that's what I did. I started to get to third and realized that the catcher had no idea where the ball was," McCloskey said. "I saw Coach [Ed] Yates waving me home and I went. It was such an awesome feeling crossing the plate."
After the Eagles chased McCloskey off the mound, Huntington turned the ball over to Free, who worked his way out of the inning and set the tone for the rest of the game.

Although he allowed the tying run, it did nothing to phase the young sophomore.
If anything, it made him dial in more.

He breezed through the Eagles' lineup the rest of the game, allowing just one hit as he earned the win in 3 1/3 innings.
"I just stayed loose and tried not to think too much," Free said. "My coaches taught me everything I needed to know and the defense was playing great. It prepared me for that moment and I did what I needed to do. We're happy to be here and still playing."
Even more impressive, Free threw just under 50 pitches, which makes him available for the district final.
"For being just a sophomore, that boy is really competitive," McCloskey said of his teammate. "I've watched him grow and he's just an awesome pitcher. I'm glad he's my teammate."
Huntington advances to a Division IV district championship back at V.A. Memorial Stadium on Wednesday against Whiteoak.
For McCloskey, Wednesday's game is about more than winning a district championship. It's about fulfilling a promise he made to himself when he entered high school.
"I had a goal my freshman year, and that was to put Huntington back on the map," McCloskey said. "And if we when this next game, I think I'll have done that. It's all for the Township."