Derrick Webb, Staff Writer
CHILLICOTHE — Last year at this time, If you would've told Paris DeBord she'd be an SVC champion in four separate events, her initial reaction may have been laughter.

Then, an eighth grader, DeBord was rehabbing from an ACL tear she suffered near the beginning of track season. As easy as it would've been to nurse the injury, she refused to let the setback define her future and worked harder than ever to get back on the track.

This past Friday, at the SVC Meet, DeBord's work ethic and determination paid its dividends.

The freshman beat the field in two individual events, winning the 100-meter dash (13.41) and the 200 dash (27.53). She then helped the Shermans' 4×200-meter relay (1:50.92) and 4×100 relay (52.72) win, all the while adding points to Unioto's championship team total of 184.5.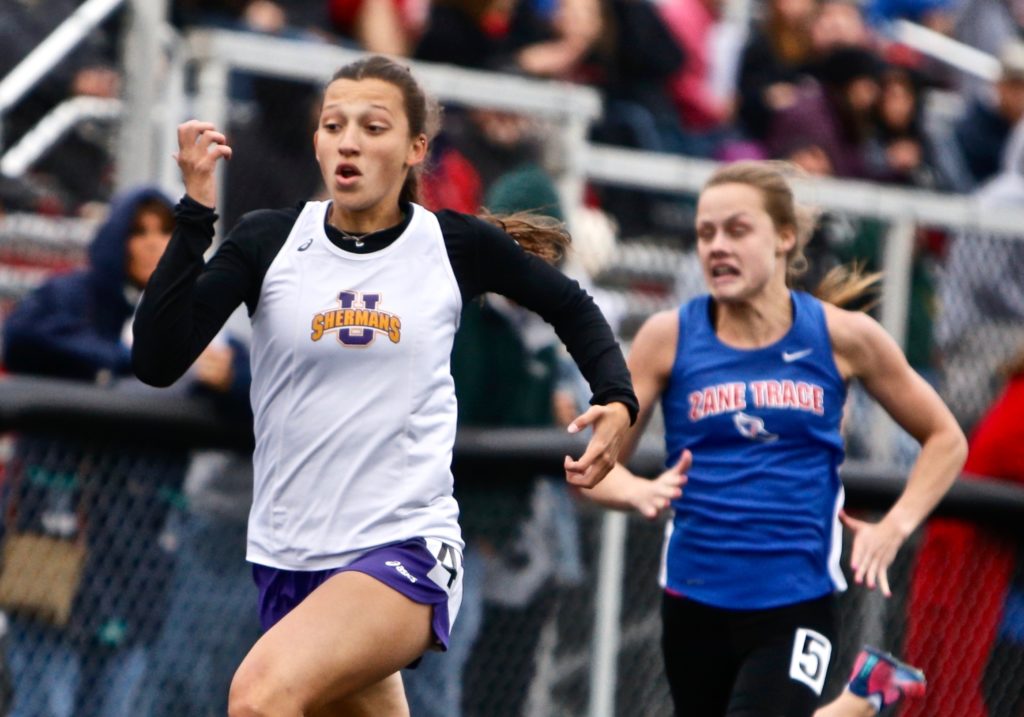 To say the least, looking back at this time last year to now, Paris DeBord is on cloud nine.

"When I tore my ACL and I was doing AAU basketball during track," DeBord said. "I really shouldn't have been mixing seasons. Missing out on my eighth grade year of track was pretty hard because I didn't get to improve on anything. So coming out a year later, and doing this, I'm proud of what I've done."

As she should be.

Subtract the fact that DeBord tore her ACL in the first place. Freshmen aren't supposed to have the success she's seen this season. But DeBord has defied the norm, coming into Unioto's track program and immediately finding success.

Not even she expected that.

"I didn't expect it this year," DeBord said of her sudden success at the high school level. "I expected some good times, some good races and to win a couple of times. But nothing like what I've done. Freshman year, for all my sports, has been really good for me honestly. The ACL surgery was a big setback but coming out and playing basketball and running track, I'm back to who I am. It's been a whirlwind with the knee and everything, but it's been exciting."

Now fully healthy, DeBord looks to lead Unioto further into the postseason. And, of course, she's hoping for more success along the way.

"I love my team so much and we proved ourselves [at the SVC Meet]," DeBord said. "Seeing Unioto at the top is the best feeling. Everything is just going pretty smoothly for our team. We want to go on to the district meet and keep this going."

During Wednesday's Division II District Meet at Washington Court House, DeBord qualified for the finals in two preliminary events — finishing second in both the 100 (13.03) and 200 (27.34) dashes. Those times were 0.12 and 0.1 seconds behind the events' winners.

The Shermans' 4×100 — DeBord, Andi Lafreniere, Amber Cottrill and McKayla Thompson — won their preliminary with a time of 52.20 while the 4×200 — DeBord, Thompson, Gracie Heath and Erin Callahan — qualified for the finals as well, finishing third at 1:51.94.

That means Paris DeBord will have four more opportunities to continue proving herself at Saturday's Division II district finals.

You might as well get used to hearing her name.

"Being a freshman, going out there and really proving myself to everyone, it's pretty awesome," DeBord said. "The competition was really in my face this year and the times were always really close. So to come out here and show everyone that a freshman can do it, that's pretty cool for me."