PORTSMOUTH — For most folks, the prevailing thought is that the son of a coach will, more often than not, be one of the smartest players on the field.

That adage is one that Clay Cottle has proven throughout his first two-year stint in a Clay baseball uniform.

With a career batting average of .398 through his first 40 games, alongside the ability to handle the primary starting duties at shortstop, it's clear that Cottle is currently a blossoming star.

However, Cottle also says the trust that comes from his teammates is a big reason why he's able to perform in the manner that he has.

"It means a lot to me," Cottle said. "Those positions are all about trust in my opinion, and I trust every single player on the team and in the field with me. I'm glad I have teammates that can trust me to do my stuff in the middle infield and I have a lot of trust in them wherever they may be playing."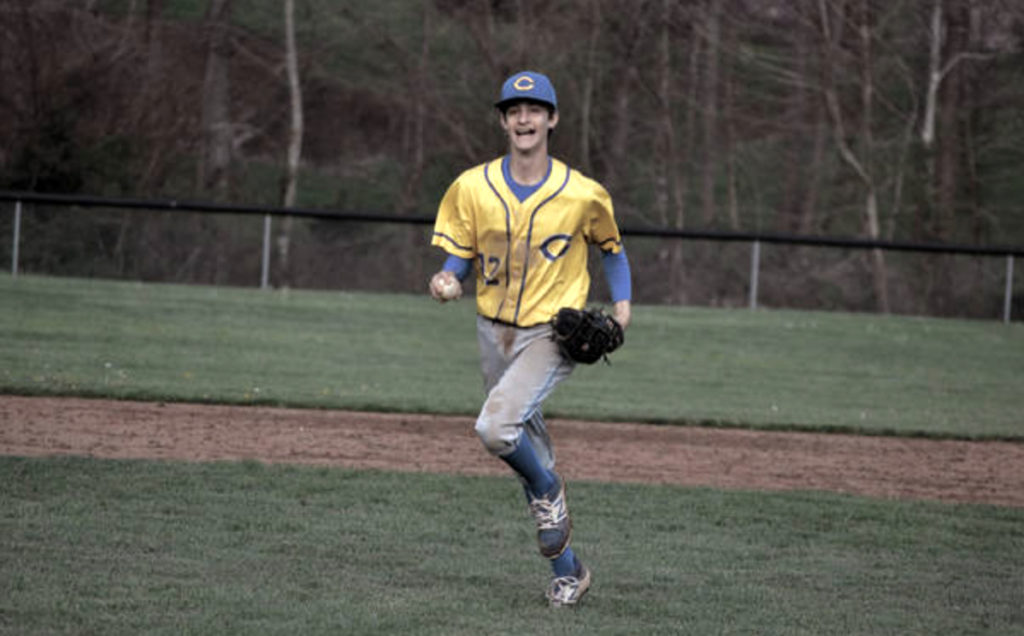 Cottle's abilities have shone through in multiple facets for the Panthers, a team that's collected a 32-8 record in the 40 games that Cottle has played in.
In addition to being a heavy frontline contributor for a soccer unit that finished second in the SOC I, and a rotational guard for Clay's basketball unit, Cottle has proven to be extremely productive for the Panthers' baseball team, coached by his father Marc.

"It's honestly been fun," Cottle said of his experiences playing all three sports so far. "Sports has always been my main hobby and being able to play three for my school is really cool. In each sport, I'm just trying to win games. I would love to win the SOC in each sport, too, but in the end, if we are winning games and having fun, then I'm happy."

Baseball, however, is where Cottle has enjoyed the most success as a student-athlete. As a freshman, he started every game last year for the Panthers, hit .309 and led the team in walks (20), was second in RBIs (19), and ranked third in runs scored (19).
The first-year standout only committed four errors in 106 fielding chances and had the lowest strikeout rate of any player with just three.
Those stats were all critical to a 19-7 season — and a run to the Division IV district final, Clay's first appearance at such a stage since 2003.

"I, along with the rest of the guys on that team, was thrilled with the opportunity to represent our school and community in that game," Cottle said. "The outcome may not have been what we wanted, but just to get to that point when no one thought anything of us was great."
Overall, the Panthers finished with a team fielding percentage of .929, which stands as the highest mark that a Marc Cottle-led team has ever had.
"It's awesome to see how all the time and effort you put into the offseason come together and form a defense like ours," Cottle said. "We have been taught since we were young that to win games, you are going to have to play defense and I feel we have taken that to heart. Our defense also gives our pitching staff a lot of confidence to do the things they need and to let us come together behind them and help them ultimately win games."
In 2019, Cottle's taken his game to another level, especially at the plate.
The sophomore is hitting a team-high .512 — 203 points higher than he did the year prior — and paces the team in triples (three), home runs (two), runs scored (23), slugging percentage (.907), and on-base-plus-slugging (1.503).
His own success, however, is one that Cottle credits to the leadership above him, as well as his father, who has been coaching the vast majority of the roster since their pre-teen days as Little Leaguers.
"The upperclassmen have helped me keep my head on straight throughout the season," Cottle said. "They are always there to pick you up no matter what and they really just keep the team intact and make us continue to move forward. Dad's been coaching this group since we been really young, so he knows how to handle us and we know what he expects of us. That coach-player connection is a big part of our team. It makes us more that just a team, it makes us a family."

Going forward, Clay Cottle is certainly going to make his presence felt on the soccer pitch, the basketball court, and the baseball diamond as various situations arise. However, the main goal for Cottle is to prove that the Clay Panthers should be on the map to stay.
"It feels great," Cottle said of playing alongside his teammates. "A lot of these guys, including myself, have been playing together since Little League, so the connection is there. We've been having success since then, but have been very overlooked because of the size of our school and many other factors so it feels good to show people that we can actually play."