Derrick Webb, Staff Writer
McARTHUR — In the Bentley household, there's a 24-hour rule; a decree that basketball won't be talked about during that time period.
It's ironic at best, considering all six of Rod Bentley's children play basketball while he serves as the head coach of Vinton County's girls hoops program.
"I'm blessed. My children have grown up in the college, high school and AAU environment. So it's fun" Bentley said. "But my wife keeps everything in perspective. We have a 24-hour rule where we don't talk about basketball, regardless of a win or a loss. That kind of slows things down. It's about keeping everything humble."
Bentley's daughter Morgan certainly fits the description of the word humble and, even though it's a 24-hour rule that's sometimes goes into effect, it's hard for her not to think about basketball.
Morgan, a sophomore at Vinton County, has led the Vikings to a 12-0 record this season and a No. 6 ranking in Ohio's Division II, according to the latest AP poll.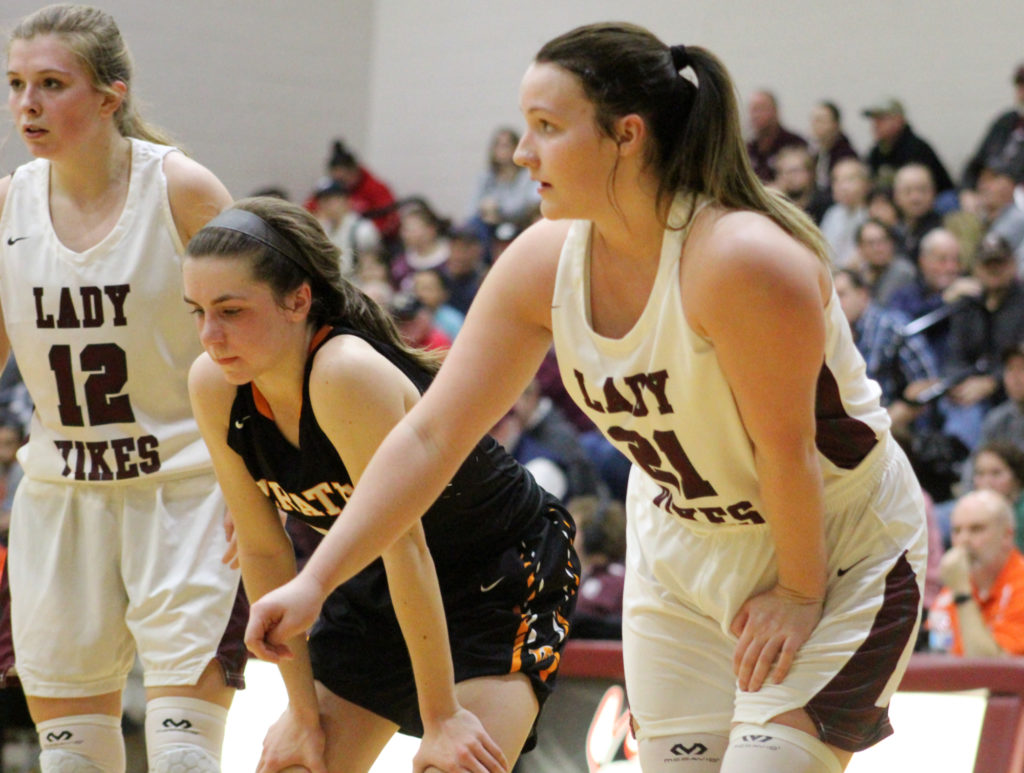 Through those 12 games, Morgan has been nothing but electric. In her last two games alone, she's put up a triple-double with 17 points, 12 rebounds and 12 assists in an 80-39 win over Wheelersburg before spearheading another blowout win, to the tune of 81-49, over Wellston.
While most athletes like to avoid pressure, it's pressure that makes Bentley thrive.
"I've been playing basketball since I was four and it's a family thing. My mom and dad played when they were younger, my sisters played it and now me," Morgan said. "There's a lot of pressure, especially being undefeated. I'm really nervous before games because have a bunch of fans from our community and they all come. We don't want to disappoint anybody."
A few weeks ago, the Vikings were disappointed themselves when they found out they'd be without their starting point guard for quite some time. That's when Rod Bentley went to his daughter and asked her to fill the newfound void.
"Morgan is surrounded by a good cast of shooters and, we lost our point guard earlier in the year, so I think she's the only player to go from a five to a point guard in the same season," Rod Bentley said. "The year before she came in, we were 11-13. Since she's came into the building, we're 34-2. So she's been a player that helps us win and does a variety of things that help us get better."
As coach Bentley mentioned, Morgan is surrounded by teammates who ooze talent such as Tegan Bartoe, Cameron Zinn and Josie Ousley, to name a few. Bartoe is lethal from the 3-point arc, Zinn can score from anywhere and Ousley creates high-quality shots at will.
To find Morgan's best on-court characteristic, you'd have to sift through a number of traits. Unless, that is, you're Rod Bentley. Her dad knows her better than anyone else.
"She's a talented player and I think she plays the game solid, fundamentally," Bentley said. "That's her number one thing; her fundamentals. She's got some offers to play at the next level already and she's going to feel out a good fit for her. I'm not sure where she's going to land or what she's going to do but she works really hard to perfect her game."
Morgan's older sister, Cassie, has already found her landing spot at Shawnee State University. During her high school career, she racked up a number of accolades, including TVC Player of the Year, District Player of the Year and All-Ohio honors.
Those types of accomplishments are what Morgan is aiming for as well, throughout the rest of her career.
"I want to score 1,000 points and I want to win the TVC all four years that I'm here," Morgan said. "We won the league last year and I'm hoping for the same over the next three years."
Last season, the Vikings saw their year come to an end in a Division II district semifinal at the hands of Washington Court House. If Morgan Bentley has any say in the matter, this season's end will be different … and further down the tournament trail.
"My teammates are like sisters to me. Everyone of them. We'll argue sometimes on the floor but when we're off the floor, we realize it's just a game and we know we have that bond," Morgan said. "I think we have a great chance at a district title this year. We made it to a district semifinal last year and I think we can go further."
But in order to do so, the Vikings must do three things.
"We have continue to stay humble, keep pushing and get better everyday," Rod Bentley said. "We're not dominant in size so our skills have to sharpen. There's a lot of areas where we can improve. But we want to stay in shape, stay strong and stay hungry."
And, of course, add in the 24-hour rule. Ample time for rest and relaxation, mentally and physically, is a must.
"We just have to take it one game at at time," Morgan said. "Our team is really talented. But we can't start thinking about our record or anything like that. We just have to focus on what's next."