Derrick Webb, Staff Writer
Southern Ohio Sports Authority is presented by OhioHealth.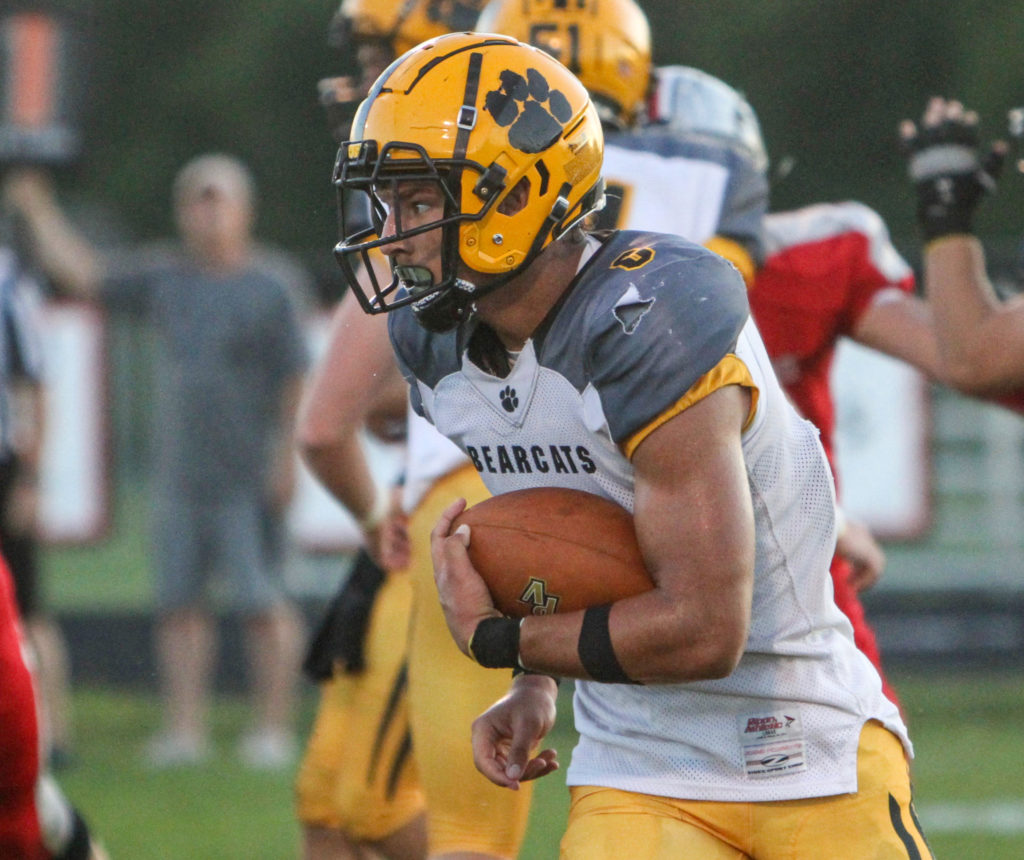 After this Friday, the regular season will be halfway in the books.
That's a hard statement to comprehend. It feels like football season just began. Enjoy it while it's here, folks. Before you know it, you'll be enduring 20-degree nights in front of your fireplace.
Waverly was where my crew decided to go in Week 4 — my dad and uncle tag along on Friday nights. We witnessed a rout as Chillicothe scored early and often against a Tigers team that's sure to bounce back.
But there's plenty of other area excitement to highlight. Here's this week's edition of Sideline to Sideline.
Kickoff
1. It's time to talk about Zane Trace. In four games, the Pioneers have outscored their opponents 143-40. The team's latest win, a 38-20 decision over Piketon, proved it could play well on both sides of the ball — yes, Week 1's win over Logan Elm was no fluke. In Friday's win, the team piled up 333 rushing yards, 130 for Daniel Barnhart, 127 for Blake Phillips, 57 for Riley Hartsaugh and 19 via Carter Langley, who also passed for 59 more. Those for names, alongside Aaden Dunn, who has been playing magnificently on the defensive end, have been the key to the team's first 4-0 start since 2015. And, as you start to take a deep dive into ZT's roster, you notice the team's depth and capability at each position. This team is for real.
2. Jackson is still very, very good. The Ironmen had dropped back-to-back decisions coming into Week 4. I don't care. The Ironmen only scored 13 points in a loss to Tri-Valley in Week 3. Yeah, I don't care. Jackson has played one of the most challenging schedules in Southern Ohio and it doesn't get any easier this week in Wheelersburg. But if you don't think this group is special, you haven't been watching closely. Western Brown's Drew Novak threw for 374 yards in Friday's game and Jackson still found a way to pull out a 41-35 win. Cade Wolford rushed 19 times for 171 yards and a pair of touchdowns, Nolan Johnson added 80 rushing yards and score, and Jacob Winters was 11-of-19 passing for 221 yards and a touchdown. What a win.
3. How about the West Senators? Quarterback Mitchell Irwin is more than capable of picking apart a defense. But West didn't need him to do so on Friday. Why? Because the Senators have a man named Ryan Sissel in the backfield. Sissel rushed 18 times for 212 yards and four touchdowns in a 49-7 win over Wellston. Irwin needed just two passes, both of which went to Jeffrey Bishop, to pass for 113 yards and a pair of scores. As you can see, this team's offense can be deadly and it all starts up front with a talented offensive line. West could easily be 4-0 but suffered a 14-13 loss to Fairland in Week 1. Since, the Senators have outscored their opponents 124-14. They're making a great case for SOC title contenders as KIPP Columbus comes to the West Side this week.
Offensive Juggernauts
Don't look now but Hillsboro has won two straight. In a 48-41 overtime win over Williamsburg, Indians running back Austin Barrett ran wild. The junior carried the football 22 times and racked up 370 yards and five touchdowns — breaking the school's single-game rushing record. The previous mark was held by Airic Stegall, who rushed for 348 yards on Oct. 30, 2009.
Unioto's Maddox Fox is now the program's all-time leading receiver. In a 48-8 win over Huntington, Fox hauled in seven catches for 131 yards and a pair of touchdowns. His career numbers now stand at 106 catches for 1,691 yards alongside 11 scores.
Portsmouth got back in the win column, beating Rock Hill by a 35-21 final. Quarterback Tyler Duncan is a huge reason why. The signal caller was 14-of-24 through the air for 165 yards and four touchdowns. He also ran eight times for 63 yards and added a fifth score.
Seriously, Coal Grove's Chase Hall is absolutely ridiculous. He may not be human. In a 43-7 win over South Point, Hall rushed 32 times for 272 yards and scored five touchdowns for the third consecutive week. We're four weeks in and Hall has rushed for over 1,000 yards with 19 scores.
Video of the Week
This doesn't have anything to do with football but it's, without question, the best video I've seen this week.
A special thanks goes out to our own Cory Hall, who's been an asset to SOSA since he joined our squad. Alongside Lori Koker, her husband Allen, and Southeastern's athletes and coaches, Cory is what made this story come to life. As we all are, I'm thinking about and praying for healing for coach Koker.
Thrice as Nice
Maxwell Lee may be the most underrated player in the area. This dude shows up and balls out every single week. The senior needed just 12 rushes to gain 110 yards and score three touchdowns in Friday's 42-12 win over Waverly. He leads the Cavaliers with 368 rushing yards and four touchdowns this season.
Miami Trace's Garrett Guess is no stranger to big games. He had another one this week in a 56-7 drubbing of Goshen. The junior caught four passes for 104 yards and scored three times. Mark him down for 20 catches, 303 yards and seven touchdowns through four weeks.
After a tough loss in Week 3, Paint Valley got back on track with a 59-25 victory at Westfall. And the Bearcats' backfield duo of Dom Chambers and Braylon Robertson ate their Wheaties. Chambers rushed 18 times for 187 yards and three touchdowns while Robertson added 10 carries for 112 yards and three scores.
In the Trenches
Wheelersburg fell to Ironton in Week 1 by a 12-3 final. Since then, the Pirates have been battle-tested and came through a gauntlet unscathed, beating McNicholas, Russell (Ky.) and Ashland Blazer (Ky.). In this past week's win over Ashland, the Pirates ran 38 times for 306 yards alongside five touchdowns. If that's not winning in the trenches, I don't know what is.
It would have been easy for McClain to hang its head after a shutout loss to Zane Trace in Week 3. Instead, the Tigers beat East Clinton like a drum, earning a 42-7 victory. McClain piled up 457 total yards of offense, 290 on the ground and 167 through the air. Andrew Potts didn't play in the second half and still amassed 175 yards and two touchdowns, Drake Stapleton passed for 167 yards and two scores, and Kaden Penwell scored three times. That's quite a way to bounce back.
Did you know?
Until Friday night's contest, Waverly had never scored when playing Chillicothe. In the two's previous seven meetings, the Cavaliers were 7-0 and had outscored the Tigers by a 401-0 margin. Friday's meeting was the first between the two since Sept. 20, 1935.
Shot of the Week
Chillicothe's Maxwell Lee and Tayvion Galloway have aided the Cavaliers to a 3-1 start. Here, they celebrate Lee's second touchdown run in Friday's win over Waverly.