Brock Netter, Staff Writer
Southern Ohio Sports Authority is presented by OhioHealth.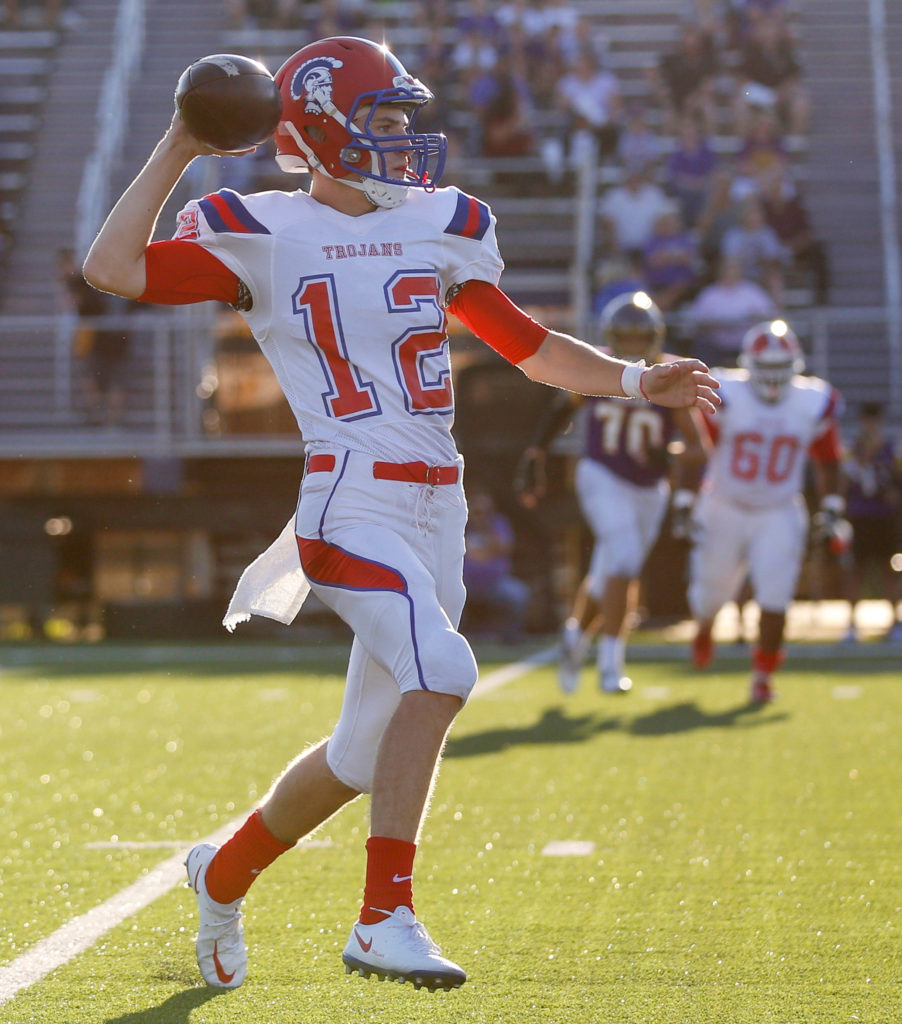 There is nothing in the world quite like high school football. It's a sport that everyone connects with in some shape or form.
And there's nothing like being at a football field on a Friday night. It just feels right. 
Now one thing that didn't feel right was my picks last week. My goodness, did I whiff. But there's nine more weeks left and I will go 10-for-10 this week … I hope.
Having said that, ladies and gentlemen, it's that time of the year again. Welcome back: Power Rankings. 
1. Ironton (1-0)
Week 1 result: 12-3 win over Wheelersburg
Can we just acknowledge that the Ironton-Wheelersburg game was played in front of over 10,000 people? There's not a state championship this season that will be played with that many people, yet Scioto and Lawrence counties showed up. In the end, the Tigers' defense was too stiff and the offense was just enough. Personally, I hope a rematch happens in the playoffs. 
2. Jackson (1-0) 
Week 1 result: 35-8 win over Logan
Weapons on weapons on weapons. Jackson scored 21 points in the first quarter and put things on cruise control for the remainder of the night. Did anyone look at Cade Wolford's stat line by chance? My goodness. What a night and it might not even be his best game of the season. Now for a battle between the top two teams as the Ironmen welcome Ironton to town. 
3. Chillicothe (1-0) 
Week 1 result: 29-19 win over Teays Valley
A victory over Teays Valley showed quite a bit and the offensive line won the battle at the line of scrimmage. It was also the Cavaliers' first season-opening victory since 2018 … also against Teays Valley. Week 1 showed a nice balance between the passing and running game as Chillicothe racked up nearly 300 yards of offense. London can score, but can it stop its opponent? Expect the points to rack up Friday at Herrnstein. 
4. Wheelersburg (0-1)
Week 1 result: 12-3 loss to Ironton
Yes, the Pirates lost. But let's not lose sight that they're still a top five team in the area. When you're in a defensive slugfest for 48 minutes, it doesn't take a ton of points to win. It wasn't their night, but one thing is for sure, they got a lot stronger and mentally tougher. A trip to Cincinnati to face Archbishop McNichols awaits the Pirates. 
5. Washington (1-0) 
Week 1 result: 35-6 win over Washington
Despite committing three turnovers, the Blue Lions had no issue at all handling Bexley to open their season and mounted 440 yards of total offense in doing so. The Blue Lions have always had talent, but finding consistency has been their weakness over the past couple of seasons. Now Western Brown awaits. That Bronco offense is lethal, so expect a track meet pace. 
6. Portsmouth (1-0)
Week 1 result: 42-28 win over Valley
35 second half points. No matter how you slice it and dice it, that's impressive — especially after trailing at halftime and committing a pair of turnovers in the first half. Devon Lattimore is a weapon, and I have no idea where Nolan Heiland came from, but that kid made one heck of an impression. Crosstown rival West is coming, and remember, SOSA is streaming the game for those who can't attend. 
7. Fairland (1-0) 
Week 1 result: 14-13 win over West
The Dragons find ways to win. It won't always be pretty, but they know they can rely on a defense that is opportunistic and ready to make a play when it's needed. Tough wins like Week 1 against West only make this team better as they try to yank the OVC title out of Ironton. But first, a road trip to Wellston. 
8. Paint Valley (1-0) 
Week 1 result: 42-26 win over Blanchester
Is there anything Cavan Cooper can't do on the football field? Magic happens with the ball in his hands, but he also has plenty of support with the guys around him. West Jefferson now invades Bainbridge on Friday. Now we'll see how well these Bearcats measure up to, traditionally, one of the top teams in Division VI. 
9. Unioto (1-0) 
Week 1 result: 21-6 win over Vinton County
It's only one game, but this Unioto team already feels different. The Tanks fly to the football defensively, and play with a level of energy they didn't have last season. Then again, this team is also a year older and it pays to have experience. If Unioto can cut down on the turnovers as the weeks go, it has a chance to compete for that elusive SVC title. 
10. West (0-1)
Week 1 result: 14-13 loss to Fairland
This is back-to-back seasons that the Senators just can't get past the pesky Fairland Dragons. It's probably more agonizing that both losses came by one point. Though a late turnover sealed the Senators' Week 1 fate, this is still one of the top teams in the area and they'll bounce back. But a tough task awaits them against Portsmouth.