Derrick Webb, Staff Writer
Southern Ohio Sports Authority is presented by OhioHealth.
LUCASVILLE — The bus ride from McDermott to Lucasville takes just nine minutes.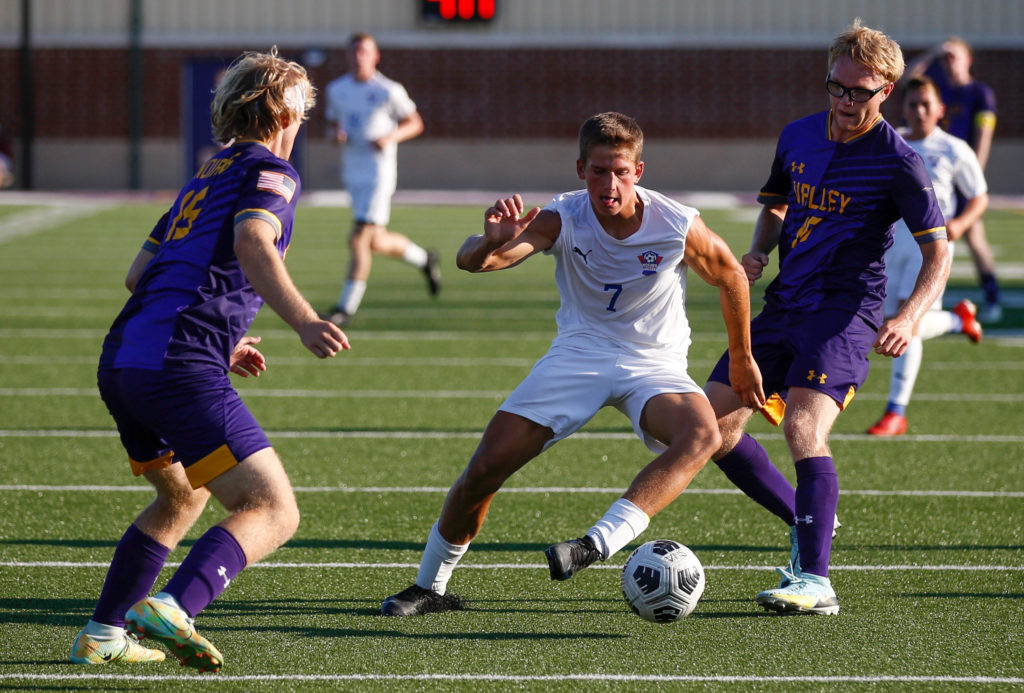 But for those nine minutes on Wednesday, Northwest junior Jay Jenkins said he and his teammates didn't speak. 
Instead, with a resounding silence, the Mohawks kept their focus and concentrated on the task at hand — a mindset they carried into their season-opener.
After scoring two early goals, Jenkins and company beared down defensively and handed Valley a 2-0 shutout loss.
"Before every game, [Northwest] coach [Josh Keeney] tells us that the first 10 minutes is the most important thing," Jenkins said. "We had our heads straight on and during the bus ride here, we weren't goofing around or anything. We knew we had to come out, first 10 minutes, and bust them in the mouth."
It took less than two minutes for the Mohawks (1-0) to grace the scoreboard.
Caleb Lewis played a cross from Jenkins in the box and sent a rocket into the lower left corner of the net for a 1-0 lead at the 38:09 mark.
That allowed Northwest to take a deep breath and settle in while the Indians (0-0-1) went on the ropes early.
"Last year, there were a lot of games where we went down early. That killed us," Keeney said. "So I told them this year that getting up early is huge. I knew if we could get a goal or two early, it'd be hard for Valley to come back and score. That's exactly what we did."
---
---
Nearly 12 minutes later, at the 26:16 mark, Gavin DeFoe made it a 2-0 score with a goal off a second assist from Jenkins.
And, while the Indians attempted with all their might to mount a comeback attempt, it wasn't in the cards. Northwest's defense, rather effortlessly at times, continued to win 50-50 balls, applied pressure and kept Valley off the board.
"I'm extremely proud. I thought coming into the game that if we dominated the midfield, we'd win," Keeney said. "Levi [Bruch], Jay and Evan [Mitchell], I think they just totally dominated the midfield. Coming in, we wanted to shut down [Valley's] Hunter [Edwards]. For them, everything goes through him. We wanted to take him out of the game. I think we kind of did that. In my opinion, that was the ultimate [deciding] factor in the game."
Northwest took just seven shots throughout the action, six of which were on goal. But when the Mohawks did shoot, they made it count, sending Valley goalkeeper Chris Queen into action.
Queen finished with four saves while his counterpart, Northwest's Logan Shepherd, posted seven.
Moving forward, Keeney expects more of the same and, in particular, from Jenkins, Bruch and Lewis.
"[Jenkins and Bruch] are my middle. Everyone knows that ninety percent of the time, if you win the middle, you're going to win the game," Keeney said. "We moved Caleb up to forward this year and he's been scoring goals like crazy. He's that guy we go to up top. Those three, as a trio, I'm looking forward to the rest of this season."
Northwest is back in action on Thursday, traveling to Waverly, while Valley continues to look for its first win on Saturday, hosting Minford.
"We start four freshmen, so every game for them is huge," Keeney said. "We're going to have games where lack of experience kills them. Over the summer, we had games that were great and then, we had games where they looked like inexperienced freshmen. But they're going to get better every game, which makes us better. It's been back-and-forth with Waverly every year. So we'll have to be ready to take care of business. If we play like we did tonight, we'll be fine."