Derrick Webb, Staff Writer
Southern Ohio Sports Authority is presented by OhioHealth.
If you remember last season — and how could you forget — the area's volleyball scene provided plenty of drama and an abundance of success as usual.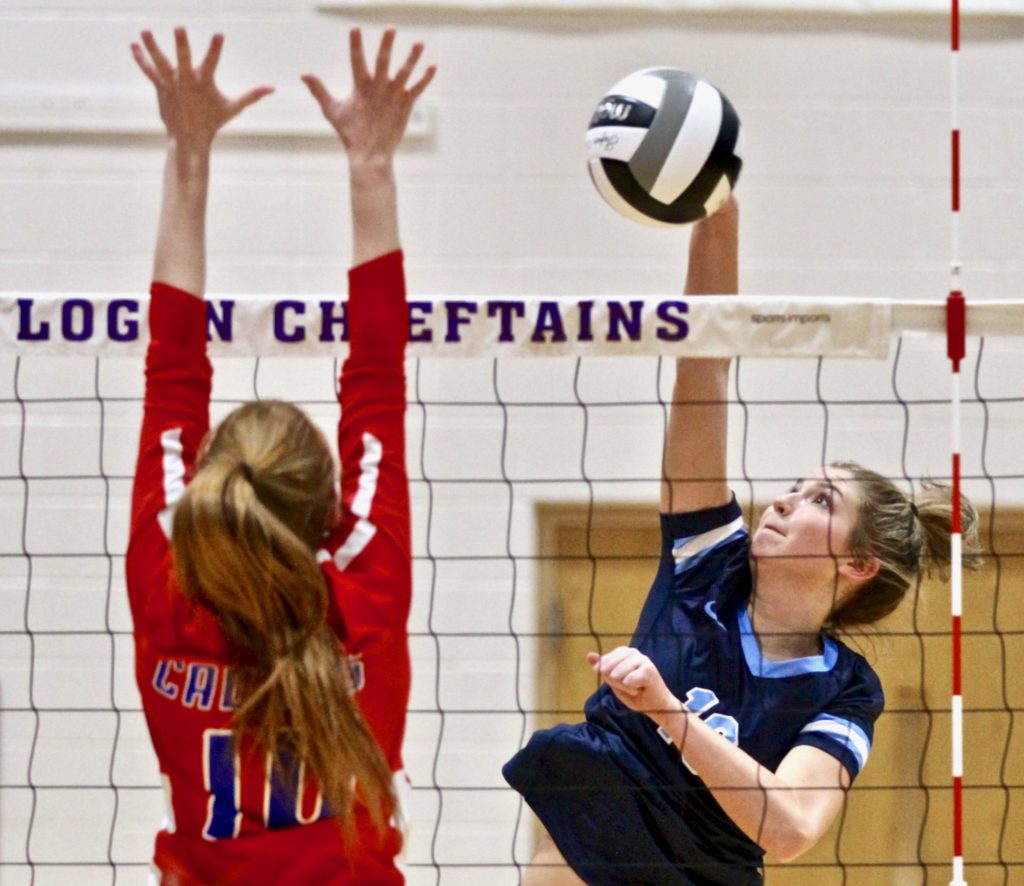 Between the SVC, SOC, FAC, SHAC and MSL-Buckeye, the five conferences within SOSA's coverage reach, four different programs earned district titles while Adena and South Webster each won regional championships.
But en route to those postseason finishes, there were plenty of individual performances to rave about, multiple records broken and tons of matches that won't soon be forgotten.
As for this season, we expect much more of the same. But before it happens, for the third straight year, we decided to compile a list of the coverage area's top 30 players. It was an absolute bear to do so, but we think we've got a list of 30 athletes who are the absolute best at their craft.
Remember, this list only includes players from within SOSA's coverage area and it isn't an end all, be all. We encourage discussion and getting our athletes the recognition they deserve is always our mission.
10. Keetyn Hupp, North Adams
2021 statistics: 418 kills, 60 aces, 64 blocks, 205 digs, 14 assists
In every facet of the game, Hupp impressed last season. Her team-high 418 kills led the conference by a landslide and helped her earn all-district honors while her 60 aces, 64 blocks and 205 digs helped the Green Devils go 19-4 overall with a 13-0 mark in the SHAC. She's an early Player of the Year favorite and will be the leader of a young, yet talented, NA roster.
9. Morgan Keel, Teays Valley
2021 statistics: 34 kills, 20 aces, 7 blocks, 217 digs, 706 assists
In just the past two seasons, Keel has racked up a boatload of assists and digs — a total of 1,518 and 419 to be exact. Her 706 assists last season helped the Vikings enjoy an overall mark of 16-7 and a 12-2 record in the MSL-Buckeye. She was, in a word, elite. She'll be chasing her 2,000th career assist as a senior while leading her teammates to more potential success. 
---
---
8. Kelli Stewart, Waverly
2021 statistics: 224 kills, 32 aces, 25 blocks, 199 digs, 101 assists
It looks as if Waverly is actively turning a corner towards success after last season and Stewart is driving that rig. The now-senior spent last season totaling 224 kills, 199 digs and 101 assists, helping her Tigers raise eyebrows. She'll be back for more of the same this fall and, if everything goes to plan, Waverly will reap the benefits of her play. Stewart is a must-see.
7. Kinley May, Zane Trace
2021 statistics: 46 kills, 53 aces, 28 blocks, 204 digs, 505 assists
May has some gigantic goals in mind and if history does indeed repeat itself, she'll cross off each of them. The Pioneers' setter enters her senior season with 1,255 career assists alongside 732 digs — she'll absolutely be chasing 2,000 and 1,000 this fall. She's also valuable at the service line with 132 aces. Bottom line? She does it all and has for quite some time.
6. Makenna Walker, Wheelersburg
2021 statistics: 123 kills, 57 aces, 33 blocks, 209 digs, 764 assists
There are good volleyball players and then there's Makenna Walker, who seems to always be in a league of her own. Walker took over setter duties last year with ease and the Pirates benefited from the move. The junior tallied 764 assists, to go alongside 123 kills and 209 digs, while assisting her teammates to a district championship — again. She'll be better than ever this fall.
5. Cara Cooper, Circleville
2021 statistics: 170 kills, 23 aces, 5 blocks, 434 digs, 37 assists
There isn't much that Cooper can't do … and that's true for whatever sport she decides to participate in. As a junior, she helped the Tigers win 14 matches while tallying 170 kills and 434 digs. Her passion is unmatched, her drive to win is relentless and you won't find a player that works harder. She's got one more season to take Circleville to new heights. Bet on her to do so.
4. Hannah Burns, Adena
2021 statistics: 204 kills, 14 aces, 37 blocks, 89 digs, 3 assists
If you didn't know Burns' name before last season, you should now. And if you still don't, you must've not been paying attention. She helped Adena make a trip to Dayton after the Warriors took home the ever-elusive Scioto Valley Conference title. While her statistics should see a steep rise this year, her teammates will be relying on her to provide the hammer each night.
3. Bella Claxon, South Webster
2021 statistics: 84 kills, 53 aces, 38 blocks, 222 digs, 844 assists
In just one season, Claxon put up numbers that many players don't accumulate during their entire four-year careers. She was the glue to a team that won their first-ever regional title and showed they belonged on the largest stage in the state. She enters her junior year with career numbers that already add up to 1,234 assists and 420 digs. She's as good as it gets.
2. Morgan Blakeman, Circleville
2021 statistics: 379 kills, 31 aces, 72 blocks, 337 digs, 30 assists
At the net, Blakeman is simply dynamic. She's shown the ability to punish defenses in multiple ways and is a constant force to be reckoned with. Heading into her senior year, she has several career milestones on the horizon, including 1,000 career kills and digs. She currently sits at 728 and 653, respectively, through three seasons. There's no sign of a slowdown in Roundtown.
1. Lexi Scott, Zane Trace
2021 statistics: 377 kills, 16 aces, 35 blocks, 306 digs, 21 assists
There are very few players who have the ability to take over a match. Scott is in that group and may just be the best at doing so. When she takes a swing, the action seems to stop and all attention is shifted towards her. She makes that much of an impact. She's the owner of 778 career kills alongside 116 blocks and 504 digs. Those numbers will see a steep rise this fall.