Derrick Webb, Staff Writer
Southern Ohio Sports Authority is presented by OhioHealth.
CHILLICOTHE — Dangerous with a bat in his hands and as smooth as silk in the field, Micah Geise showed no signs of a slowdown this past spring.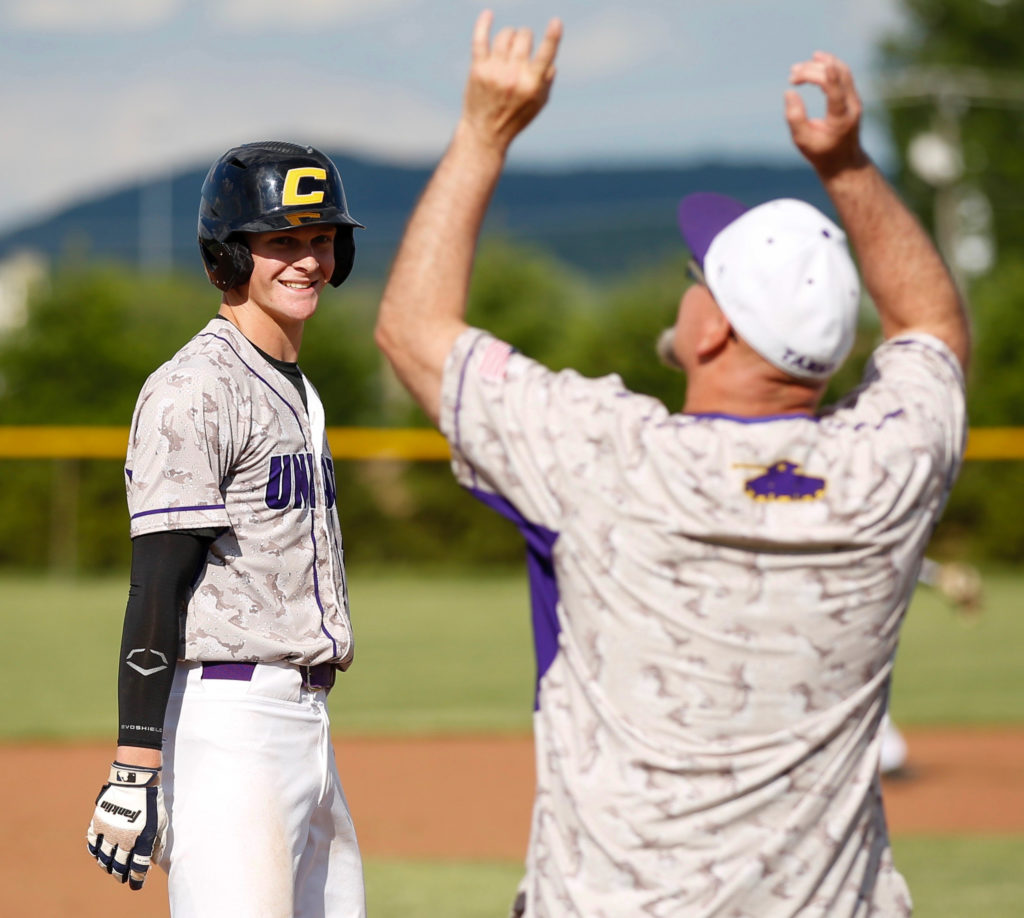 Unioto's junior shortstop continued to develop into one of the area's best all-around players while helping his Shermans finish the year 22-4 and as the SVC's co-champion.
Geise was — all season long — as advertised.
"I had an absolute blast this past season. There's something special about playing baseball together with your teammates," Geise said. "We went through every win and every loss together. Sharing the conference championship and playing at Ohio University were some of my favorite moments. Even though we got beat in the tournament earlier than we had hoped for, it was still a great season."
The decision that Geise is referring to came on May 23 in a Division II district semifinal. That night, the Shermans dropped a 6-1 decision to Sheridan — a game in which Unioto's defense was charged with four errors.
Like every other loss that Geise has experienced, he knows it will only make him and his teammates better in the long run.
"That experience left a bitter taste in our mouths and we will use that feeling next year when we encounter a tough situation. We cannot let all of our preparation go down the drain," Geise said. "We had enough talent and work ethic to make it to the final four. But that night, the other team wanted it more than we did. It's imperative that we do not beat ourselves through mental errors, frustration, and doubt."
While that night's taste will have its chance to resonate for a year's time, Geise will focus on getting better. That's exactly what he did in between his sophomore and junior seasons, and it paid off in a big way.
He hit .418 alongside nine doubles, four triples, four home runs, 40 runs scored and 21 RBIs, and did so while learning to play a new position.
"I feel like I developed much more power at the plate compared to last season. I worked on that a lot in the offseason, and all that work I put in ended up paying off," Geise said. "Also, I played shortstop the entire season, which is a position I hadn't regularly played in about three years. Being able to play multiple positions in college is tough, but college coaches love a versatile player. I believe my experience this past season at shortstop can only help me in my recruitment and when I start playing baseball in college."
Playing collegiate baseball has been a dream of Geise's since he can remember. He understands what it will take to get there and has tried to fine-tune every area of his game — including the areas that don't show up in the box score.
"I feel like I need to be more vocal in the field. Reassuring the pitcher, calling out the number of outs, and just being a vocal presence on the diamond are some things I need to do more often," Geise said. "[Unioto] coach [Tony] Taylor has told me that a handful of times throughout the season, and I've consciously tried to improve in that area. But it's easier said than done. Shortstops are one of the captains on the field, and I think I need to embrace the description of a vocal leader just a little bit more."
When Geise returns next season, he'll be doing so with a group of experienced returners.
All nine of the team's district tournament starters will be back in the fold and will be playing with high expectations surrounding them. Geise welcomes that.
"My expectation is to win the OHSAA Division II state championship. Every starting position player is returning and nearly all of our pitchers are coming back as well. I'm going to work even harder than I did last winter to fulfill my expectations, but it takes a whole team to win a championship, not just one person. I will do everything I can to be the best player I can be during this fall and winter."
But first, soccer season.
Before Geise's senior baseball season commences, he'll try and help Unioto defend a Division II regional title on the soccer pitch from his goalkeeper post.
Last season, he made 33 saves and pitched nine shutouts. He'll be adding to those numbers while keeping his on-diamond skills sharp.
"It is going to be a quick and sudden shift from travel baseball to soccer. The fall will be an extremely important time for college baseball coaches to recruit, so I will continue to lift and stay sharp while playing soccer and going to school," Geise said. "But I'm looking forward to playing soccer when the fall rolls around in a couple of months."