After this year's first full week of high school basketball season, here's this week's Shootaround, made possible by Roman Family Healthcare.
THREE THINGS
A. It's early, but it looks as if Washington and McClain's boys will battle for FAC royalty. The Blue Lions, led by Reico Colter and Tanner Lemaster — alongside Raleigh Haithcock, Isaiah Haithcock and John Wall — seem to have found a winning recipe after several years of failure. Meanwhile, McClain has brought a set of capable returning starters back to the table, including Bryson Badgley, who was injured for much of last year's season. Badgley is joined by teammates Preston Saunders, Wes Potts, Kendyll Toney and Braden Wright, among others, in a 2-0 start. If you're free Tuesday night, and you're a basketball fan, these two play at Washington. Be there.
B. Make no mistake about it … the road to the SVC title still runs through Frankfort. Adena's girls have looked phenomenal this year, nabbing wins over Hillsboro and Westfall. Offensively, it's pick your poison for most opponents. Emma Garrison, Jadyn Smith and Kiera Williams have all proved themselves as viable go-to options. When you add in Makaela Lovely shooting the 3-ball, Sydney Foglesong and Chey Ater inside, and Caelan Miner on the perimeter, the Warriors become extremely dangerous. But that's not even the best part about this team. Adena's defense is what can separate the Warriors from the pack. In two games, they've allowed 62 points.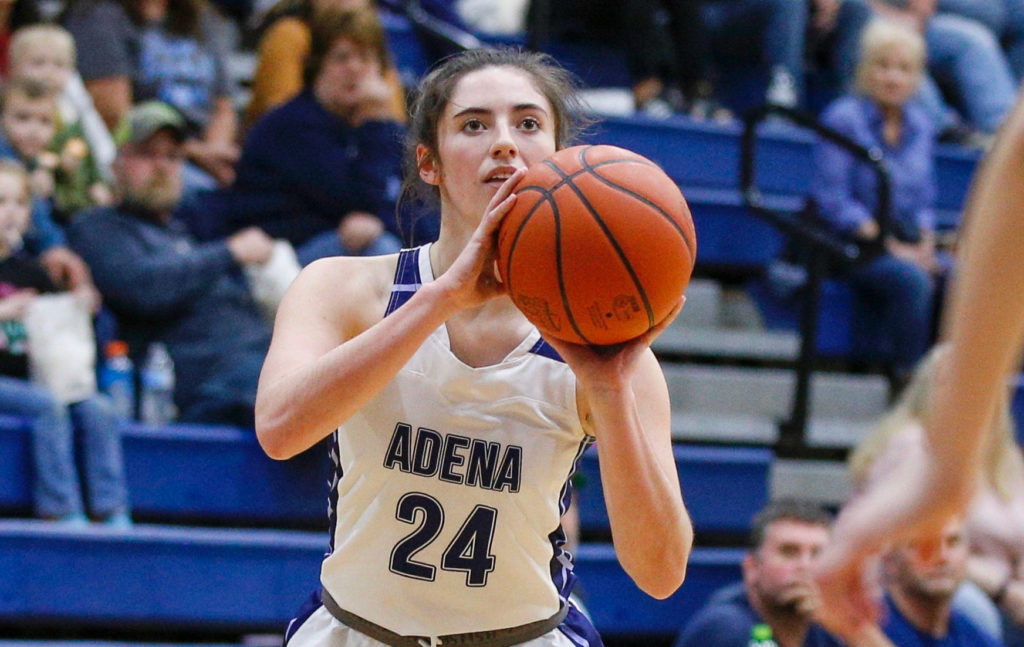 C. The Southern Hills Athletic Conference girls title race will be a fun one to watch. With Eastern, Fairfield, North Adams, Lynchburg-Clay and Peebles all expected to be in the mix, don't be surprised to see SHAC teams beat up on each other throughout the winter. However, after the start that Eastern has had, it's fair to say the Warriors are the favorites. Freshman Mya Hamilton has scored at will, Rylee Leonard is a known name, and scorer, throughout the region, and Torie Utter provides yet another layer for coach Kevin Pickerill's roster. Eastern will get each of its opponents' best shots. In the SHAC, to be the best, you have to beat the best — and dodge everyone else.
OUTTAKES
Fairfield girls coach Jeremy McGraw on his team's 5-0 start:
"Honestly, I think it's just us playing as one and together. We're playing so unselfish right now, and that's the key. There isn't one person that wants it more than another. If you're look at our scorebook to this point, it's so balanced. We're happy for each other. We're playing flat unselfishly, moving the ball and getting great looks."
Unioto boys coach Matt Hoops on his team's ability to erase a 23-point deficit after a 56-48 loss to Washington:
"We started chipping away. It was about just settling down a little bit. We don't have anyone on our team that's ever been down like that. You look at all of our guys out there and it's either their first time playing varsity basketball, or throughout their careers, they've never been in that situation. It was something new to them. But it shows we have heart and we have pride in what we're trying to do."
Miami Trace girls coach Kayla Dettwiller on sophomore guard Jessee Stewart:
"When she is on, it's phenomenal. That kid puts up shot after shot. She's out in the barn and lights it up. And she's not just a shooter. She can drive and she can get downhill. So we're still working on developing her game in other aspects as well."
WORTH THE PRICE OF ADMISSION
Payton Johnson is a human highlight reel. If you don't believe me, watch her play. Peebles' sophomore guard has all the tools to be one of the best players to ever be an Indian. She's picked up right where she left off last season and is scoring in bunches.
It costs $5 to get into most basketball games these days. But when Minford's Myles Montgomery is playing, the admission table to should take advantage of the opportunity and charge extra. He's worth it. Montgomery started his varsity basketball career with back-to-back 20-point outings. The freshman is going to be an absolute problem for four years.
SHOT OF THE WEEK
Waverly coach John Bonifield reacts after his team's defense steals a pass and goes coast-to-coast for a score.
Don't look now, but the Tigers have won three straight games heading into Monday's game against South Webster.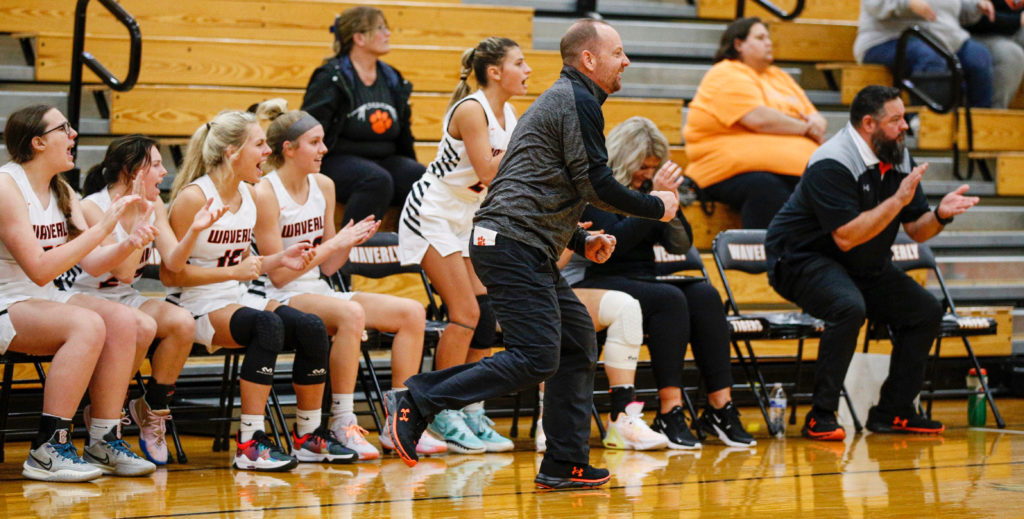 VIDEO OF THE WEEK
Unioto improved to 2-1 this year with a 47-46 win over Logan … courtesy of DeSean Branson.
PERFORMANCE OF THE WEEK
SOSA's Performance of the Week, which is always presented by Ohio Valley Bank, belongs to Washington's Tanner Lemaster.
The 6-foot-6 senior helped the Blue Lions top Unioto in an important Division II matchup by a 58-46 final. Lemaster scored a game-high 26 points and grabbed six rebounds while having his way from inside the paint all night long.
DOUBLE BONUS
Waverly's Sarah Thompson played spectacularly this past week, leading the Tigers to wins over Minford and McClain. In those two games, Thompson scored 20 points and collecting 35 rebounds. When she's playing well, Waverly is playing well. She's tough to box out and to guard. Watch for her name all year long.
Western's boys are off to a 5-0 start and if you're looking for reasons why, we're pointing at Kolten Miller. The Indians' senior guard has helped his team with a handful of double-digit scoring efforts commanding the offense to an average of 59.6 points per night. If Western ends up winning the SOC I, don't be surprised. The Indians are that talented.
WHAT'S ON TAP
As usual, our team will be out and about this week with many interesting games on the schedule. Here's where you can for sure find us this week.
Monday, it's Minford at Oak Hill's girls while Washington Court House is Tuesday's site as the Blue Lions' boys host McClain in an FAC battle. Wednesday and Thursday, we'll have updates from Jackson and West as McClain's girls travel to face the Ironladies while the Senators' girls welcome Wheelersburg in SOC II action.
We'll kick off the weekend with coverage from Unioto as the Shermans host Zane Trace in a conference bout and, on Saturday, we're bringing a double scoop of coverage starting with Washington at Chillicothe's girls and ending with Circleville at Amanda-Clearcreek's boys.