Derrick Webb, Staff Writer
PIKETON — Some teams are lucky to have one go-to scorer. It seems, after Monday night at least, that Eastern is lucky enough to have two of those options.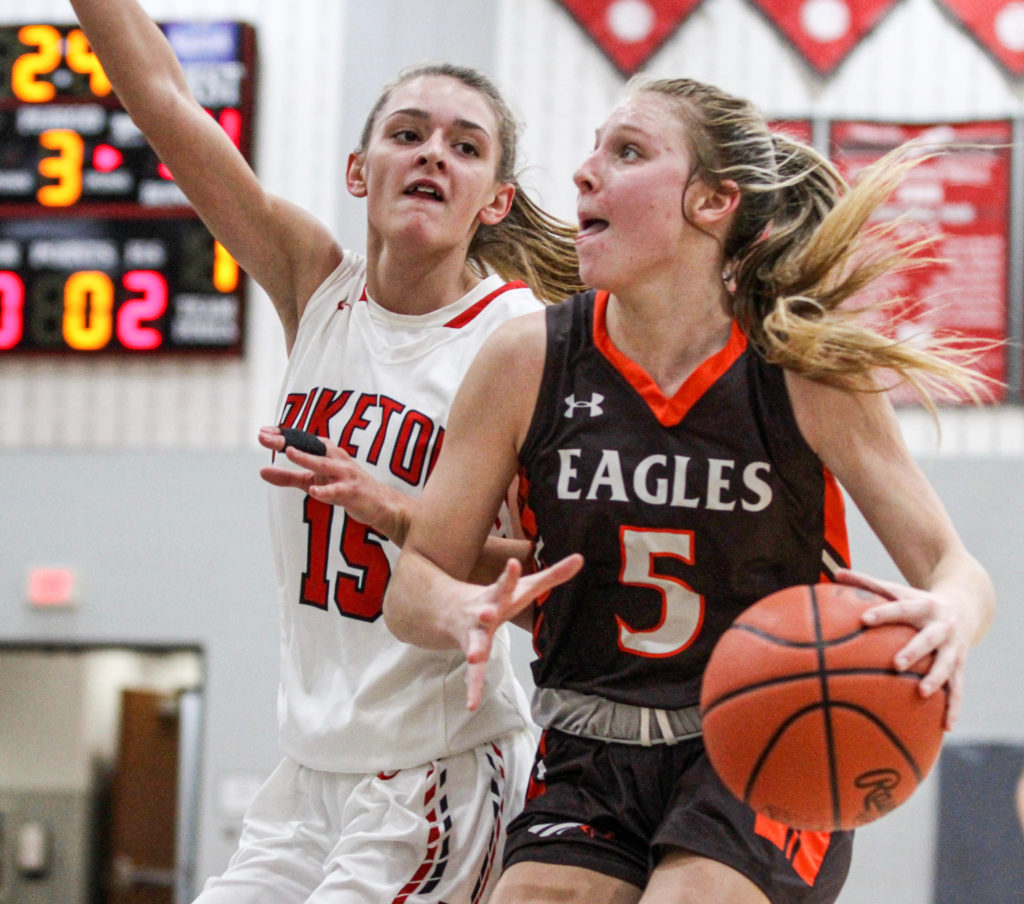 And they share the last name.
Behind a herculean effort from twins Abby and Addison Cochenour, the Eagles started their season with a 62-55 win over Piketon in non-league play on Monday — one that saw those two combine for 50 points and 23 rebounds.
"When we started in the summer, and started practice at the end of October, I said, 'If we have one or two more people scoring, it's going to help Abby.' That's what's going to make us better," Eastern coach Darren King said. "I hope Addison realizes now, 'Hey, I can score, too.' But it's nice to have a go-to scorer on the team. I think I have a couple of them in those two."
Abby and Addison were phenomenal, but they also got some help from their teammates — something that's going to be extremely important to the Eagles' potential success moving forward.
While the roster is filled with youth and inexperience at the varsity level, aside from the Cochenours, King believes his Eagles have the ingredients to reach their goals. It's now a matter of simply finding the right recipe.
"I've talked to Abby and Addison about helping those younger ones," King said. "We talked about how that could make us better. It's nice to look out and see them encouraging them. I think these younger kids, our three freshmen and a sophomore, and our junior Kelsey Helphenstine, are becoming more confident every time they knock down a shot. They're only going to continue to get better."
Throughout the entirety of the first three quarters, the score was nip and tuck.
Eastern jumped out to a 6-2 lead behind the Cochenours before holding leads of 10-6 and 15-12. But the Redstreaks would fight back, using a mix of Jazz Lamerson, Savannah McNelly and Addison Johnson to force a 15-15 deadlock heading into the second.
---
---
Natalie Cooper gave Piketon its first lead at 17-15 with 7:23 to play in the half before Abby Cochenour spearheaded a 10-0 run to put Eastern ahead 25-17 with 4:14 left — Cochenour scored all 10 points during that stretch.
The Redstreaks answered with a 7-0 run of their own, cutting the lead to 25-24 before Kennedy Jenkins regave them the lead at 26-25 with 25.5 seconds left. However, Madison Schuler put Eastern ahead with 2.3 seconds left for a 27-26 halftime tally.
The back and forth continued in the third.
The biggest lead of the quarter belonged to Piketon, which led 36-32 with 3:06 to go, following a 3 from Isabella Dean. But that's when Addison Cochenour came alive, leading the Eagles on a 5-0 burst to end the quarter with a 37-36 advantage.
In the fourth, the Eagles started to create breathing room.
Abby Cochenour broke a 40-40 tie with a 3-ball before hitting two foul shots for a 45-40 lead. That five-point lead would last until it was extended to seven at 52-45 with 3:15 remaining.
From that point on, the Redstreaks tried with all their might to mount a comeback, but Abby Cochenour matched their move at every turn. The Eagles sealed the deal late at the charity stripe to start their season on the right foot.
"Later, as the game progressed, we kind of settled a little bit more. We ran our offense," King said. "We didn't get as many open shots, but we were ahead and we took some time off the clock. That makes a difference. We haven't ran our 1-3-1 defense much and in our 2-3, we were giving up too many open looks. So we switched to the 1-3-1 and I think the kids adjusted to it well."
Abby Cochenour led all scorers with 35 points alongside six rebounds while Addison Cochenour finished with 15 points and a game-high 17 rebounds. Cylie Weaver also chipped in with five points and six rebounds.
As for Piketon, Lamerson set the pace with 16 points, six rebounds and two assists. Cooper ended the night with 12 points and six boards, Jenkins had 12 points and Johnson tallied six points, six rebounds and five assists.
The Eagles are back in action on Saturday, hosting Gallia Academy, while Piketon is idle until Dec. 2 when the Redstreaks open conference play with a home date against Southeastern.
"I hope these kids take this first win and build off it going forward," King said. "We can definitely work on the rebounding. We talked about that in practice and that's the first thing I wrote on the board in the locker room. Rebounding wins games and we're going to have to work on it. That and making our offense work a little smoother."
BOX SCORE
Eastern: 15-12-10-25 — 62
Piketon: 15-11-10-19 — 55
Eastern: 22-53 FG, 12-18 FT, 7-15 3pt., 37 rebounds (Ad. Cochenour 17), 25 turnovers, 5 assists (Helphenstine 2). Scoring: Ab. Cochenour 35, Ad. Cochenour 15, Weaver 5, Schuler 4, Turner 2, Helphenstine 1.
Piketon: 22-59 FG, 7-13 FT, 4-13 3pt., 27 rebounds (Cooper 7), 20 turnovers, 15 assists (Johnson 5). Scoring: Lamerson 16, Cooper 12, Jenkins 12, Johnson 6, McNelly 3, Taylor 3, Dean 3.