Brock Netter, Staff Writer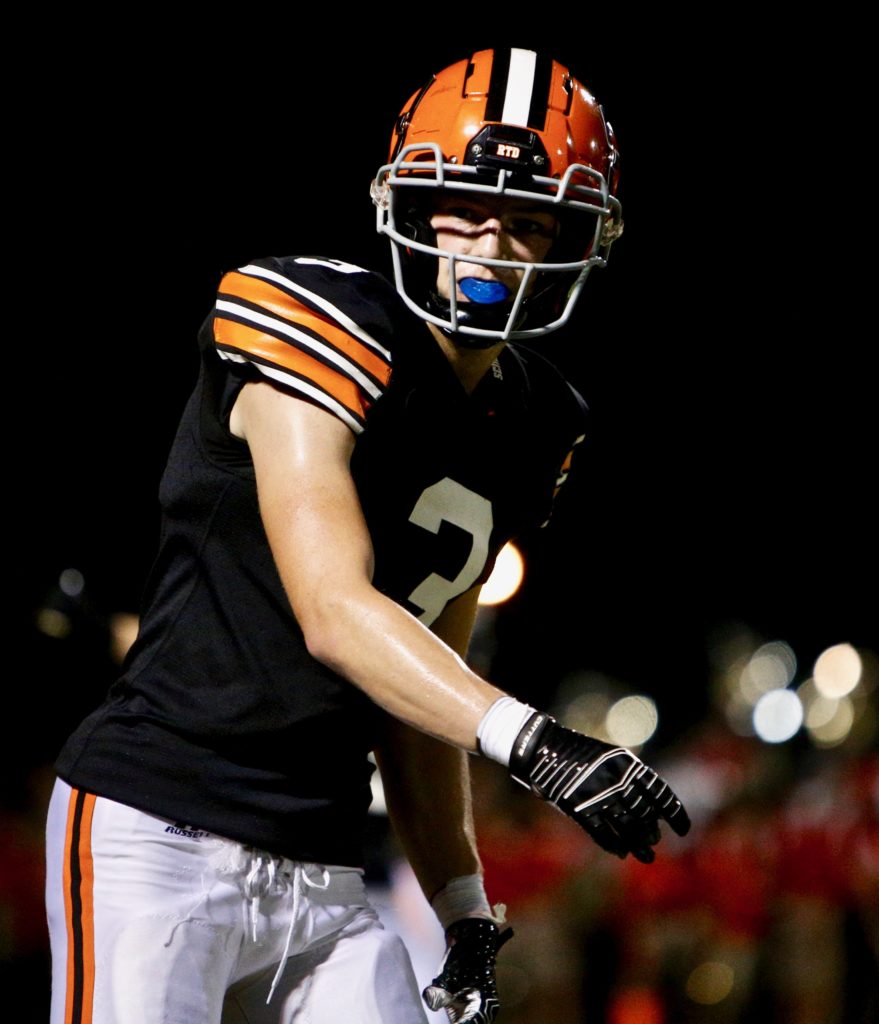 This 80-degree weather can go away at anytime now. It's Oct. 14, which means it should be in the high 50's to low 60's. Just wanted to get that small complaint out of the way. Now back to our regularly scheduled programming.
What a wild Week 7 it was across the landscape. Conference races mostly took shape, teams moved up in the computer polls and with just two games left, welcome to the jungle.
Remember, 16 teams make the playoffs this season so truthfully, four wins should just about do the trick.
For some teams, they're playing for a top four seed and playing to host possibly two home games, while the race for those 14, 15, and 16 seeds are going to get chaotic.
Here are this week's SOSA Power Rankings:
1. Ironton (7-1)
Previous ranking: 1 … —
Week 8 result: 48-0 win over Coal Grove
Another OVC opponent, another OVC win for the Fighting Tigers. It's like clockwork for them right now since they're back to being as healthy with Tayden Carpenter back under center. Since his return, he's thrown 12 touchdowns without a single turnover. Up next: Gallia Academy.
2. Piketon (7-0)
Previous ranking: 2 … —
Week 8 result: 51-20 win over Adena
The Redstreaks were eager to get back on the field after an unplanned week off, and got right back to work with a trouncing of Adena. This team is averaging 44.7 points per game, which isn't anything new. It's their defense, which has always been suspect in the past, that is coming up big time. The SVC title and Gold Ball are two games away.
3. Jackson (6-2)
Previous ranking: 4 … +1
Week 8 result: 62-27 win over Washington
Rolling right along are the Ironmen, who have now won their last four games, the most recent being a one-sided affair with the Blue Lions. They did that with a perfect balance of 220 passing yards and 211 rushing yards. It also appears that Jacob Winters has found a rhythm under center. Now comes a first-place FAC date with Miami Trace. Winner earns a share of the title.
4. Teays Valley (8-0)
Previous ranking: 6 … +2
Week 8 result: 28-14 win over Amanda-Clearcreek
There would be no letdown or looking ahead. The Vikings simply just handled their business right in front of them. It also helps when your offense scores 21 of its 28 points in the third quarter and the defense pitches a second half shutout. Now comes the MSL championship: undefeated Bloom-Carroll versus undefeated Teays Valley.
5. Wheelersburg (5-3)
Previous ranking: 7 … +2
Week 8 result: 21-14 win over Waverly
They're back, and right on schedule. The SOC II is back under the Pirates' control and more importantly, they got that signature win they needed. They controlled every facet of Friday's game and got a late fourth quarter score before allowing the defense to make a stop for the win. Now comes a matchup against Valley.
6. Waverly (6-1)
Previous ranking: 3 … -3
Week 8 result: 21-14 loss to Wheelersburg
The offense didn't click until late in the fourth quarter, but it was just a bit too late to put up another score. Despite committing no turnovers, the Tigers' bread-and-butter, their passing game, was held to just 163 yards and no touchdowns through the air. Minford will be a tricky opponent coming off a loss, so the Tigers are on upset alert.
7. Portsmouth (6-2)
Previous ranking: 5 … -2
Week 8 result: 15-14 loss to Fairland
The rain was not the Trojans' best friend as a team known for airing the ball out in a shotgun, spread formation struggled through the mud. Portsmouth went for the win, but the two-point conversion was no good. High risk, high reward move, and the right one to make in that situation. They can still earn a share of the OVC, but they have to win out.
8. Zane Trace (6-2)
Previous ranking: 8 … —
Week 8 result: 61-6 win over Southeastern
Make that four straight wins for the Pioneers as they had no trouble at all moving past the Panthers. Ben Nichols enjoyed a comfortable night in the backfield, throwing for 292 yards and five scores. This team is really good, and now they'll get a chance to pick up somewhat of a signature win against Paint Valley — who they haven't beaten since 2017.
9. Symmes Valley (7-0)
Previous ranking: 10 … +1
Week 8 result: 34-0 win over Eastern
Back-to-back shutout victories in SOC I action. No better way to build a team's confidence with its two toughest games left in the season. Defense and a strong running game has gotten the Vikings this far and there's no reason to think it will stop now. Now it's time for a date with Notre Dame.
10. Miami Trace (6-2)
Previous ranking: N/A
Week 8 result: 56-54 win over McClain
It was a shootout among shootouts, but in the end, the Panthers did just enough to upend the Tigers to remain unbeaten in FAC play. Jayden LeBeau is still running around like a madman, and plowed his way to 242 rushing yards on the night. Impressive. Now comes a stiff test and a battle with Jackson for the FAC's top dog.