Ryan Numberger, Contributor
CHILLICOTHE — If you're on the tracks, take caution. Zane Trace's train just keeps on rolling, and it's gaining speed week by week.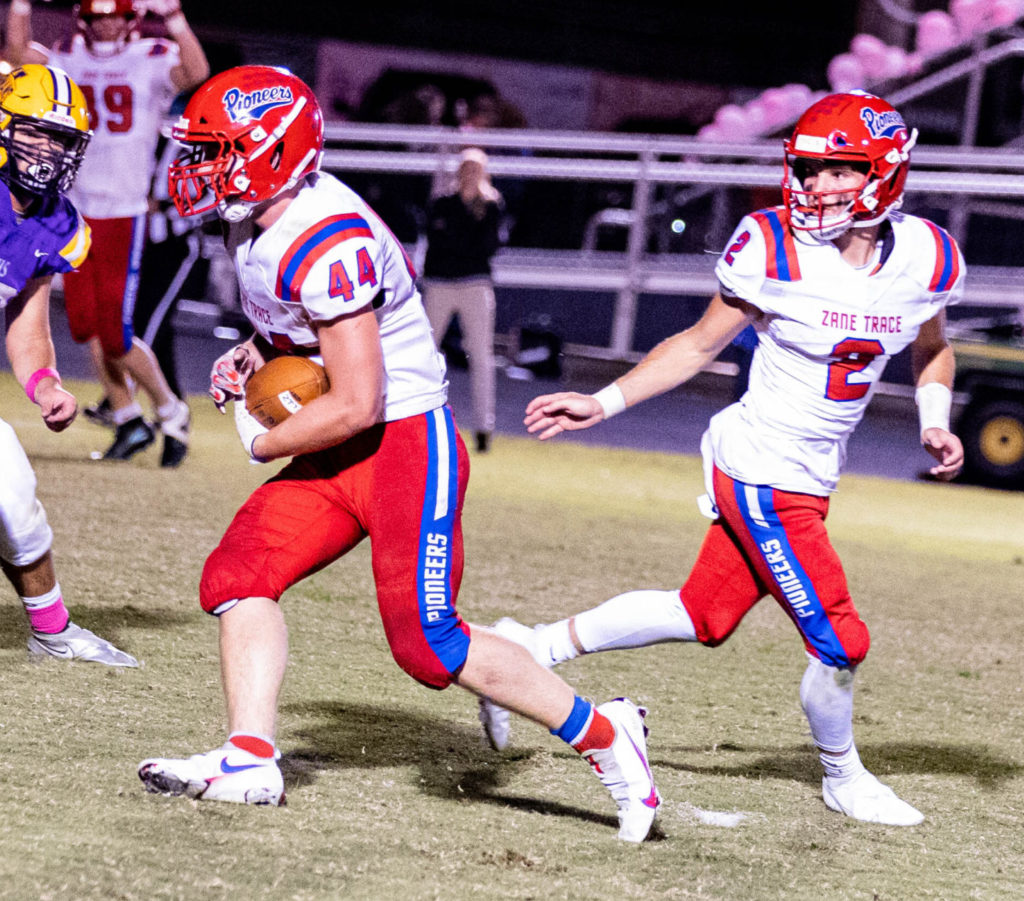 In a classic matchup of Scioto Valley Conference rivals on Friday, the Pioneers used a strong ground game and a stout defensive effort to continue their winning ways.
After back-to-back blowout wins over Huntington and Westfall, Zane Trace (5-2, 3-1 SVC) handed Unioto a 28-13 road loss to claim their third straight victory.
"We're staying dedicated to it and putting in work," Zane Trace running back Daniel Barnhart said. "We're not focused on what the other team's doing or saying. We're just focusing on ourselves. It's just about knowing what we can do."
Barnhart played an important role in the Pioneers' offensive game plan. The unit's excellence started early after ZT forced the Shermans to punt on their first drive.
Unioto's punt rolled to ZT's two-yard line but the field position was no match for the Pioneers. Behind quarterback Ben Nichols, ZT marched 98 yards down the field before Nichols scored from a yard out for a 7-0 score.
After that score, both teams traded turnovers throughout much of the opening two quarters.
Unioto's Kyan Clark recovered a fumble before Zane Trace's Donovan Palmer intercepted a pass just four plays later. However, the Pioneers fumbled yet again and Unioto's Nolan Fox jumped on the loose ball around the four-minute mark in the second quarter.
The Shermans (2-5, 2-2 SVC) capitalized on their opportunity when Lucas Hanes made it a 7-3 ballgame, thanks to a 29-yard field goal with 1:16 left.
However, Zane Trace had a quick answer.
The Pioneers started their next drive with 1:07 left in the second quarter. Those 67 seconds were more than enough time to score.
With a second left on the clock, Nichols launched a 20-yard touchdown pass to Carter Hill, who made an excellent move to get around his defender, making it a 14-3 game heading into halftime.
---
---
"It was a driving effort to just keep pushing and keep working," Barnhart said. "Keep working harder. We know what we can do. We just had to keep pushing."
Coming out of the break, Unioto forced Zane Trace to punt, which they hoped to be a dose of much-needed momentum.
Using that boost, Unioto's offense ran 12 plays and took over six minutes off the game clock before Hanes made it a one-score game again at 14-6 with a 35-yard field goal.
Zane Trace, however, did not budge.
The Pioneers' next drive ended in the end zone when Blake Phillips rushed for a five-yard touchdown to extend ZT's lead to 21-6.
Unioto answered with an absolute bomb. Quarterback Newton Hoops found a streaking Tayvion Galloway for an 83-yard touchdown pass to make it a 21-13 tally.
But once again, the Pioneers had a response. Barnhart was the messenger.
The hard-nosed running back continued to punish Unioto's defense before scoring from 12 yards out, once again making it a two-score game at 28-13 — the ultimate final score.
From there, Unioto turned the ball over on downs before Zane Trace ran out the clock and went into victory formation.
Statistically, ZT was led by Nichols and Barnhart. 
Nichols, always a dual threat, rushed for 129 yards and a touchdown on 18 carries alongside a 5-for-7 passing effort for 85 yards and a score. Barnhart finished the night with 20 carries for 128 yards and a touchdown. Nalin Robinson caught two passes for 54 yards and Hill had two catches for 26 yards and a touchdown.
For Unioto, Hoops was 13-of-24 passing for 235 yards with a touchdown and an interception. Quinlan Netter paced the ground game, gaining 56 yards on 12 totes, while Galloway was the team's leading receiver with two catches for 90 yards.
"We're going to go home and celebrate," ZT's Blake Phillips said. "Then we're going to come back tomorrow and worry about the next one."
Zane Trace now heads to Southeastern to try and continue its winning ways while Unioto goes to Paint Valley to try and get back in the win column.