Ryan Numberger, Contributor
FRANKFORT — In a matchup of winless teams on Friday in Frankfort, West or Adena was guaranteed to get their first win of this young football season.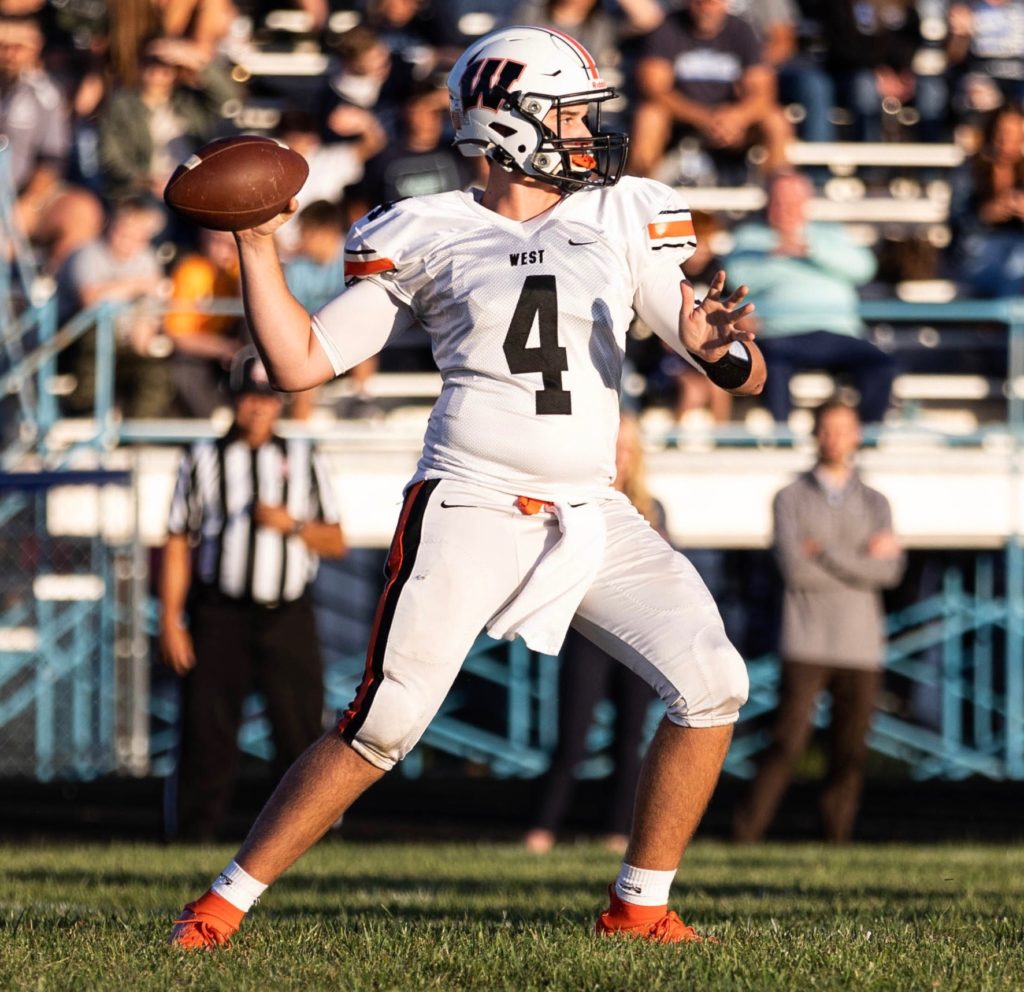 The Senators (1-2) did just that, and in a big way, defeating Warriors by a 41-12 final.
"We came in this week and brought a lot more intensity in practice and it really paid off," West junior Brandon Anderson said postgame. "It's a great feeling. We worked our butts off for that. No kidding."
While both teams punted on their first possessions and it appeared that it would be a defensive football game at first, West quickly showed that it would indeed be the opposite.
On just their second drive of the game, the Senators drove down the field before facing a 4th & 3 situation. That's when they took a gamble and attempted to go for it, which paid off in a big way as Ryan Sissel scored on a 45-yard rushing touchdown to make it a 7-0 ballgame.
After that touchdown, West never looked back as it continued to overpower the Warriors (0-3).
West's next drive started just four plays and ended like the first. Ryan Sissel had his number called again and rushed the ball into the end zone from three yards, giving West a 14-0 lead.
On the ensuing Adena possession, Sissel — because, who else? — intercepted a pass and returned it to the house for his third touchdown of the first quarter, making it a 21-0 count.
"It's pretty great. But I've got to thank the offensive line, though," Sissel said. "They did one heck of a job. Hopefully they can keep on doing it for the rest of the season."
Later, Adena tried to stay in the game, picking off a pass of its own but couldn't cash in on the opportunity, punting the ball back to West's offense.
The Senators made the Warriors pay, marching right down the field and scoring on a 27-yard pass from Mitchell Irwin to Brandon Anderson — making it a 28-0 lead at halftime.
---
---
The start of the second half was no different for West as its second play on defense resulted in another turnover. Anderson stepped in front of a pass and returned the interception for yet another touchdown to make it a 34-0 ballgame early in the third.
For those keeping track, that would be three touchdowns for Sissel, two rushing and an interception return, and two from Anderson with a receiving touchdown and an interception return of his own.
The duo accounted for five of the Senators' six touchdowns on the night.
"It feels pretty good. We still had some mistakes on the offensive end. We want to clean those up," Sissel said. "We want to do better throughout the rest of the season and hopefully make a run in the playoffs."
Adena tried to gain any sort of momentum on its next drive by gambling on a 4th & 1 play. The Warriors picked up the first down to keep their drive going before quarterback Garret Britton hit Mason Dyer in the end zone to grace the scoreboard — a play where Dyer made an insane effort to outjump defenders and come down with the football.
That score made it a 34-6 score after a failed two-point conversion but West had an answer.
The Senators got their final score of the night via a rushing touchdown from Jeffrey Bishop, extending the lead back to 34 points at 41-6 with around three minutes left in third.
Even though the score indicated the game was over before the clock hit zero — which was a continuous clock at this point — Adena continued to fight. The Warriors' final drive was something they could build on as they finished the scoring with a rushing touchdown late.
"We just need to focus and keep at it," Anderson said.
West will try and keep on the winning track in Week 4, traveling to Wellston, while the Warriors continue to search for their first win, hosting Southeastern.