Derrick Webb, Staff Writer
After a near three-month hiatus, high school sports are back in Southern Ohio … thankfully.
The fall calendar brings promise in our area as several programs always seem to turn late-season momentum into historic postseason runs. That's especially true on the soccer pitch.
Last fall, we had three girls programs win district titles while Lynchburg-Clay punched an Elite 8 ticket. We expect more of the same in 2021 with rosters full of talent and expectations in place.
So as we get reacquainted with the soccer pitch, here's a list of 10 players in our coverage area, and in no particular order, to keep an eye on this fall.
NOTE: This certainly does not mean there aren't other players who will have great seasons. This is simply a list of 10 players we've randomly compiled.
Lucie Ashkettle, Valley
The Indians don't have a girls soccer program, but Ashkettle has never let that keep her from doing what she loves. While playing for Valley's boys, Ashkettle has proven herself time and time again. As a sophomore, she scored six times and passed out six assists as her Indians compiled a 9-6-3 record. She'll again be a key piece to a team that has high hopes this fall.
Annie Coriell, Wheelersburg
When Coriell first stepped on a varsity soccer field, you could tell she was special. Since, she's done nothing but ignite her teammates in a movement towards success. Last fall, she helped the Pirates win a district title while scoring six goals and dishing out 14 assists. Now a junior, she'll be a leader of this year's group while Wheelersburg looks for a lengthy postseason run.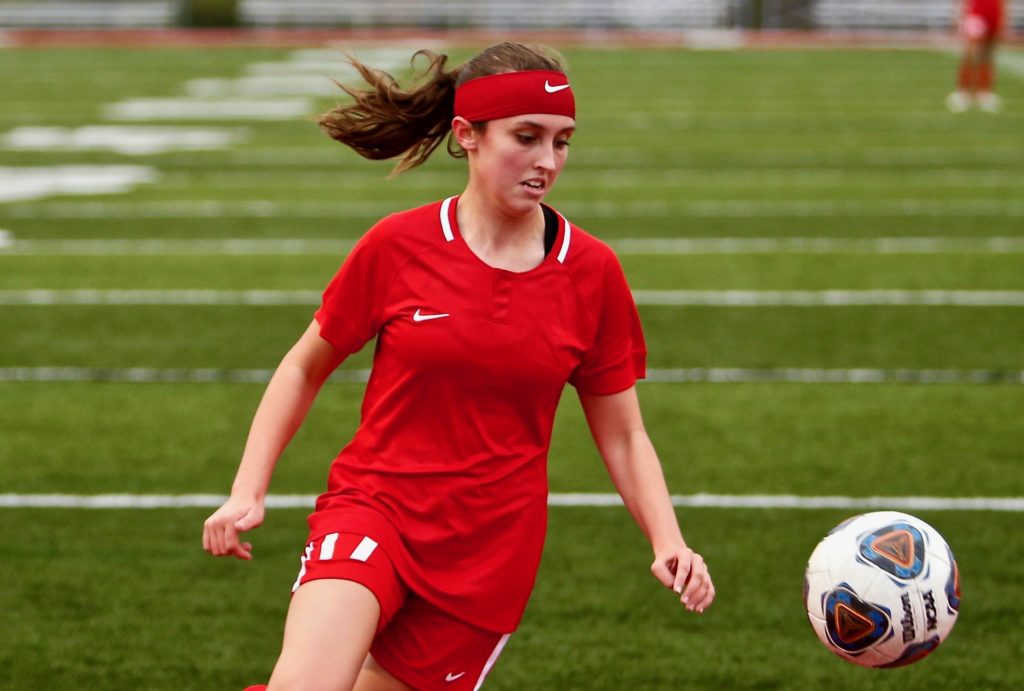 Sydney Fain, Jackson
The Ironladies will enter the season searching for someone to take over scoring responsibilities. So who will answer that opportunity? It just might be Sydney Fain. She's shown the ability to find the back of the net before and has played well against top-tier competition. As she enters her sophomore year, she has the chance to earn frequent flyer mileage in the scoring column.
Hunter Grooms, North Adams
Sometimes, freshmen don't have the biggest impacts. Grooms was not one of those freshmen. Grooms led her Green Devils in scoring with 19 goals while passing out six assists. In effect, North Adams finished 12-7 and reached a district final — where they fought to the end in a 2-1 loss to Lynchburg-Clay. Grooms will once again be a factor in every decision this fall.
Haley Knore, Minford
If you're looking for one of the best pure scorers in the area, Knore should end your search. The fast-footed forward netted a team-high 34 goals last fall and added five assists to her point totals. That helped Minford go 7-7-3 and compete in matches against top-tier teams like Fairfield and Wheelersburg. Knore and the Falcons will be looking to take the next big step this season.
Mary Litzinger, Eastern Brown
Litzinger seemed to quietly dismantle defenses as a junior. She showed balance, tallying 15 goals and 13 assists while the Warriors won 13 games and advanced to a district final — where they lost a heartbreaker to Wheelerburg in overtime. Now a senior, Litzinger and company will be looking to chase a SHAC title, get back to a district final and, this time, take hardware home.
Ali Mathis, Chillicothe
When it's all said and done, Mathis could end her career as one of the best to ever play at Chillicothe. However, she's got a lot of work to do before then. But so far? So good. As a freshman, Mathis scored 20 goals and posted four assists. She's dangerous any time the ball hits her feet and can score from practically anywhere. You'll be reading her name this fall.
Ella Newkirk, Fairfield
Speed. Speed. Speed. Newkirk is an absolute lightning rod on the soccer pitch. And the Lions take advantage of it every chance they get. Last fall, Newkirk scored 29 times and had 11 assists. That helped Fairfield win 11 games and a sectional title. This season, alongside the likes of Cadence Saunders and Kennedy Zink, Newkirk and the Lions are expecting big things.
Autumn Stanger, Unioto
Stanger emerged as a bonafide scoring threat last year. While battling injuries, she found a way to boost Unioto's offense to 16 wins and a district championship. The district title was the program's third in the past four seasons and Stanger will play a huge role in chasing a fourth in the past five. She's deadly in the box and has a knack for beating opposing goalkeepers.
Karlie Tipton, Lynchburg-Clay
Tipton has an explosive trait that you just can't teach. When she sees an opening, her eyes get wide, her feet start to churn and something special takes place. She scored a team-high 22 goals and posted seven assists for a group that finished 16-5 and reached a regional final — where a 1-0 loss to Columbus Academy ended the year. She'll be better than ever this fall.
SPONSORED BY NORTH FORK ANIMAL CLINIC